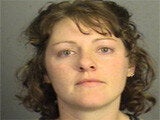 A Rochester, N.Y., woman who was arrested after videotaping police at a traffic stop had the charge against her dismissed Monday after the county prosecutor declined to pursue the case. Emily Good had been charged with a misdemeanor for obstructing governmental administration.
While the criminal case against her over the disputed May 12 traffic stop is over, Good told HuffPost that she is planning to bring a civil lawsuit against the Rochester Police Department and Officer Mario Masic, who arrested her.
Good said the dismissal of the charges "felt really good," but that she was still concerned that "the officer who ordered me inside my house has not been held accountable for anything." She said she is not hopeful that the Rochester Police Department's complaint process or the internal review that it has promised will yield results.
Good plans to seek monetary damages in her lawsuit. She said that "I'm not out for money, but this is definitely more than an inconvenience for my life. And it's also a language that is powerful for people who operate in this world that seems to revolve around money, so it's something that would make a statement."
Don Thompson, Good's lawyer in the civil suit, said the case will focus on the Rochester Police Department's "failure to adequately train and supervise officers who are in these situations." He said an initial notice of claim will be filed some time in July.
Good's case went viral after her video of her own arrest was posted online last week.
Since then, several members of the Rochester Police Department targeted a meeting held in support of Good for illegal parking. The police went so far as to use rulers to determine which cars were parked too far away from the curb. Good said the police were "taking their anger out on easy targets."
In a statement released in response to the case, Rochester Mayor Thomas Richards, along with Police Chief James Sheppard and City Council President Lovely Warren supported the decision to drop charges against Good and said that "it is not the policy or practice of the Rochester Police Department to prevent citizens from observing its activities -- including photographing or videotaping -- as long as it does not interfere with the safe conduct of those activities."
Good hopes that means her actions "were brought into the mainstream as acceptable."
Popular in the Community