We know that Valentine's Day is supposed to be all about love and chocolate and everlasting happiness, but lots about this holiday could turn almost anyone into a V-Day cynic. The pressure? The mass amounts of awful greeting cards that come out? The lack of available restaurant reservations? We could go on.
British blogger Emily Hartridge, who has previously expounded on reasons why dating sucks and why it might be time to break up, took it upon herself to outline all of the reasons why Valentine's Day sucks. "I actually did want to put a positive spin on Valentine's Day," Hartridge says. "But it turns out it's not all that funny to talk about the happiness and the romance that Valentine's Day brings." Also, there's relatively little evidence that it really brings either.
Some of her anti-Valentine's Day arguments include:
--Men face a massive amount of pressure to deliver the Valentine's goods.
--If you're single and you go out, people think you're a cliche.
--All of the horribly tacky gifts.
--It can make you feel really bad about being single and not getting a rose or a silly, cuddly toy.
--"The whole principle of Valentine's Day is stupid."
So do you love or hate Valentine's Day? Let us know in the comments!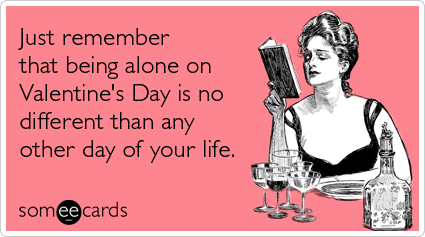 Valentine's Day Cards You Wish You Could Send To Your Ex
Popular in the Community