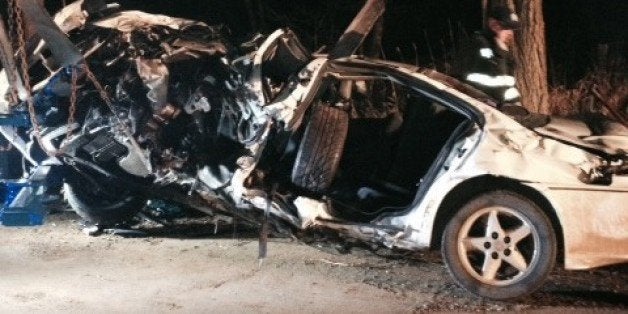 An 18-year-old woman is dead after a tragic car accident in a small town in western Michigan that also left her two passengers injured.
According to authorities, Emily Lauer was driving fast on a dirt road in Paw Paw Sunday evening. She was attempting to make her car go airborne over a small bridge when she lost control of the vehicle.
The 2000 Pontiac Grand Am went off the road and hit a tree, then continued to roll over multiple times, hitting more trees before landing upside down. Authorities had to use the Jaws of Life to extricate Lauer, who was trapped in the car and pronounced dead at the scene. The back seat passenger, an 18-year-old man, had serious head and facial injuries and was taken to a hospital for treatment. The 16-year-old girl in the front seat received minor scrapes and bruising.
According to a report from the Van Buren County Sheriff's Office, seat belts were worn and alcohol did not appear to be a factor in the crash.
On Twitter, friends and acquaintances expressed sorrow and prayers for Lauer's family.
I may not have known Emily personally, but she belongs to paw paw,and paw paw is like family. When one person hurts, we all share that hurt.

— Makayla Fleetwood (@20fleetwood12) October 14, 2013
I gave her a ride home from work one day this summer when her mom couldnt take her. And that was my first time talking to her. #RipEmily

— Benjamin (@Bampey12) October 14, 2013
Hearing that makes me stop and remember to appreciate my life while I have it. You never know when it'll be taken away. R.I.P Emily. <3

— Josie (@JosieForsleff) October 14, 2013
Some also took the opportunity as a reminder to drive safely.
I'm never speeding again. Especially when I have more than one person with me.

— Benjamin (@Bampey12) October 14, 2013
PHOTO GALLERY
Teen Killed In Michigan Car Crash