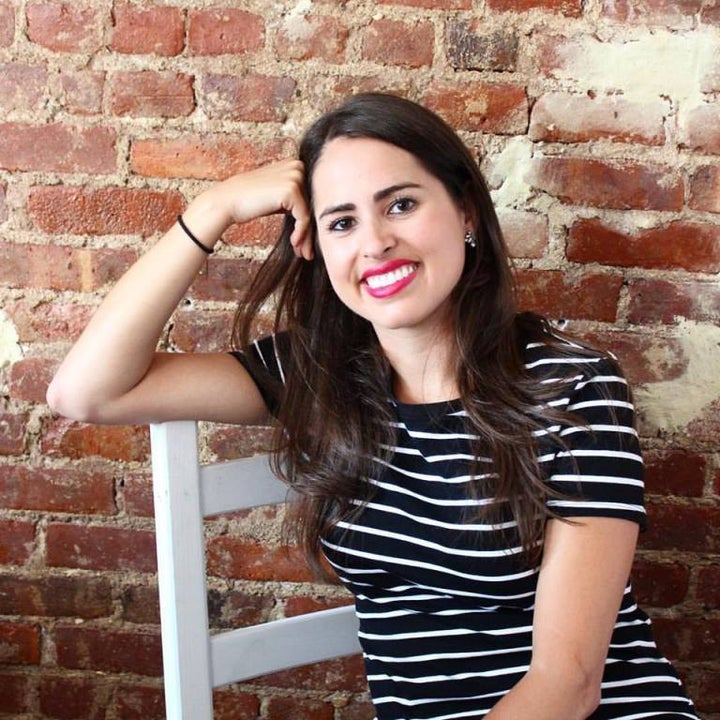 I'm always on the search to meet innovative, young entrepreneurs and hear their stories. So, I feel very fortunate have been connected with Emily Merrell, the founder of a popular new business networking group for women called Six Degrees Society.
A veteran in the field of fashion marketing, Merrell has an impressive resume. Over the course of her career, she has worked for big brands such as Ralph Lauren, Tory Burch, Club Monaco, and INTERMIX. In 2014 she founded Six Degrees Society as a women's networking group that makes it easy for professionals to connect based on shared hobbies and interests, such as wine tasting, favorite books, and fitness.
Originally started in New York City, Six Degrees Society has expanded to Chicago, Los Angeles, New Orleans, San Francisco, Miami, and most recently, Washington, DC. Plans are in the works to launch new chapters in Atlanta and Austin later this year.
Without further ado, let's meet Emily Merrell!
How did you get started in marketing and planning events?
After graduating college I moved to Argentina to challenge myself to create my own community in Buenos Aires.
I spent my nine months working with two startups - one in wine sales and the other in boutique travel planning, all the while soaking up as much entrepreneurship as possible through some incredible mentors.
Fast forward to my final few weeks in Buenos Aires, and through a networking connection I made in Argentina, I was introduced to my future boss at Ralph Lauren and to the world of special events and marketing.
What inspired you to create Six Degrees Society. Why do you think women need a networking space of their own?
During the six years I worked in fashion, I networked frequently, but found it difficult to find a place to network where I wasn't representing the brand I worked for. I sought a community where I could continue learning a variety of skills that were applicable to both work and to my personal life. Where could you go to learn how to negotiate a salary? Who did you talk to when it's time to switch industries? What's the best place to learn where to write a business plan?
Six Degrees Society evolved out of gaps I saw in my personal life and the lives of my peers. Instead of seeking out other networks that always fell short of what I wanted, I decided to create my own networking group with the resources around me; each other.
The bottom line is, women inevitably judge other women. We judge them based on how they are dressed, how pretty they are, or where they work. I wanted to create a safe space for women to meet one another where they aren't defined by their looks, work experience or economic status, but rather by who they are. I wanted to offer women an opportunity to connect on a personal and professional level that is free of judgements and preconceived notions.
What is your favorite part about your job?
I love the events themselves and the energy that comes from fostering relationships amongst the attendees. I also love that I've grown to a place where my colleagues and I are putting on events in markets that I can't physically be in, but I'm still very close to since I've hand-picked the event matches. Getting the post-event feedback about all the connections made is so rewarding.
On a more micro-level,I really enjoy reading the bios that the attendees submit pre-event. I use these bios to create the curated matches that are handpicked for each attendee. It is such a fun process to pick through people's interpretations of themselves and find touchpoints with other event attendees.
What has been the most rewarding part of founding Six Degrees Society?
In 9 months of doing business, the expansion to 8 markets has been the most rewarding part of founding Six Degrees Society. I love traveling to each market and getting to know the women there and seeing what makes them tick. Each chapter has developed its own vibe, but the experience and the match process is consistent.
What advice would you give to someone at a networking event who is more reserved and not naturally outgoing?
Everyone is at a networking event there for the same reason you are — to make a connection. Try to offer a genuine compliment and suss out something personal or relatable to the person (i.e. college, hometown, hobbies, etc).
However, to break the ice my biggest trick in meeting high caliber people is to find the food table and hang out! I usually strike up a conversation by asking someone if they've tried the cheese puff, or strike up conversation with a funny line like "you came for the food too?" Either way, the food table is a non-threatening place to find like minded individuals who are probably looking for a conversation as well. If for some tragic reason the networking event isn't offering food, don't lean on the open bar or use your phone as a crutch. You are all there for the same reason so take a big breath, walk up to a stranger and start asking questions to find a commonality or shared interest. The rest of the conversation should flow from there!
Are you an entrepreneur, side-hustler, or freelancer with an interesting story? Let's connect! Tweet me @ZevGotkin!
Related
Popular in the Community