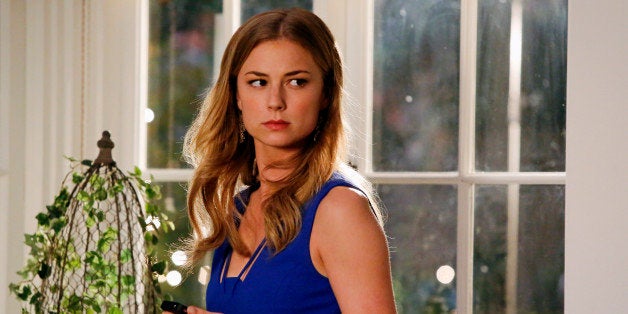 We became addicted to "Revenge" after binge-watching the series last summer. From the modern-day "Gatsby" storyline to the good-looking cast (Nick Wechsler ... swoon), we don't mind DVRing "Game of Thrones" every once in a while to watch the ABC primetime soap opera on Sunday nights.
Another major reason we tune in to "Revenge" is because we're utterly obsessed with Emily VanCamp's hair. Her beachy blonde hair, styled by the show's head hairstylist Lori Rozman, seems to never fall out of place -- whether her character Emily Thorne is throwing shade at her nemesis Victoria Grayson or batting her eyelashes at Aiden Mathis.
So in celebration of VanCamp's 28th birthday today, we present you with the many reasons why we're utterly obsessed with her hair.
It looks so silky smooth on camera, guys just can't stop touching it ...
... or rubbing their faces in those luscious locks.
She can sport a big, floppy hat like this and still have amazing hair.
Those face-framing pieces don't budge a bit.
Even her ponytails are perfect. GLORY!
She does old Hollywood right with retro-inspired waves (and red lips, of course).
Blowouts? She's got it in the bag.
Not even snow can break the bond between Emily and her fabulous hair.