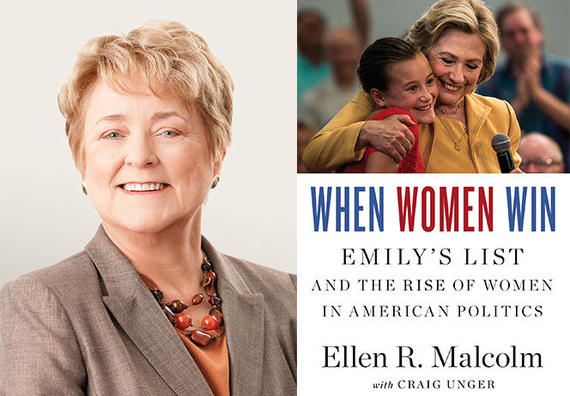 Gloria Steinem and Hillary Clinton may garner all the headlines, but Ellen Malcolm is the real mother of the modern day feminist movement. There wouldn't be a Hillary Clinton presidential candidacy if Malcolm, a shy and reserved heiress to the IBM fortune, hadn't founded Emily's List, the nation's largest resource for women in politics. While this generation of young women takes it for granted, it was downright revolutionary in 1985 to think that women could be elected in their own right to elected federal office. At the time, no woman had ever been elected to the United States Senate in their own right. Emily's List has now gone on to help elect 19 women senators, 11 governors, and 110 Democratic women to the House.
On the 30th anniversary of the organization, the founder, who has turned over the reins of the organization to Stephanie Schriock, has written the story of Emily's List in a thoroughly entertaining book, "When Women Win Emily's List and the Rise of Women in American Politics". Even for someone who lived through the era, I was surprised at how much I learned. Nancy Pelosi is now the powerful former Speaker of the House, yet she started her political career as an Emily's List volunteer. Younger feminists reading the book will be shocked at how much progress women have been made in the last 30 years thanks in large part to one woman, Malcolm.
When a politico writes a book, the obvious question is why now and the answer usually is they are gearing up for something new. During her visit to the Free Library of Philadelphia, I had a chance to ask Malcolm if she was considering taking a position in a Hillary Clinton administration. She initially demurred. Then she reluctantly said, "Well, I wouldn't accept any pay."
Asking Malcolm about Donald Trump was the equivalent of throwing red meat to a lion. She said,
"It's horrifying to watch the food fight on the Republican side and think these people want to be President of the United States. It's just outrageous and ridiculous. With all the problems that our country faces, why do they have to go back to these personal attacks, insults, innuendos, and nastiness? That's not what the voters want. Voters want serious conversation about how we are going to change this country, how we are going to protect ourselves from terrorism. I think it's why you see women across the country are outraged by Donald Trump, his attitude towards women, and his behavior as a candidate. I think you are going to see that women voters are going to come out in record numbers for Hillary Clinton."
Since we were in Pennsylvania, it was only natural to ask Ellen Malcom about Katie McGinty, whom Emily's List had endorsed in that state's Democratic primary for the US Senate. Malcolm said, "When you listen to Mitch McConnell talk about his refusal to even consider the Supreme Court nominee, it certainly makes it clear why it is so important for Democrats to take back the Senate. We have a wonderful group of 5 women that we have supported who have the opportunities to do that. One of them is Katie McGinty. I met Katie McGinty in Washington at the beginning of March and was extremely impressed. I think she is a phenomenal woman. I think she has what it takes to make it through this hard fought election and win it for the Democrats Emily's List is supporting her. She just got the support of the Democratic Senate Campaign Committee. She's gotten some labor support because everyone recognizes that we have to get together behind the strongest candidate that can win and that's Katie."

Emily's List did not simply donate money to McGinty's campaign. It was clear staffers had worked with the candidate to improve her public speaking skills after they were widely panned in her unsuccessful race for governor and earlier in the senate race. No less than the cranky dean of the Pennsylvania political press, Philadelphia Daily News columnist John Baer, praised her transformation in a column. Malcolm said, "We often work with candidates that know how to grow, pick up new skills, adapt, and get better and better and better. I think that's the kind of candidate Katie McGinty is. She's been a policy person. She is somebody who has worked very hard to make a difference on issues that affect women and families, the environment. She's worked within the government for both Governor Rendell and Wolf so this is a slightly different world for her. I have been impressed at how personable she is and how she connects with people. I think she is going to do a wonderful job."
After reading the book and meeting Malcolm, it is apparent that only she could have taken the radical at the time idea of electing women to office and mainstreamed it. If you could fault the book for anything, it is that Malcolm doesn't reveal how she pulled off the caper. Was it her membership in the establishment elite via her IBM inheritance or her single minded devotion to Emily's List rather than a family? Maybe, it was a little both with a sprinkling of genius and foresight.
REAL LIFE. REAL NEWS. REAL VOICES.
Help us tell more of the stories that matter from voices that too often remain unheard.