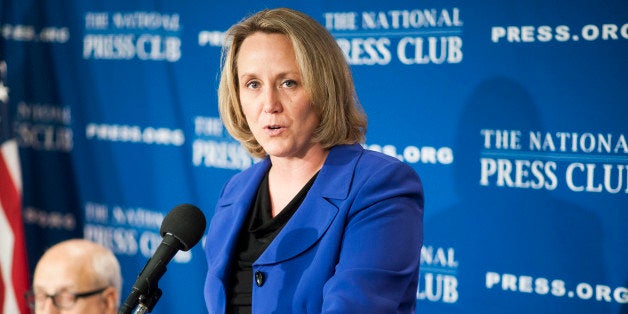 WASHINGTON -- Emily's List, the Democratic advocacy group focused on electing pro-abortion rights women to public office, announced Thursday that its membership has risen sixfold in three years to more than 3 million.
The group's president, Stephanie Schriock, celebrated the milestone in an email to supporters. Membership was about 500,000 at the end of the 2010 election cycle.
The rapid growth in Emily's List supporters follows its influential role in the 2012 elections, when the group helped elect a record number of women to Congress. Emily's List is likely to be a key player in 2014 and already is involved in high-profile races that include Democrat Alison Lundergan Grimes' challenge to Senate Minority Leader Mitch McConnell in Kentucky. The group has also has thrown its weight behind Texas gubernatorial candidate Wendy Davis, the Democratic state senator who garnered national attention for her marathon filibuster against a highly restrictive abortion bill.
Emily's List's growing support comes as the Republican Party has increasingly alienated women voters. Last month, a poll found that 33 percent of women felt the GOP had moved further away from them, while just 14 percent said Republicans had come closer to their perspective.
"We're seeing this growth not only because women and men across the country are ready to fight back against the Republican's regressive agenda, but also because they know that electing more Democratic women is the key to moving our country forward," Schriock said in a statement to The Huffington Post. "When you look at who's getting things done in Congress, it's the women, and the growth we're seeing shows that the American people know that and are ready to send them more reinforcements."
A spokeswoman for Emily's List said more than 100,000 people have contributed to the group in this year's elections, an increase of 28,000 from 2012. More than 32,000 of this year's donors are new.
According to the group, several moments this year proved pivotal to growth, including Hillary Clinton's endorsement of same-sex marriage in March and last month's government shutdown, which was widely pinned on Republicans. Perhaps the biggest boost came in May when conservative radio host Pete Santilli declared Clinton should be shot in the vagina over Benghazi. Emily's List said it picked up nearly 170,000 members in the wake of his comments.
Emily's List launched a campaign called "Madame President" in May, with a focus on putting Democratic women on the next presidential ticket and electing the first woman to the White House.
Read Schriock's email below:

EMILY's List is now three million strong!

I have incredible news to share with you: our EMILY's List community is now three million strong!

Picture it -- three million people who envision a world where women are equally represented at every level of government, three million people who believe in a woman's right to choose, three million people dedicated to help elect our pro-choice Democratic women.

In 2010, when I accepted the job of president, I promised our founder Ellen Malcolm that we were going to double in size and win more races. Today I'm proud to announce we have more than quintupled in size!

And you'd better believe this is only the beginning. Election Day 2014 is less than one year out: that's 362 days to take back the House, to turn red states blue, and break even more glass ceilings.

We need the full weight of the EMILY's List community -- all three million of you -- to make all this possible. We have the strong pro-choice Democratic women candidates; they need your support today.

We are all EMILY, and I could not be prouder -- thank you!

Take care,

Stephanie
Calling all HuffPost superfans!
Sign up for membership to become a founding member and help shape HuffPost's next chapter
BEFORE YOU GO
PHOTO GALLERY
Hillary And Bill Through The Years