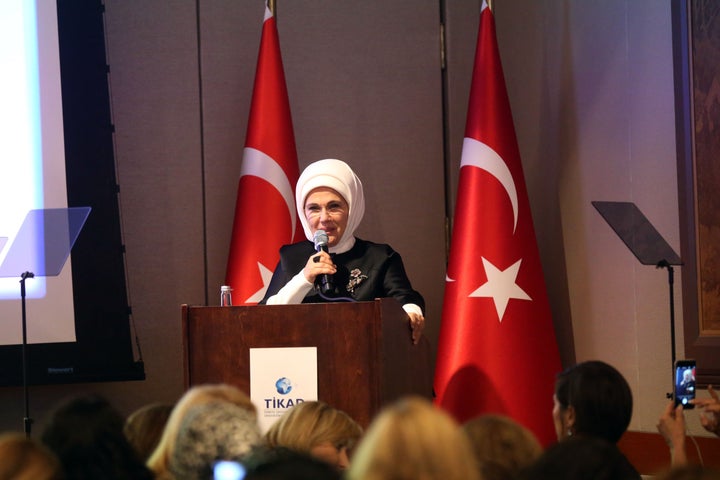 NEW YORK ― Americans need to imagine their own country under assault to fully appreciate how a July 15 coup attempt has traumatized their treaty ally Turkey, Turkish first lady Emine Erdogan said Thursday, labeling the Western response to the incident "a huge disappointment." 
"Some countries we call friends were even hesitant to condemn the coup attempt," Erdogan, through a translator, told an audience here. "They made half-hearted statements as if waiting to see who would win, and some went as far as to say the coup was a fiction. Just try to imagine the feelings those shocking remarks can have on a nation that has just faced death. … If Brooklyn Bridge was taken over by terrorists or Capitol Hill was shelled, this [would be like what] happened in our country."
Tanks appeared on the Bosphorus Bridge in Istanbul during the attempted overthrow, and coup-plotters bombed Turkey's Grand National Assembly using American-made fighter jets. More than 250 civilians were killed and at least 2,000 were injured.
Erdogan's speech, delivered to a Harvard Club audience that included Turkish business leaders and influential Americans like media figure Tina Brown, was a fresh sign that the government of her husband, President Recep Tayyip Erdogan, is emboldened by goodwill it's gained at home and abroad after resisting the coup. The Erdogan government seems increasingly willing to stand up to the U.S., which many Turks criticized for taking hours to condemn the plot and some even accused of supporting it.
At times like the crisis, "friends' actions speak louder than enemies'," the first lady said.
Her speech also underscored how views of Turkish politics by outsider observers and pro-government Turks have become sharply polarized.
In the West, news coverage has focused on Erdogan's purge of suspected coup supporters in the military and government, as well his effort to repatriate an exiled Turkish cleric, Pennsylvania resident Fethullah Gulen, whose followers Erdogan blames for the plot.
Analysts warn that Erdogan's campaign against the Gulenists could fundamentally reshape how Turkey functions, with competent professionals suddenly leaving mid-level government jobs and losing their household incomes for flimsy reasons like appearing on the subscriber list of a pro-Gulen newspaper.  
Other international news stories about Turkey mostly relate to its role in Syria, where it supports groups fighting opposed to dictator Bashar Assad and the self-styled Islamic State, and has had tensions with U.S.-aligned Kurdish militias fighting ISIS.
The narrative from the Turkish state elevates other concerns. Speeches from Erdogan, her husband's minister for family and social policies, and prominent Turks at Thursday's event echoed messages about celebrating the resistance to the coup and educating the world about the dangers of Gulen.
"We are still in pain," the first lady said. "The failed coup of July 15 is a turning point in the history of our country. A nation that 15 years ago couldn't prevent the removal of an elected prime minister has now faced down tanks for democracy."
Family minister Fatma Betül Sayan Kaya, the only woman in Erdogan's cabinet, said the world failed to appreciate "that Turks are democratic to the bone."
Both women frequently called coup-plotters "traitors," and Erdogan repeated her husband's message to the United Nations General Assembly that the Gulen movement should be seen as a major threat to all nations.
This is a striking claim that few outside Turkey give any credence to. But it's one to which the Erdogan government and its supporters appear deeply committed. Attendees at the lunch received a 22-page booklet describing Gulen's history and alleged crimes. "In order to defeat this new type of terrorism, international solidarity is highly crucial," the document concludes.
By encouraging this view and presenting themselves as guardians of the Turkish state, the Erdogans seem to be winning new support, a big feat for a political force that has won less than half the votes in Turkey's elections. Only a few of the attendees at Thursday's event seemed to share the political Islamist ideology of the Erdogans' AK Party. 
Instead, many simply spoke of supporting their nation and its leader at a time of crisis ― a helpful line of thinking for Erdogan that neatly ignores controversies about his approach to human rights, his country's Kurdish minority and his sometimes outlandish statements.
Speaking after the first lady, CNN Turk reporter Hande Firat said she spent the night of the coup worried for her country and her child's future. Fellow journalists had warned her to be more neutral, she said, and suggested she was too warm toward Erdogan, who's been notoriously unsupportive of press freedom, during a FaceTime interview of him the night of the coup.
"If it happened today, I would do it again," Farat told the audience.
Calling all HuffPost superfans!
Sign up for membership to become a founding member and help shape HuffPost's next chapter
BEFORE YOU GO