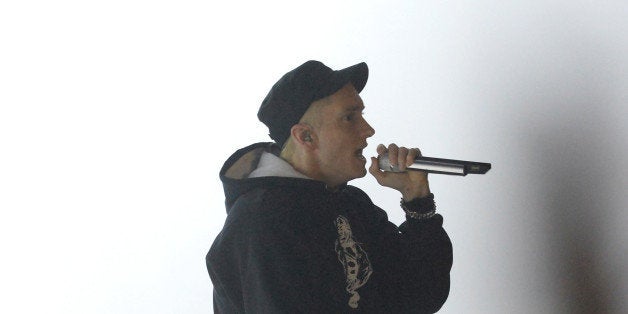 With the release of his eighth studio album, Eminem has proved that Slim Shady is undoubtedly back again.
"The Marshall Mathers LP 2" hit stores on Nov. 5 and climbed to No. 1 on the Billboard 200. According to Billboard, the album sold 792,000 copies in its first week, giving it the second-highest debut sales week for any 2013 album. "MMLP2" was bested only by Justin Timberlake's "The 20/20 Experience" which released in March to a 968,000-selling week.
Eminem counted his seventh No. 1 album with the record. "MMLP2" is the rapper's biggest success in recent years, earning a higher debut than that of his 2009 album "Relapse" and 2010's "Recovery."
"MMLP2" serves as a follow-up to Eminem's hugely successful 2000 album, "The Marshall Mathers LP." The 41-year-old rapper recently spoke to Complex about "MMLP2" and how it compares to the original.
"When I started recording this album, a lot of the songs that I would play for people, they were saying it reminded them of that era," Eminem told the publication. "Which was kinda what I was going for in the first place, but the fact that other people started taking notice made sense. It's revisiting some themes on 'The Marshall Mathers LP,' but it's obviously a different time period in my life. So that's why I wouldn't call it a sequel. A sequel would just be a continuation of everything that was on there."
Popular in the Community