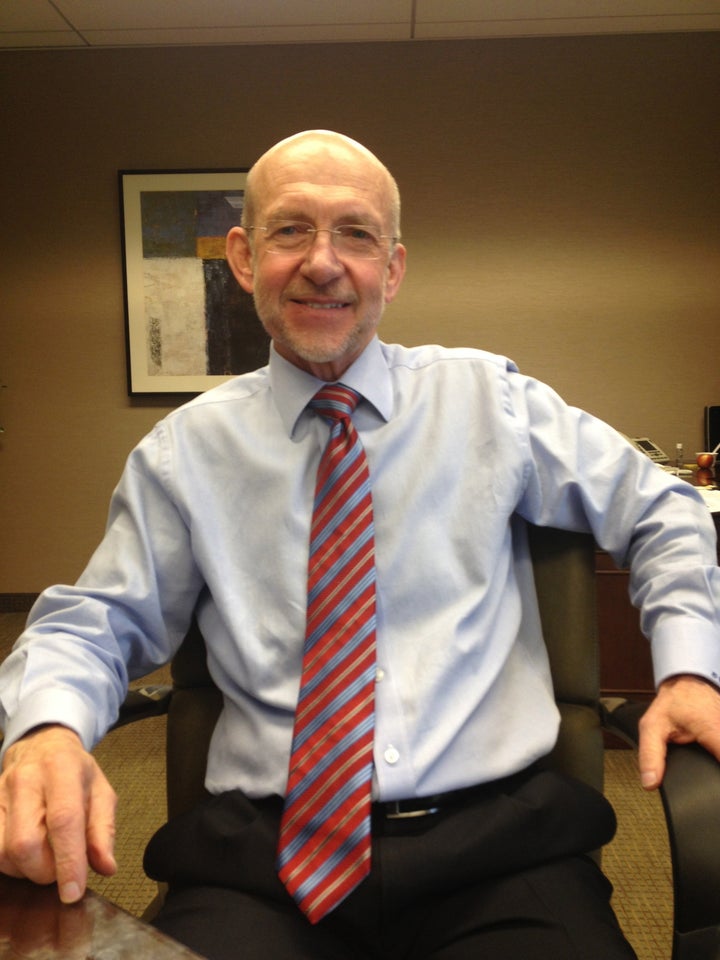 SAN BERNARDINO, Calif. -- This old railroad town in the heart of the Southern California foreclosure belt doesn't attract many visitors these days, especially not in the blazing summer heat. Yet on a recent Thursday morning, a handful of well-heeled business travelers from the East Coast hurried along a sidewalk to address a government official they have come to know well.
Gregory Devereaux is the chief executive of San Bernardino County and its 2 million residents. At his urging, local authorities are considering a proposal that would allow local governments to exercise their power to seize private property without landowners' consent in a dramatic -- some say radical -- new way.
Governments usually use this power, known as eminent domain, to acquire private land for public purposes, such as roads or utility lines. But this plan, proposed by a San Francisco-based venture fund Mortgage Resolution Partners, calls for government authorities to seize the mortgages of underwater borrowers, paying the investors that own them a fraction of what they are owed, using money borrowed from the fund. Homeowners could then refinance with a federal loan at a much lower rate, based on what their home is actually worth instead of what they owe.
Supporters say the plan would send a supercharged bolt of energy into the housing market, spurring economic development and preventing even more of the foreclosures that have wrecked many communities.
"It is a disaster of epic proportions," said John Vlahoplus, chief strategy officer at Mortgage Resolution Partners, of the dramatic decline in home prices that in many areas has left homes worth less than half what the borrowers paid. "The crash has devastated the family wealth of these communities."
The group from the East Coast, representatives of the mortgage finance industry, don't like this idea much at all. They have worn a path to Devereaux's office in recent months to tell him, and anyone else who would listen, that the proposal amounts to nothing less than a threat to the entire mortgage finance system, and an assault on free enterprise and the U.S. Constitution.
A public hearing on the proposal was held Aug. 16 by a special government panel formed to consider measures that would help local homeowners. Lobbyists attended, warning that any community that implements such a plan would face sharply higher borrowing costs and an avalanche of lawsuits.
"We believe using eminent domain would reduce access to credit for borrowers and would, at a minimum, result in lengthy and costly litigation," said Timothy Cameron, a managing director of the Securities Industry and Financial Markets Association (SIFMA).
"If private capital would come in, they would view the loans as only partially secured," said Edwin Groshans, an analyst at investment advisory group Height Analytics.
He predicted that mortgage interest rates in the area would soar up to 10 percent.
"The math around eminent domain does not work under any circumstance," said Chris Katopis, the executive director of the Association of Mortgage Investors. "You would be robbing Peter to pay Paul."
Proponents, meanwhile, argue that bold measures are worth considering in the face of a festering foreclosure crisis. Recent modest increases in home prices have done little to help the estimated 16 million underwater homeowners nationwide, who, according to the real estate valuation website Zillow, collectively owe $1.2 trillion more than their homes are worth.
The proposal also comes amidst broad frustration with the Obama administration, which has so far refused to offer a broad-based plan to bail out underwater borrowers, even as taxpayers have spent hundreds of billions of dollars to prop up banks.
"We've seen a bailout of the banking industry, but no bailout for homeowners," said Arie Giddens, a San Bernardino resident whose home is worth less than half the $300,000 she paid for it in 2005, according to Zillow.
About a dozen communities have voiced some level of interest in the eminent domain plan, including Chicago, Sacramento, New York's Suffolk County and most recently -- according to sources familiar with the discussions -- Detroit. Not coincidentally, these communities have also been particularly hard hit by the housing crisis. In San Bernardino County, more than half of all homeowners are underwater, and the foreclosure rate is three-and-a-half times the national average.
"Everyone here has a friend or a family member who has lost their home to foreclosure," said Greg O'Donnell, the development director at Neighborhood Partnership Housing Services, a housing nonprofit in Ontario, Calif.
At the public hearing, Devereaux said the eminent domain plan is still far from reality.
"Thank you very much," he said more than once in response to the mortgage industry lobbyists' criticism of the plan. "We appreciate your involvement."
Nothing had been decided yet, he cautioned. Mortgage Resolution Partners has not even submitted a formal plan yet, he said.
What worries the finance industry is that nothing has been ruled out, either.
Officials in other jurisdictions, by all accounts, are waiting for someone else to make the first move. That someone, if it is anyone, will likely be Devereaux. What he thinks could determine whether the eminent domain proposal winds up on a scrap heap of failed ideas to resolve the housing crisis -- or sets new legal precedent on the way to providing mortgage relief to a population at the highest statistical risk of losing their home to foreclosure.
It has come to this: More than five years after home prices fell like a rock into a well, the last hope for some borrowers stuck at the bottom could be a public official unknown even to many citizens of his own county.
The cities of San Bernardino County form the heart of California's Inland Empire, a vast metropolitan area that stretches east from Los Angeles deep into the desert hardpan.
The empire, once farmland, and later the visible symbol America's peculiar love of the two-hour car commute, is now crumbling -- especially in those communities where the housing bubble gave residents the greatest false hope for an economic turnaround. Hardest hit is the city of San Bernardino, the county seat.
A visitor can stroll downtown along a stretch of the old Route 66 for blocks at a time without passing another pedestrian or an open business. On the outskirts of the city, near the freeway, salesmen at the handful of car dealerships still in business hunker indoors to escape temperatures that often register above 100 degrees in the summer, waiting for customers that rarely come.
The unemployment rate is 15.7 percent, and the city filed for bankruptcy protection Aug. 1. Political gridlock threatens tough decisions about how to close a $45 million-a-year budget deficit. Vendors are paid in cash, and City Hall recently almost ran out of toilet paper, according to Casey Dailey, a policy adviser to the mayor.
Hard times didn't come overnight.
Over the last quarter century the three biggest employers near San Bernardino either cut back dramatically (Santa Fe Railroad, now part of BNSF Railway Company) or closed down completely (Kaiser Steel, Norton Air Force Base).
Many of the former employees of the companies left and were replaced by lower-income families, many fleeing violence and drugs in Los Angeles. The dearth of good jobs drove the median income for a family of four down dramatically, to less than $45,000 a year.
"The face of the city changed rapidly," San Bernardino Mayor Pat Morris said in an interview late one afternoon this month.
The housing boom, for a while, promised a cure to the city's economic ills. The industry of building, selling and refinancing homes -- plus all the ancillary businesses, like roofing, painting and landscaping -- yielded good-paying jobs and needed tax dollars. But it was all an illusion. Homes were sometimes bought and sold for a higher price within days. Median home prices rocketed up, peaking at $382,000 in June 2006.
Then everything stopped. The national housing market was revealed to be a monumental pyramid scheme. Banks stopped lending, and financing for new projects evaporated.
"It was a complete meltdown," Morris said.
In 2008, San Bernardino didn't issue a single new building permit. Last month the median county home price ticked up a bit from the month before -- to $167,800, according to Zillow.
In many cases, in San Bernardino and across the nation, those left stuck holding overpriced mortgages were low- and moderate-income borrowers who made the mistake of buying or refinancing in 2005 and 2006. Some of these borrowers who later ended up in foreclosure took out interest-only loans to buy homes they knew they couldn't afford. Others were tricked into signing contracts they didn't understand by unscrupulous brokers.
These borrowers have now largely moved out of the system nationwide. Those who are struggling to hang on now typically fit a very different demographic. They borrowed, or refinanced, at relatively modest rates and are facing foreclosure because they lost a job, had hours reduced, or had a health problem or some other misfortune.
They include Edmundo Gomez, who is trying to figure out how to save the La Puente, Calif., home he shares with his wife, Isela, and their two children.
Gomez refinanced twice before the housing crash. The first time, he said, a contractor he hired to build an addition on the house stole his money, and he was forced to take out a second loan in order to hire someone to finish the job. "The contractor vanished with our money," he said. "The house was a wreck."
But the payments stretched the limits of what he could afford. Working 15-hour days at two different jobs, he managed to stay current until two months ago, he said.
Then Gomez lost his job at Lumber Liquidators, where he worked from 10 a.m to 4 p.m. after working all night at a local grocery store. "We ran out of money," Gomez said. "The payments are just more than we can afford."
In order to keep the home, Gomez needs to lower his monthly payment of $2,043, he said. But that payment already reflects a low 2.25 percent interest rate, which he obtained through a previous modification through IndyMac Mortgage Services, which manages his loan account.
Lisa Vargas, a housing counselor working with Gomez, thinks the lender might be willing to lower the interest rate to 2 percent and wrap up the missed payments in a new loan. But this won't do much to lower the payments, she said.
"It's not a game changer," she said.
FEW HOMEOWNERS GRANTED PRINCIPAL REDUCTION

The problem for Gomez is the principal. He owes $413,000 on a home worth $217,000. IndyMac won't consider him for a loan modification that forgives some of this debt because the private investor that owns the loan won't allow it, according to Vargas.
This is a scenario that housing counselors say they face all the time. Refinancing at lower interest rates is very helpful for many borrowers, but others are so deep underwater that the only way they can realistically expect to save their homes is through some form of debt relief, usually called principal reduction. But the odds of the average borrower qualifying are slim.
Though most homeowners associate their mortgage with the bank or other financial institution that mails them their monthly bill, in most instances, these companies merely service, or manage, the loan. That is because loans are bought and sold on the secondary market like any other commodity. Though this happens without input from the borrower, where a loan winds up matters greatly when it comes to qualifying for principal reduction.
The most fortunate are the 500,000 to 1 million underwater borrowers whose loans are held on the books of one of the five banks, including Bank of America and JPMorgan Chase, that agreed earlier this year to offer at least $10 billion in debt forgiveness. Though early reports on whether this help is reaching many homeowners is mixed, the banks must reach this target or face financial penalties.
The second and largest pool of loans are owned or controlled by the government-owned mortgage companies Fannie Mae and Freddie Mac. Of these mortgages, an estimated 3.3 million are underwater. These borrowers don't qualify at all for principal reduction. Edward DeMarco, the acting director of the Federal Housing Finance Agency who essentially calls the shots at Fannie and Freddie, has said that giving debt relief to some borrowers would threaten the covenant between borrowers and lenders, and encourage those making their payments on time to default and cash in.
Private investors, including pension funds like California Public Employees' Retirement System and the giant bond fund Pacific Investment Management Co., own much of the rest of the outstanding mortgage debt, which adds up to about 10 percent of all loans.
These mortgages, though small in number, are most likely to be deeply underwater, and thus are in the most danger of failing. Privately owned loans are three times as likely as Fannie Mae or Freddie Mac loans to be underwater, for example. Vlahoplus of Mortgage Resolution Partners said the eminent domain proposal is designed to target exactly these privately held mortgages that are at the highest risk of foreclosure.
Yet principal reduction on these privately held loans almost never happens, for reasons that aren't entirely clear. The banks that manage the loans typically argue that their contracts with private investors prohibit principal reduction. And since the loans are so often sliced and diced into bonds owned by many different investors, there is usually no single entity that the banks can approach and ask to revise the agreement -- though many private investors have said that this interpretation is nonsense.
"Investors have been as abused by servicers as many consumers," Katopis, the executive director of the Association of Mortgage Investors, said in an interview with The Huffington Post. "We understand it is sometimes worth taking a 30 percent loss to avoid a 60 percent loss."
Katopis, who has lobbied against the eminent domain proposal, said his organization would support a broad-based federal principal reduction plan, such as one put forward last month by Oregon Sen. Jeff Merkley (D-Ore.). The plan would establish a trust to purchase underwater private-label mortgages with revenue from government bonds. Analysts at JPMorgan Chase have estimated that the proposal could help 1.2 million underwater borrowers nationwide.
Morris, San Bernardino's mayor, acknowledges the need for housing assistance and laments the decision last year by California Gov. Jerry Brown (D) to eliminate redevelopment aid to his city and many others. San Bernardino lost $30 million, some of which was earmarked for affordable housing. The decision "tore our heart out," he said.
For now, though, he is on the sidelines of the eminent domain dispute, leaving Devereaux to take the lead.
EVERYONE WATCHING DEVEREAUX
Devereaux, a trim man with wire-framed glasses and a closely cropped grey beard, has held jobs in Southern California local governments for 35 years, since he moved from his native West Virginia.
Last fall, he said, Cathy Creswell, then head of the California Housing Finance Agency, introduced him to Steven Gluckstern, the executive director of Mortgage Resolution Partners.
Gluckstern had an interesting idea: Authorities would seize home loans -- crucially, not the properties themselves -- that fit a defined set of characteristics: underwater, held in private trusts and still current, meaning that homeowners were still making monthly mortgage payments. The local government would then forgive all of the debt in excess of what the home was worth and help homeowners refinance at a new, lower value.
The pension and institutional investment funds that actually own these loans would get paid fair market value. Mortgage Resolution Partners would pocket a $4,500 fee per loan for fronting the money to make the purchase. Homeowners would gain a new incentive to invest in repairs and upgrades to their homes, and gain hundreds of dollars each month to spend on the local economy.
The plan could be customized to fit the needs of the local community, Gluckstern said.
At first the calls were purely informational, Devereaux said. The venture fund had an interesting idea and a pipeline to capital to fund it, but no background in local government. Its leaders were seeking his advice on how best to approach local authorities.
Devereaux thought the plan might work for an estimated 20,000 to 30,000 homeowners in San Bernardino County.
"We were intrigued by the idea," Devereaux said. "It was the first plan we heard that we could execute on a significant enough scale to have an impact on the local economy."
The mortgage finance industry went bananas when it learned that San Bernardino County was weighing the eminent domain proposal. But it is not just Wall Street that has voiced opposition.
Last month, DeMarco, the top regulator at the Federal Housing Finance Agency, warned that the agency might "take action" against the county should it go forward with the plan.
And earlier this month, Chicago Mayor Rahm Emanuel dealt the eminent domain movement in his city a serious blow.
"I don't think it's the power of the city to do, to deal with the housing issue," he said to reporters, according to the Chicago Tribune, following a hearing on the idea. "We have a national issue. I think we have to address the issue. I just don't think that's the right instrument."
Even some advocates who typically align themselves with consumers have voiced concern. "I don't think eminent domain will be the answer to our problems," said Diane Thompson, an attorney at the National Consumer Law Center in an interview with The Huffington Post. "There are likely large practical and legal hurdles to implementing it, and using eminent domain is a clumsy, slow tool, of necessity of limited application and reach."
Backers of the plan shake off the criticism. Local governments are fed up, homeowners are in crisis and local economies can't recover with so many residents deep underwater on their mortgages, they say.
As for the legal threats, Vlahoplus, of Mortgage Resolution Partners, said that for all their bluster, the investment groups don't actually have the legal standing to challenge local governments on eminent domain. "You cannot by dint of being an investor in a private entity control that entity," Vlahoplus, a lawyer, said. "They made a bad deal, invested in those securities and the loans fell in value."
The entity with that standing would be the bank or other financial institution hired to "service" the loans on behalf of the investors. So far, the banks haven't gotten involved.
But his side, for now, has less financial and political firepower than do the plan's opponents. The plan's most powerful political backer is Gavin Newsom, California's lieutenant governor.
"We cannot let another day go by while families are forced from their homes," Newsom said recently. "We must think big and help our local governments develop solutions."
For now, everyone is watching Devereaux.
At his urging, San Bernardino County linked up with two of the cities in the county -- Fontana and Ontario -- where he had previously served as city manager. Together they formed a new legal body, known as a Joint Powers Authority, to weigh the eminent domain plan and any other ideas on how to help local homeowners. Devereaux is chairman of the board, a position that allows him to guide the process.
Asked whether he was feeling any pressure, he said that he had once faced a roomful of angry parents after gang members had a shootout in a city park. "Now that was heat," he said.
Still, he acknowledged that the mortgage finance industry has paid him many visits. "I'll talk to anyone about it," he said. At one point, he pulled out a huge white binder filled with data on underwater mortgages -- and the arguments against eminent domain as a tool for turning those loans right-side up -- prepared for him by SIFMA.
Devereaux won't say whether he ultimately will support the eminent domain plan or not. But he bristles at push-back from those -- he didn't say who -- who have suggested that the county shouldn't be exploring the eminent domain idea at all.
"When did we, in this country, decide that it isn't OK to talk about a plan?" he said, getting animated. "We are just talking. Never, ever did we say that this is something we want to do or intend to do."
But, he said, authorities need to do something.
"If we keep going the way we are going," Devereaux said, "it will be a couple of decades before the housing market and our economy recovers."
CORRECTION: A previous version of this post mistakenly referred to Senator Jeff Merkley (D-Ore.) as Jeff Merkel.
Support HuffPost
The Stakes Have Never Been Higher
Related
Popular in the Community