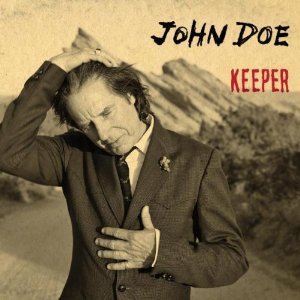 Mike Ragogna: John, your new album Keeper is like your eighth solo album?
MR: With its retro vibe, is the sound of Keeper trying to emulate '69-'71 as far as production?
JD: Not so much emulate, but inspired by.
MR: Did that period inspire the songwriting as well?
JD: Not so much the writing. The writing, lyrically and musically, is more positive. Just sort of coming out of some difficult times emotionally and for the last four years, gotten a lot better. I spent about two years not caring if I wrote songs or not because I was in a really good mood.
MR: What's the process when you get the pen to the paper? What motivates that?
JD: Well, usually, it was this turmoil, but recently, it has been motivated by a more positive life. It can be good if you let it. On the track "Don't Forget How Much I Love You," you can certainly hear George Harrison's influence. On some of the other tracks, it's The Rolling Stones and The Band from that era. It's not so much copying than it's kind of having some of those sounds. We had Victor Bisetti from Los Lobos who was playing with the basic tracks. Usually, people add on percussion but we were trying to make it an integral part.
MR: Speaking of Los Lobos, Steve Berlin's on this album, right?
JD: He is, he's an old friend. We played in a band called The Flesh Eaters. This was the first record where I really found a place for saxophone.
MR: You have some impressive quests like Don Was.
JD: Yeah, Don Was, Jill Sobule and I did some stuff together. He was around and kind enough to come down to the studio. He likes playing bass, doing so much production, and he has to be responsible for all this stuff, this way he can just come in hang out and play his instrument.
MR: Cindy Wasserman appears as well. When you approach this album, did you have your guests in mind?
JD: It happens more organically as far as who I've worked with on the last five records. As we're recording something, we say, "Well, this may need a pedal steel on this song" and "Who could we have sing on this one." Cindy Wasserman and I have been working for seven or eight years now and she came in and sang on a couple of songs.
MR: You also have Patty Griffin on "Lucky Penny."
JD: Yeah, Patty Griffin sings on two songs and that was really great to hear her respond to the songs and say, "Yeah, count me in."
MR: Earlier, you mentioned The Band and George Harrison and I was going to say that this album sounds like you were listening to them, but I also heard a little bit of Joe Cocker and Leon Russell. Who influenced you as an artist?
JD: I was 17 or 18 when The Band and The Rolling Stones doing Sticky Fingers was happening. That's when I was really learning how to play my instrument, how to play bass, how to put together songs, when I was becoming a student.
MR: Did you have any flashbacks while listening to this finished album's batch of songs?
JD: Well, Val McCallum, who recently played with Lucinda Williams, when he played slide on a couple of songs, it was so obvious he was channeling George Harrison. I think The Band and The Stones were a bigger influence on songs like "Giant Step Backward" or "Never Enough" and "Lucky Penny."
MR: One of my favorites is "Little Tiger." What's the story behind it?
JD: I wrote that for my sweetheart who's very important to me. Then, I realized it had a lot to do with my daughters who are now getting grown up. There's nothing better than a kid bouncing on a bed, there is nothing sweeter and cuter than that.
MR: What instruments did you play on this record?
JD: Mostly acoustic and some electric guitar. None of the lead stuff, but some rhythm. Ryan Feves and Don Was played bass.
MR: Then you have a couple of ballads like "Moonbeam," which has a hint of "I Only Have Eyes For You."
JD: That's a song that was suggested to me by someone that's very close to me that said, "Give this song a try," and I said, "No," and she said, "Yes do it," so I acquiesced. It's a New Orleans R&B song from the late '50s, early '60s, the original version was sung by Danny White.
MR: Can you talk about "Never Enough"?
JD: Sure. Jill Sobule and I put that on a record called A Day At The Pass, which was fan funded and Jill and I toured the Midwest, East and West Coast with that. Then I re-recorded it, she sings with me on this track. It's about people over-consuming and not compromising when it comes to religious and political fanatics, there not being any alternative to capitalism. The world is going on this trajectory that is really strange to me, without any moderation.
MR: What do you think about raising the limit on debt? What are your thoughts about where we are heading?
JD: You can't cut social programs, the state of education in the US is pathetic. The fact that Tea Party Republicans are saying people are balancing there budget at home, we should do it in the government, that's a bunch of bulls**t. Half the people don't balance there budgets at home, they're overextended on their credit cards, it's just nonsense. They're just doing it ideologically rather than realistically, but I'm not a politician. I think everyone is welcome to do what they want.
MR: I hear you, John. Okay, so the song "I Will Always Love You" was in The Bodyguard, Kevin Costner and Whitney Houston are dancing to it. How did that come about?
JD: Jim Wilson, the producer of that, and Kevin Costner are old friends and they called me up and asked if I could sing this song. So, I was happy to oblige.
MR: That brings us to your acting. You were in Roadhouse, Vanishing Point, Good Girl, Great Balls Of Fire, Salvador, Boogie Nights, Pure Country, and more. And on TV, you were Jeff Parker, Liz Parker's father. By the way, Roswell was one of my favorite shows at that time.
JD: Yeah, Roswell was a very sweet television show. It's too bad in that second season that it got so involved with magical weird stuff, like they were trying to be a part of the X-Files or something. It was kind of an early version of One Tree Hill, kind of a teen drama, it was nice.
MR: And you were in One Tree Hill.
JD: For a few episodes yeah.
JD: I played a dad and a musician. It was a real stretch.
MR: (laughs) Which character's parent were you?
JD: Hilarie Burton's dad, I don't remember what her characters name was.
MR: Peyton Sawyer, Lucas' girlfriend. I watched it, but always thought that show was nuts what with all the parents spinning out all the time. But it had a really nice heart to it too.
JD: Yeah, it was drama, people were getting shot and beat up, and all kinds of crazy stuff.
MR: Between acting and music, is it 50/50 passion?
JD: You know, the past couple of years, I haven't done much acting. I've been really busy touring and making music, now making this record. Yeah and X is getting pretty busy and active, we always do a tour now. Jill Sobule and I put out a record earlier this year.
MR: How does your touring work? Do you do separate tours, X and John Doe?
JD: Yeah, and I have to balance that because you don't want to go back to the same city within a couple of months, because people say I already saw that guy.
MR: It seems like you're putting out an album every couple of years. How long did it take you to make this one?
JD: It took a little while because I didn't really care if I was writing songs, I was just in too good of a mood. I wasn't motivated to do it.
MR: Are you one of those artists that's already looking towards the next album?
JD: No, I will work on this and have a few song ideas, but I will put most of my efforts towards touring for the next eight months to a year.
MR: It doesn't seem like there's down time for you?
JD: Well, luckily, I'm in some sort of demand. So, yeah, you find your down time when you can. When I'm home, I try to relax, but I'm always working though. I enjoy being busy.
MR: Are you an over-writer?
JD: No. (laughs) When I've got enough songs that seem to make a record, then I will get into the recording studio and put it down.
MR: Is there anything left over that will come out as like an iTunes track?
JD: There are 12 on the record and 13 on the vinyl.
MR: What's your advice for new artists?
JD: Don't do it. The reason that I say that is if you're persuaded that easily, then you shouldn't do it, because someone that wants to and needs to will do it anyway.
MR: Excellent. John, I so appreciate your time here.
JD: It's been a pleasure, and congratulations on having a solar-powered radio station.
MR: Do you participate in any green initiatives?
JD: I live in Northern California and it's practically mandatory.
MR: (laughs) Thanks, John.
Tracks:
1. Don't Forget How Much I Love You
2. Never Enough
3. Little Tiger
4. Giant Step Backward
5. Walking Out the Door
6. Moonbeam
7. Sweetheart
8. Handsome Devil
9. Jump Into My Arms
10. Lucky Penny
11. Cottage in the 'Dale
12. Painting the Town Blue
Transcribed by Theo Shier
Popular in the Community