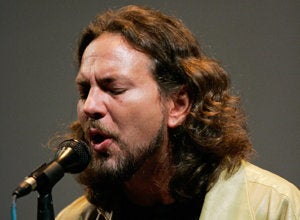 It won't be a Woodstock redux, and there'll be no moshing at New York City's Radio City Music Hall at 8pm, Saturday, April 4th, when Sir Paul McCartney and a star-studded roster of hipsters such as Pearl Jam's Eddie Vedder, Moby, Ben Harper, and Sheryl Crow, along with Donovan, Paul Horn, The Beach Boys' Mike Love, a bunch of surprise guests, and hosts David Lynch, Russell Simmons, and Laura Dern appear on that historic stage. But under the David Lynch Foundation's banner of "Change Begins Within," this special benefit concert is intended to raise funds to teach one million children meditation--and that includes 10,000 at-risk students around the New York City area. "This concert will provide the support for kids to 'dive within'...to help overcome the stress and violence that is destroying their lives, and to unfold their full potential to become healthy, happy, creative individuals," the iconic filmmaker explained in a press release from just a few days back. His foundation already has awarded scholarships to more than 60,000 students across the United States as well as the Middle East, Latin America, and Africa.
And what is this meditation technique that David Lynch's organization has been promoting? Here are some hints: It was learned and popularized most famously by The Beatles, The Beach Boys, Donovan, Mary Tyler Moore, Mia Farrow, Clint Eastwood, Heather Graham, Stephen Collins, and Deepak Chopra; over the years, it was embraced by millions in the United States, including hugely famous celebrities in entertainment, sports, politics, art, broadcasting, science, the medical field, education, and even religion; its famous teacher brought the technique to the West in 1958 with the intention of lowering the stress of both the individual and the planet; and since its introduction, it's impossible to not at least know someone who knows someone who practices the technique for 20 minutes twice a day. Okay, that last point gave it away, it's Transcendental Meditation, introduced to our society by the late Maharishi Mahesh Yogi, who himself, had enjoyed incredible celebrity during the sixties and seventies when "TM" (as it's called) became embedded in US mainstream culture.
Mostly known for his highly-influential, artistic films such as Eraserhead, The Elephant Man, Blue Velvet, Dune, Mulholland Drive, Inland Empire, Wild at Heart, Lost Highway and the pop-culture phenomenon and television series, Twin Peaks, Lynch has dedicated most of his time to this cause. "In today's world of fear and uncertainty," he said, "every child should have one class period a day to dive within himself and experience the field of silence--'bliss'--the enormous reservoir of energy and intelligence that is deep within all of us." The end result? "Teach one million kids to meditate, and we will change the world overnight," he declared. Dr. William Stixrud, PhD, a clinical neuropsychologist in Silver Spring, Maryland, who specializes in working with children, has researched the technique and its effect on the young mind. "I have been a big fan of using TM in schools for many years due in part to the program's unparalleled ability to create the experience of relaxed alertness in students, and to create learning environments in which students feel safe to tackle very difficult material and assignments," he explained. On a more publicized level, for decades, many in the medical community have recommended this particular form of meditation to lower stress, blood pressure, and to help combat addictions such as smoking and self-medication. Educators have found that it improves focus, reduces violent tendencies, reduces incidents of drug abuse, and improves the social interaction and overall behavior of students. Additionally, studies have found that practicing the technique (in what has been dubbed "quiet time") has improved academic performance while lowering stress, anxiety, and depression in students.
In New York City, where this concert will be performed, "Over one hundred schools...expressed interest in incorporating the Transcendental Meditation technique into their systems," Dr. John Hagelin, PhD, a quantum physicist, pointed out. He continued, "Extensive research on the benefits of the TM technique on student health and performance...contribute(s) to the wide acceptance of the program." In 2008, when Lynch held a one-day seminar on the subject for educators, they literally had to turn away scores of people from the hotel due to the overwhelming response and attendance. And if all of this sounds a bit too good to be true or too granola-esque for your taste, take into consideration that The National Institutes of Health has pledged grants in the amount of twenty-four million dollars over the last 20 years to study the TM technique's effects on heart and brain functioning. The entity has found the technique especially provides benefits against high blood pressure. Last year, in Parade Magazine, Dr. Mark Liponis wrote an article titled "Alternative Therapies That Really Work," within which he stated TM was the "most popular meditation practice" with "scientific backing" behind it that "passed the litmus test of rigorous medical inquiry."
So, this is what the "Change Begins Within" event is promoting, and what is being offered to our children by David Lynch and his organization--with the cooperation of parents and schools, of course, and with the initiative's endorsement by participating musicians of the benefit concert. It's the opportunity for any student, member of The Boys & Girls Clubs of America, etc., to become smarter and less-stressed by meditating--plain and simple. "I've been 'diving within' through the Transcendental Mediation technique for over thirty years," Lynch revealed. "It has changed my life, my world. I am not alone." He's right; you'd be surprised who is practicing the technique, probably even as you're reading this article. Now, if you can remember back to the days when TM first became the "it" child across this country's campuses, when The Beatles, Donovan, The Beach Boys, and so many others flew to Rishikesh to spend time with Maharishi, and if you can remember the waves of interest when Deepak Chopra touted its benefits on the lecture circuit, in books, and on TV shows, then you can see that there is something about TM that keeps it electric in the culture. It's no longer just your father's TM, though, yeah, it's exactly the same simple practice that's been taught for hundreds of years.
For most, this April 4th, Radio City Music Hall concert will be about the music, but its statement of solidarity and support for upliftment in education could be the beginning of yet another American wave of consciousness-raising. In our new Obama era of openness to all things that make us a more functional, successful society, this TM thing just might be a useful tool among many to get us there.

Popular in the Community