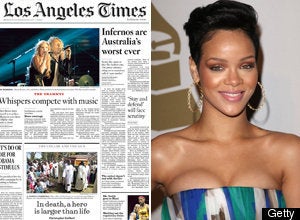 R&B singer Chris Brown has been booked tonight on suspicion of making felony criminal threats in connection with an incident involving his girlfriend, pop singer Rihanna, according to Los Angeles Police Department sources familiar with the case.
"Who says we need journalism's old rules?" asked Jossip's David Hauslaib, referring to the journalistic convention of protecting victims' privacy by not printing their names.
Indeed, every other major publication referred to Brown's alleged victim as an unidentified woman, allowing readers to make their own conclusions that his girlfriend, Rihanna, was the victim of his alleged assault.
But the Los Angeles Times decided to run Rihanna's name — despite the LAPD's refusal to confirm her identity, citing state laws meant to protect abuse victims' privacy.
The story's author, LAT reporter Andrew Blankstein, told me by phone Monday that the public nature of the case made it "fair game" to report her name.
"The Times has a blanket policy when it comes to not naming victims of sexual assault," he said. "There isn't a set policy when it comes to physical assault or a criminal threat. In that case, there's a decision internally and on a case-by-case basis of whether to name somebody. In this case, obviously there was a discussion among the editors about this. The nature of this case — against the backdrop of the Grammy's, the delay in changing things, the explanations put out by both camps — the decision was made that this was fair game."
Blankstein's comments were reiterated by the newspaper's Readers' Rep, Jamie Gold.
"The Times chooses to follow an established, non-binding practice on sexual assault victims in which The Times does not identify them by name," she said in an e-mail. "But that is for sexual assault, which is not the case here."
Support HuffPost
The Stakes Have Never Been Higher
Related
Popular in the Community