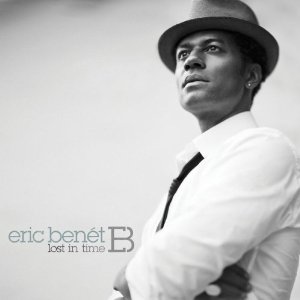 A Convseration with Eric Benét
Mike Ragogna: Eric, clearly, you love classic R&B.
Eric Benét: Thanks man, I appreciate that. You know, for me, when I listen to music today, it just feels like there is a lot of soul missing in soul and R&B music. When I was growing up, I was a child of the '70s with people like the Gamble & Huffs, the Thom Bells, the Marvin Gayes, the Donny Hathaways... We were talking about an era where if you could not sing, you could not go to the recording studio. If you could not play, you weren't on the track. Nowadays, you don't necessarily have to sing very well, it's basically just get in the ball park of the melody and we will fix the rest in Pro Tools and autotune it. You don't have to necessarily play so hot, just give us a couple chords and we'll loop it and then we'll push the modulation button at the right point. So, I think technology, in a lot of ways, has become a crutch for people who really aren't as talented as they appear to be.
It always brings me back to this time of my youth when I was just surrounded by and fell in love with R&B music. So, it was really important for me on this record to try to capture some of that magic. I had to go to the record label and ask for a little bit more money when it came to the production budget because, as you could imagine, having live strings, flugelhorns, and harps on damn near every song wasn't cheap. It was really important for me to hold this torch for this seemingly dying art form right now.
MR: One of my favorite tracks is the song "Paid" on which you feature The O'Jays' Eddie Levert.
EB: Yeah, man. "Paid" is one of those songs where my cousin George (Nash, Jr.) and I had just finished writing it and we were sitting there looking at each other and saying we just wrote an O'Jays song. We wrote a song that could have been on the same album as "Back Stabbers" or "For The Love of Money." So, it was a matter of course that we said, "Damn, we got to get Eddie Levert to get on this joint with us." We sent him over a demo and he graciously loved it and got down on it. So, that turned out great.
MR: Your cousin George Nash, Jr. is consistently your co-writer and co-producer.
EB: Yes, sir. I was one of those kids where I wasn't really into sports. I was kind of this nerdy little kid that was always tinkering with music, and George was my older cousin. George is about eight years older than me, and some time around 13 years old, I let George hear one of my songs and we've been working on music ever since. So, we have an incredible relationship when it comes to making music.
MR: You had a number one urban record with the hit "You're The Only One" on your last album Love And Life, which was another heavy R&B project.
EB: I mean, "You're The Only One" kind of planted a seed to do this particular album because the album Love And Life was almost its own kind of homage to R&B, but it was the different eras of R&B. I have a song on there that almost feels like '90s R&B and one feels like '80s. "You're The Only One" was the representation of '70s soul and R&B. By the reaction people had to "You're The Only One," I had the idea that, damn, since this was number one for four weeks, I think I better do a whole album that is an homage to this era. So that's where the great idea of Lost In Time came from. I also just want to say thanks to everybody out there because the first single off Lost In Time -- "Sometimes I Cry" -- has been number one for four weeks, so thank you.
MR: You've been nominated for Grammys, and recently, you almost won an American Music Award.
EB: I actually got a chance to catch a bit of the AMAs the other night and congratulations to everybody that won. It was one of those things where it became obvious what a different era we live in now as opposed to when I was growing up. There was so many people, while I was watching the awards the other night, that honestly could just not pull it off live who were getting standing ovations and being celebrated. It's just frustrating. I guess it's a part of being in society now where you can have a television show and be hugely famous and have no talent. You can go in there and make a record and not really be able to sing, and get all kinds of accolades and awards. So, it really made me miss the glory days when people who belonged to be in the studio were in the studio.
MR: Exactly. Let's talk about some more songs on this record. For instance, "Summer Love" that you sang with India.
EB: Yeah, she is actually my daughter. She is 18 now, which blows my mind on a whole other level. Yeah, she is 18 and she is an incredible singer-songwriter herself. "Summer Love," to me, has one of those early Stevie vibes to it. India just sounds so lovely on that track.
MR: That must be great to have your daughter on a track with you.
EB: Oh, hell yeah, man! I've been working with a lot of recording artists over the years and a lot of singers -- a lot of singers that are very good and have been doing the whole studio session stuff for a while. It might take them 10 or 12 takes to get a decent vocal, but my daughter just went in there and kind of knocked it out right away so that gave dad the old, proud, chip off the old block feeling.
MR: There's also "Take It" with Chrisette Michelle that evokes all sorts of great artists of the '70s.
EB: I listen to "Take It" and it almost feels like one of those Curtis Mayfield records where he would do the soundtrack to one of those blaxsplotation films like Superfly. It just has that 1970s in the streets vibe. Christine does an amazing job on that vocal. I mean I hate to toot my horn, but if I do say so myself, the whole record is the bomb. It's something that people don't realize they miss until they hear it. I mean, I don't know, maybe there are a lot of people out there that do miss it and they're just waiting for a place to get it from. That old, real, live, from the heart, emotional R&B. The whole project has turned out dope.
MR: Between your recordings, John Legend & Black Eyed Peas' latest release and a few other recent albums, many elements of classic R&B are getting a real workout.
EB: Absolutely. It's clear like the success of Maxwell's last record and R. Kelly coming out with his single that is straight 1969 doo-wop/R&B, it feels like it could come back to some realness. I encourage the record labels to invest in these artists that are trying to do music that is raw and live. The production may cost a little bit more, but it is really good medicine for an industry that is struggling.
MR: Yeah, get some reality back and maybe you can get the fan base back.
EB: Thanks very much, man. That is definitely going to be a beautiful side effect of doing a record like this. I hope so. It almost begins to initiate this resurgence of real R&B.
MR: You went to great lengths for your record to be real. A perfect example of that is your using musicians from your hometown as well as The Milwaukee Symphony.
EB: Absolutely. Look, to pull this record off, it was pretty expensive. To do a record like this in Los Angeles would be twice as expensive. So, I went back to Milwaukee and got some symphony players and my boy owns a studio and he made me one of those offers I couldn't refuse. So, I was blessed and fortunate my hometown of Milwaukee has the caliber and talent of musicians to pull this off. When I had that initial conversation with the head of the label, I said, "Look, this is going to cost considerably more than the last record." If I had to go in there and have that same conversation and talk about everything I did on Lost In Time in Los Angeles, I never would have gotten a yes. So, it all worked out great.
MR: Can you give some advice for new artists?
EB: Yeah, if I could offer one bit of advice. Along the way you are going to hear opinions of where you should steer your talent. In other words, there are going to be people that will tell you if you're a rapper, you should rhyme more like this, or if you're a musician, you should play more in this direction. Whatever it is, people are going to be telling you what and how you should sound to be successful. My advice is to not discard all of that information but take it with a grain of salt. Let the most prominent voice of all of those opinions be the voice of your inner passion that made you fall in love with the craft, whatever your craft is. Let that be the loudest. Now that I really feel like I've grown and matured and evolved into who I am now, I find I have the most success when I listen to my inner voice and make sure that it has the priority over the rest of the voices around me.
MR: Very nice. And you're on tour with Fantasia now.
EB: Yes. Fantasia is an incredible performer. She is great on the road and we are just slaying audiences. We are going to do the Nokia Theater in L.A. and it's just nuts. We are having a great time and everything's good.
Tracks:
1. Never Want To Live Without You
2. Feel Good - with Faith Evans
3. Sometimes I Cry
4. Always A Reason
5. Paid - with Eddie Levert
6. Take It - with Chrisette Michele
7. Stir It Up
8. Summer Love - with India Benét
9. Lost In Time
10. Good Life - with Ledisi
11. Something's Wrong
(transcribed by Theo Shier)
SONY MUSIC ENTERTAINMENT LAUNCHES POPMARKET.COM, THE ULTIMATE ONLINE SHOPPING CLUB FOR MUSIC FANS

Members Offered Hottest Deals On World's Coolest Music

Sony Music Entertainment announces the launch of PopMarket.com, the ultimate online destination shopping club for music fans offering its members limited-time private sales on the world's coolest music.

A member's-only online initiative designed for music fans, bargain hunters and serious collectors alike, PopMarket.com offers a 24-hour limited time Daily Deal (changing each day at 12noon Eastern) and five channels (changing weekly) containing a mix of premium music and merchandise available for a limited time at exclusive member's-only prices. PopMarket membership is free.

"Sony Music Entertainment is proud to be the first music company to open its vaults to music lovers and provide them with an elegant direct-to-consumer online shopping experience," said Adam Block, Executive Vice President and General Manager of Legacy Recordings, Sony Music Entertainment's catalog division. "Secure, seamless and convenient, PopMarket is open 24-7, offering fans exceptional values on great music."

Now live, PopMarket.com provides a rare window of opportunity to purchase rare and collectible albums, boxed sets, memorabilia and more at deeply-discounted member's-only prices. PopMarket's inventory is limited and products are sold on a first come basis.

PopMarket has already offered deluxe boxed sets by Santana, Alabama, Ken Burns Jazz, Simon & Garfunkel and The Clash with future Daily Deals to include albums and collections by Dave Brubeck, Neil Diamond, Billie Holiday, Dolly Parton, Elvis Presley, Janis Joplin, Aerosmith and many more.

Product channel categories have included Country Legends (classic recordings from American country artists, 30th Anniversary (deluxe box sets of recordings that have stood the test of time), framed Gold Records from music's biggest artists, Singer Songwriters, and limited edition artist-specific Collector Crates sets including a classic album, t-shirt and branded CD crate.

Upcoming weekly channel categories will include deals from the British Invasion, Romantic Hits, Diva Sets, Folk/Rock Legends, Punk & Glam Rock, American Jazz & Soul, Complete Artist Collections, Pop Sensations and dedicated campaigns focusing on music from the '60s, '70s and '80s.
Calling all HuffPost superfans!
Sign up for membership to become a founding member and help shape HuffPost's next chapter