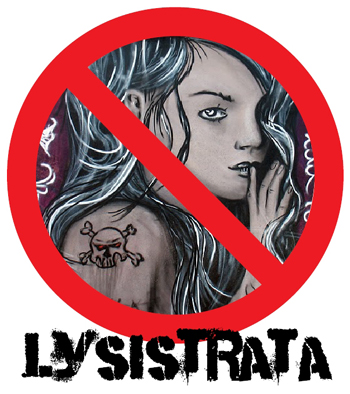 Brandon Cutts's adaptation of Aristophanes' Lysistrata, which mitigates the domestic challenges of war with humorous expediency, offers a welcome respite from bad news on the war front. The transposition of the setting from 5th century Greece to a major metropolitan U.S. city and of the participants from warriors to gangbangers rings relevant, though at times the play loses a little of its anti-war thrust when the acting seems more like set pieces than life-and-death exchanges between gangbangers. Nonetheless, a few notable performances and an appropriate directorial emphasis on the absurd preserves the wicked delight of the original.
Aristophanes' bawdy wit is preserved with, among other things, a reference to an intriguing sexual position call The Lioness on the Cheese Grater. The atmospheric updating of the original feels right: a bleeding-ear rock band chorus, The Gunslingers, provides warm up music and references to such nowaday things as Ambien, a "slut kit," a "pimp cane," and Manolo shoes abound.
Lysistrata (Rachel McVay) has had it with the Peloponnesian War. For different reasons, the same holds true for her posse, Leonike (Taryn Jenna), Myrrhine (Holly Leveque), Ismenia (Shiva Sadjadpour), Koryphaia (Joanna Bartling), and Amara (Laura Tull). Only Lysistrata sees it as an affront to humanity. Muse-stricken, she hits upon a scheme that will literally bring the combatants to their knees: go on sex strike until hostilities cease. First she forms a unified front with the women, which is no mean feat: they're young, they're restless, and they wear their hormones on the sleeves of their togas. Using nothing but guile, seduction, and persistence, she subdues the mighty warriors, but not before a few humorous sidebars of priapic resistance.
The adaptation is ambitious and funny, but its enactment is inconsistent and underdeveloped. Though it is set in what appears to be a squat, festooned with graffiti, barricaded with chain link, staged with music specific to our era, and littered with contemporary slang and references, the "war" around which the production is based is too remotely abstract to validate the production's otherwise fine premise.
Similarly, it is hard to get a sense of the characters' urgent needs for peace and lust because a lot of the dialogue consists of actors speaking over one another. The relationship that rings the most true is that of Lysistrata and her cohorts, but that's mostly due to the efforts of McVay, whose diplomatic verve holds together the no-we-won't alliance. She can be frustrated and weary one moment and as relentless as a female divorce attorney the next, her relentlessness tempered with the charismatic, whatever-it-takes expediency of Reese Witherspoon in Legally Blonde. Mike Austin's Magistrate neatly characterizes the arrogance of an alpha male society, which makes his kidnapping cum makeover (yup, there's one of those) all the more hilarious. And Lisa Valerie Morgan's Peace, a three-dimensional metaphor hovering over all the proceedings, does a fine job as a non-speaking presence whose dour facial expression for about 99% of the production describes her divine opinion of the foolish mortals; once the war ends, though, she becomes one of the girls.
Performances are 8pm, Thurs. & Fri., 2pm, Sun. The show runs until June 19. Tickets are $10-20. The Theatre is located at 4250 Atlantic Ave. For info call 997-1494 or visit lbshakespeare.org. For info on the Gunslingers, visit myspace.com/thegunslingersrockband.
Calling all HuffPost superfans!
Sign up for membership to become a founding member and help shape HuffPost's next chapter