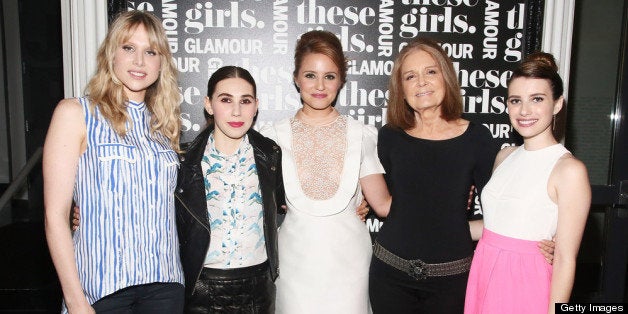 "These girls deserve my all-time favorite word, which is fan-f**king-tastic," said activist Gloria Steinem, introducing the actresses who would be performing at Glamour magazine's second-ever "These Girls" event, a night of monologues about being a young woman held at Joe's Pub on May 20th. "I have one big regret [about my time as a Glamour contributing editor]," she later said. "We were too well-behaved." Luckily, the young women of Generation Y don't seem to have that problem.
British actress Lucy Punch opened the performances by discussing her feminist mother, her temporary career "[serving] beers in a slutty cowgirl outfit" and her fraught relationship with social media. "I am terrified of being misjudged by thousands of faceless Twitterers," she said. "I don't want people to judge who I am [online] because I haven't decided who I am." Alexa Chung tackled the related topic of Instagram and the way we sometimes use it to feign happiness. "Insta will not heal your broken heart," she said. "Every time you post a photo of you [being] fake happy, a fairy dies."
Emma Roberts discussed her attempt to leave Hollywood and be a normal college kid. "I was so busy pretending to experience everything [on-screen], I forgot to experience real life," she said. Her first kiss was on TV, as was her prom, and losing her virginity was "insinuated on camera twice, before quickly happening in real life" in her friend's guest house. But after arriving at Sarah Lawrence to a vegan roommate who did not appreciate her late-night cheeseburger eating, college men who largely ignored her and being the subject of a very unflattering campus blog post, she decided to leave. "I wasn't getting what I wanted ... on my quest for real-life experience," she said. "But I do have high hopes. When I'm 30, playing 21, maybe I'll have the graduation I always dreamed of."
"Glee" star Dianna Agron also spoke about growing into herself, after an 11-year "awkward phase" that included middle school boys making fun of her deep voice, worshipping Audrey Hepburn and Lucille Ball, and getting accidentally punched in the nose and branded "bloody nose girl" as a high school freshman. After spending her late-teen years smiling, nodding and trying to be generally agreeable, she had an epiphany while at the acupuncturist. "I didn't have to feel as if I had to be everything," she said. "I was something. I was just me."
Plus, when she falters, she has a very special acquaintance to remind her to stay true to herself. "I met Jay-Z twice in one month," she said. "This is not normal." After greeting him with some combination between a hand slap and body slam, she apologized. "He said, 'Were you being you?'" Agron recounted. When she responded affirmatively, he said "OK, cool. Let's do it again." Stars: They're just like us ... except they hang out with Jay-Z.
Afterward, a leather-clad Zosia Mamet -- a.k.a. everyone's favorite side-braided and bunned NYU student on "Girls" -- took the stage. She poignantly discussed the realities of being a member of a generation that's "obsessed with speed and not kind you did in the '70s," who have come of age with Siri and are "programmed to get what we want now." She also opened up about her current relationship with actor Evan Jonigkeit, a stark departure from the "bad, abusive relationships" she's previously had. "I fell in love this year with all the grandeur and magic we dream of," she said. "It's the scariest f**king thing." She also confessed that she "would elope tomorrow" with Jonigkeit if he asked, but realizes that some things, like love, need time to grow. Mamet closed her monologue with an age-old question: "How do we reconcile the excitement of impulse with the proven value of time?" she asked. "F**k if I know."
Arguably the most powerful monologue of the evening came last, from comedian Amy Schumer. She spoke candidly about her struggles with self-esteem during college ("My wit and charisma didn't mean sh*t"), body image ("I was not what the guys wanted. They wanted thinner, blonder, dumber"), and the simultaneously awful and enlightening experience of sleeping with an inebriated "super senior" named Matt. "His fingers [were] poking inside me like he lost his keys," she said. "He goes down on me. I think, 'that's ambitious.'" She put up with the degrading experience until Sam Cooke started playing. "I chose to be my own fairy godmother," she said, and she rescued herself from dorm room hell.
In the most honest and heartbreaking part of her performance, Schumer perfectly articulated how one comment can tear a woman down despite years of work put into building herself up. Despite the fact that she "feels beautiful and strong," has "had sex with really great people" and feels "hot-blooded and fearless," when a DJ recently asked if she'd gained weight and when Men's Health magazine used a photo of a teenage model instead of a photo of her next to an article she had penned, that confidence evaporated.
"Sometimes I wanna quit being a woman," she said. "OK you've figured me out -- I'm not pretty. I'm not thin." But, when Schumer's confidence takes a hit, only she can rebuild it. "F**k that," she said, choking up. "I say if I'm beautiful. I say if I'm strong ... I will never apologize. I stand here and I'm amazing for you, not because of you. I am not who I sleep with ... I am not my weight. I am myself."
At the end of the night, after half of the mostly-female audience had dried their eyes post-Amy Schumer's monologue, Amy Poehler reviewed what we had all learned: "Don't use the Internet, work on our British accents [and] Sam Cooke can get you through any bad lay." Plus, she said, "We really are OK. Young people -- they got this."
LOOK: Photos Of Glamour Magazine's "These Girls"
Calling all HuffPost superfans!
Sign up for membership to become a founding member and help shape HuffPost's next chapter
BEFORE YOU GO
PHOTO GALLERY
Glamour's 2nd "These Girls" At Joe's Pub