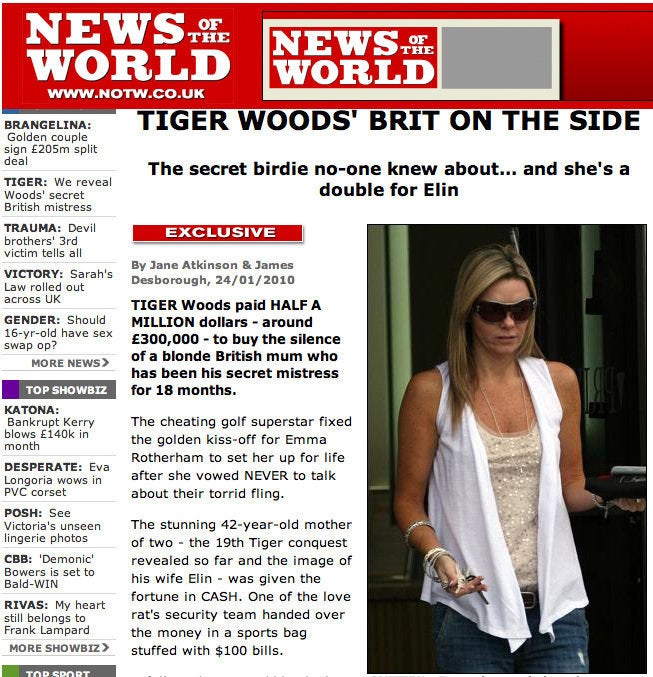 Emma Rotherham, a 42-year-old British mother of two, is the latest woman to allegedly have slept with Tiger Woods. News of the World reports that the two had "awesome" sex on Woods' office couch at least several days after first meeting at the Blue Martini club in Orlando.
According to a News of the World source, Tiger regularly asked her to send him sexy pictures and "loved her to dress in black stockings and suspenders." In addition to having pre-golf-practice sex at least once a week, Woods allegedly flew her to a tournament in Michigan, where they took Ambien before having "mind-blowing" sex that lasted through the night. At least some of their rendezvouses reportedly occurred while Tiger's wife Elin Nordegren was pregnant.
The article also reports that the British mother has been paid approximately £300,000 to ensure her silence, which echos reports about other alleged mistresses. Rachel Uchitel (PHOTOS) was reportedly paid at least $1 million, and 40-something "cougar" Theresa Rogers, who purportedly taught Woods "everything he needed to know to be a great lover," was also rumored to be negotiating a payout.
Read the full article for more details and two pictures of the alleged mistress.
Related
Popular in the Community