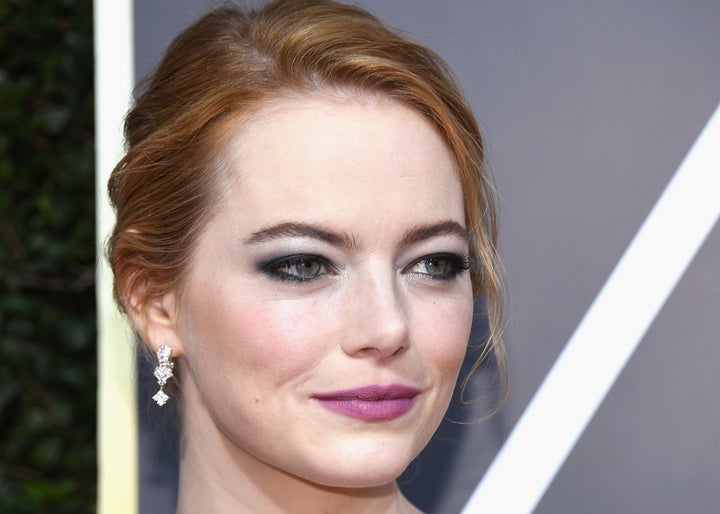 There was a feminist message hidden in Emma Stone's makeup at Sunday night's Golden Globes. 
Stone's makeup artist, Rachel Goodwin, told Allure that she wanted the star's makeup to make a statement, but also to match the mood of the night: solidarity. Dozens of actresses and actors wore black to the awards show as a quiet protest against the entertainment industry's rampant sexual harassment and assault.
"The whole sentiment of the night was about everyone coming together in solidarity, coming out against sexual assault, and it was this important message that we knew would be the sentiment of the night," Goodwin said. "Some people decided to hold back with their makeup, but I asked myself, 'How can I send a message with beauty that was in solidarity with the effort?'" 
The three main colors used on banners and posters in the U.S. and British suffrage movements were white, purple and green. Purple symbolized loyalty and dignity (and also was known to symbolize royal blood in the British movement); white suggested purity; and green represented hope. 
"I found these incredible banners, sashes, pins, and jewelry that women of the suffragist movement wore and they all had these three colors — green, purple, white — and those were the suffragist colors," Goodwin told Allure. "So I decided to make that my beauty message and to create and design a makeup that had a message of empowerment, so that was where the inspiration came from." 
Goodwin said Stone's eyes are green, her lips and cheeks were purple, and there's white in her eyeshadow. "Those are the only three colors in the makeup," she said. 
Clarification: This article has been updated to explain that the 19th Amendment technically gave all American women the right to vote, but voter restrictions and Jim Crow laws prevented many nonwhite women from voting until the 1960s. 
Calling all HuffPost superfans!
Sign up for membership to become a founding member and help shape HuffPost's next chapter