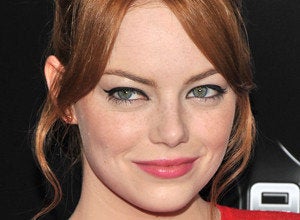 It's one of the great unfulfilled love stories in comic book stories, the what could have been between Peter Parker and his first love, Gwen Stacy. While Spider-Man's alter ego eventually falls for and marries fiery redhead, Mary Jane Watson, the blond Stacy offered another avenue for fifty years of adventure.
In Marc Webb's upcoming film reboot, "The Amazing Spider-Man," that early love story is explored in more depth than ever before on screen, with Emma Stone taking on the role of the Upper East Side science loving cutie. Speaking to Rotten Tomatoes about the role, she gushed about her fictional boyfriend, who is played by Andrew Garfield.
"They kind of couldn't be more different in upbringing; she's got this really stable family and her father is the authority figure of the city [as well as] the family, and she's always been daddy's little girl, and very responsible because of her father," Stone told the website. "Then Peter is an orphan who lives with his aunt and uncle and is a completely different type of guy than I'm sure her father would imagine her with. I think she sees something heroic in Peter long before he becomes Spider-Man, something different in him than the rest of the kids at school. Not to mention he is great at science, so that's a big turn-on too."
Stone knows how important it is to deliver faithfully to the spirit of Spider-Man, given its long history and passionate fan base; in a recent interview with The Advocate, she spoke about that pressure.
"Like with 'The Help' but more insane, Spider-Man has this built-in fan base, where people already know the story and are going in with their own opinions and expectations, so you're either going to live up to them or let people down," she said. "But it's really all about passion, and I love passionate people."
Stone can currently be seen in "Crazy, Stupid, Love,." and will next month debut her civil rights drama, "The Help."
WATCH
:
REAL LIFE. REAL NEWS. REAL VOICES.
Help us tell more of the stories that matter from voices that too often remain unheard.