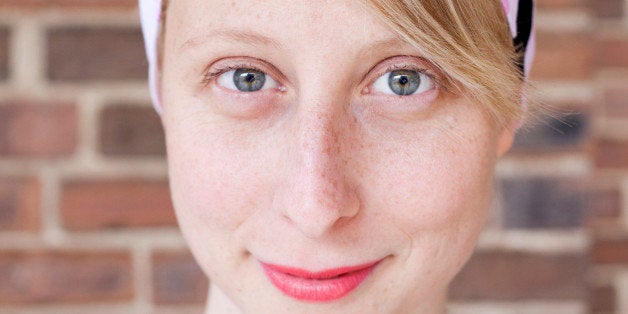 Brief Interviews is a series in which writers discuss language, literature, and a handful of Proustian personality questions.
Emma Straub is the author of three books, including Laura Lamont's Life in Pictures. Her latest novel, The Vacationers [Riverhead, $26.95] publishes this month.
What's the best thing about being a writer?
I feel crazily grateful that this is my job. I get to sit at home and think and make things up and tell stories. I'm a lucky girl. The best thing about being a writer is twofold, really -- it's the ability to get those things out of my head and onto the page, and having people read them. Three books in, I am still ecstatic that I'm allowed to do this.
What word or phrase do you overuse?
Probably "I love it" or "that's amazing" because I both love a lot of things and find them amazing. For example, sandwiches. I love sandwiches, and they are amazing.
Which books are currently in your to-read pile?
There are approximately 200 books in my to-read pile. I don't read them in any kind of order, though, so some books languish on the stack for years, and some go straight into my hands. Some books that I plan to read in the near future are Maggie Shipstead's Astonish Me, The Most of Nora Ephron, Sherwood Anderson's Winesburg, Ohio, Susan Orlean's Saturday Night.
Who are your literary heroes?
I have so many. Meg Wolitzer, Lorrie Moore, Ann Patchett, Jennifer Egan, Tom Perrotta. They're funny, friendly people who also happen to be geniuses. If I was on the MacArthur committee, I would give them all awards every year. (I realize this is a reason that said committee doesn't consult me.)

Which classic have you not yet read? Do you intend to read it?
Lorrie Moore told me about a writerly drinking game she's played, where you have to admit all the classics you haven't read yet. I think I'd clean up. I've done lots of the Russians and the Brits, but I've never read One Hundred Years of Solitude. I should probably get on that. It's a wonderful, glorious problem to have, important books that you haven't read yet. There's so much to look forward to!

Do you prefer print or e-books?
I've never read an e-book. Does that make me a luddite? I love Twitter and Tumblr and Instagram and all that, but I just can't read a book on my phone. Weigh me down, paper object! I love you, you're amazing!
REAL LIFE. REAL NEWS. REAL VOICES.
Help us tell more of the stories that matter from voices that too often remain unheard.