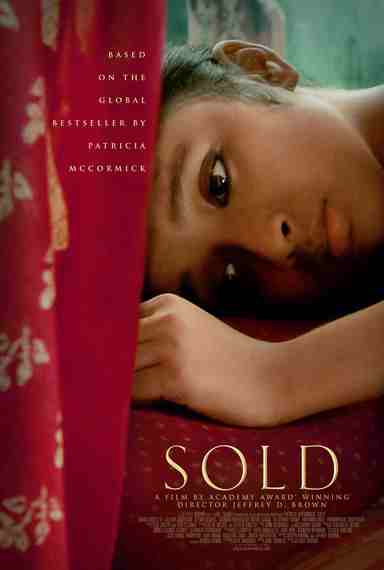 SOLD, a film based on author Patricia McCormick's real life account of young girls trafficked from Nepal to India, has scooped up numerous awards on the recent film festival circuit, with its creators now seeking to crowd-fund a theatrical release. Oscar-winning Director Jeffrey Brown, Producer Jane Charles, and two-time Oscar-winning Executive Producer Emma Thompson have just launched a $50,000 campaign on Indiegogo to ensure that the film reaches a wide audience and spurs renewed action against this modern-day form of slavery.
Sensitive direction, powerful acting from a remarkable ensemble, and stunning cinematography transcend the conventions of documentary. Thompson remarks:

It's very rare... that a piece of art or of storytelling could really help to change things... but SOLD is one of those films. It's a beautiful piece of work and it tells the unseen story of millions and millions of children.
SOLD opens as a young girl, Lakshmi, is lured from her home in a quiet village in the Nepali Himalayas with the promise of a job in an Indian household. Instead, upon her arrival in Kolkata, she finds herself trapped in a brothel, where she is brutalized into submission. Lakshmi is a fighter, however, and her cries for help attract the attention of a roaming American photographer. Gillian Anderson -- in a role inspired by real life humanitarian photographer and Lucie Award winner, Lisa Kristine -- enlists the aid of an NGO and local police. With the beloved Kolkata actor Parambrata Chatterjee playing an undercover investigator, who takes newbie investigator David Arquette under his wing, they embark on a dangerous mission to rescue Lakshmi.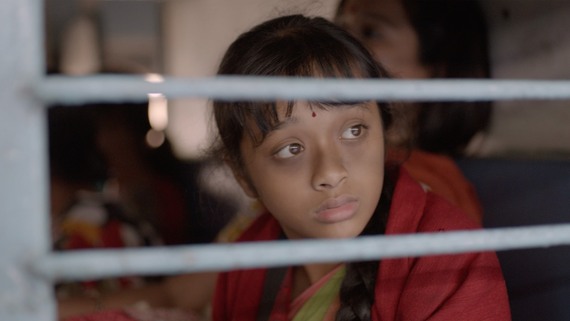 The taut drama becomes even more chilling with the knowledge that it is re-enacted everyday in some form in countless brothels in India and beyond -- more often than not, without the intervention that saved Lakshmi.
The meticulous preparation that went into the film is evident throughout. Brown commends his India crew for a phenomenal research and design job:
The cast and crew were all taken through the red-light district of Sonagachi so everyone could see exactly what we were recreating ... All the cast met with survivors of trafficking at a number of shelters so that they could see the resilience of these amazing women who had been through this ordeal ... We brought Lisa Kristine to India to work with us and to work with Gillian as she prepared for the role ... We shot in a location which had the same architecture as the red-light area. Everything we show is accurate in detail.
The heart of the film is the luminous Niyar Sakia, who plays the determined, resilient Lakshmi. Over 1,000 girls were auditioned in an exhaustive search that spanned Nepal, India and the United States. Says Brown:
Niyar is so smart, funny, grounded, and yet she can go to the very depths of sadness on cue, in an instant. She had done a few short films prior to SOLD, but this is her first feature and leading role. Niyar is one of the best actresses I have ever worked with of any age. She was 12 when we cast her and turned 13 on the first week of shooting.

He also noted that 13 is the average age of trafficked children, globally.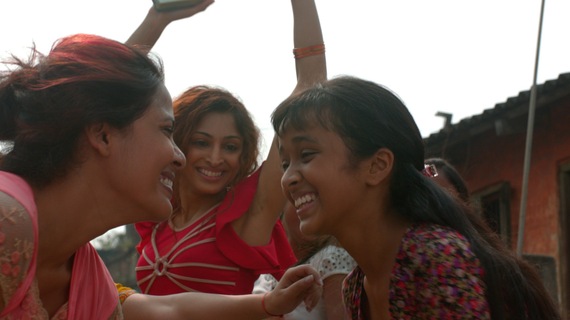 Among the stars of Indian film and television who feature in SOLD, Susmita Mukerjee is an unforgettable presence in the role of brothel owner Mumtaz. Though she radiates evil, she is also a complicated character.
SOLD has been the opening night film in five film festivals, and won three audience awards and a jury award for Best Feature.
Organizations that have partnered with the film to spearhead efforts to protect children from trafficking include Childreach International, Walk Free, ECPAT (End Child Prostitution, Child Pornography and Trafficking of Children for Sexual Purposes), United Way, Rotary Clubs International, Stolen Youth and others.
Popular in the Community