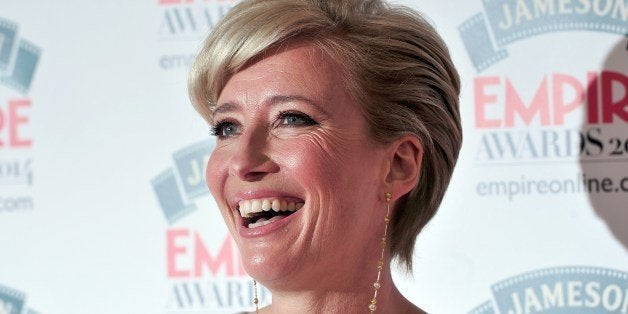 Emma Thompson does not think constant working is the secret to successful motherhood.
The 55-year-old "Saving Mr. Banks" star told the Daily Mail that she recently took a year off from work because she wanted to spend more time with her family.
"A year off was my birthday present to myself. I didn't actually act or write. I was just a mum," she said. "I taught drama at my daughter's school, cooked meals and had fun. I highly recommend others to do the same if they can afford it."
"You can't be a great mum and keep working all the time," she also told the Daily Mail.
Thompson is mother to a 26-year-old son, Tindyebwa, and a 14-year-old daughter, Gaia.
"Sometimes in life you'll have some things, at other times you will have other things," she continued. "You don't need it all at once, it's not good for you. Motherhood is a full-time job. The only way I could have continued working would have been by delegating the running of the home to other people. I never wanted to do this as I find motherhood profoundly enjoyable."
Thompson's comments come on the heels of another notable star's take on motherhood: Angelina Jolie. During an interview about women juggling their professional and personal lives, the mother of six told the New York Daily News that privileged moms should not complain about struggling.
"I actually feel that women in my position, when we have all at our disposal to help us, shouldn't complain," she said. "Consider all the people who really struggle and don't have the financial means, don't have the support, and many people are single raising children. That's hard."