Torture victims often lose their voice twice: first during the torture itself and then when no one listens to their ordeal, Actress Emma Thompson says.
Thompson, an Academy Award winner, and Helen Bamber, who heads a foundation dedicated to survivors of torture and trafficking, spoke to a luncheon of journalists, UN officials, diplomats and others at United Nations. Many in the audience of 150 had met victims of abuse but listened in hushed silence to the two women and then stood in respect.
"Our jobs as journalists, our jobs as actors are to express the outrage," Thompson said. "I see over the world great things being written down but they are not being acted on."
She recalled how she had trained for the 2003 film, Imagining Argentina, in which she played a journalist undergoing torture. Helen Bamber had first told her about a survivor, Perico Rodriguez, of the "dirty war" in Argentina who had found his voice again. And then Bamber spoke about a woman she had treated who had tried to scream but "could not get it out."
Emma Thompson said she understood that as an actor "finding that silent scream... the trapping of a voice inside the body," adding: "The work (of Helen Bamber) is all about finding that voice and being able to release it so we can hear."
"The thing you have to remember is that torture victims often lose their voice twice. First during the experience of torture itself and then when they experience people turning their heads because they don't want to hear the story."
Helen Bamber was head of the British Medical Foundation for the Care of Victims of Torture before she started her own foundation with Dr. Michael Korzinski four years ago at the age of 80. She and Emma Thompson were in New York for the US debut of Journey an interactive art installation in seven box cars shown east of Washington Square. Korzinski and Bamber's assistant, Philippa Malas, were among those who greeted visitors in rain and shine at the exhibit that closed on Sunday. Korzinski said about 1,400 people had had visited on each of the five days the exhibit was open.
Bamber and Thompson were honored at the Dag Hammarskjöld Scholarship Fund for Journalists, a group formed by UN-based journalists to award fellowships to correspondents from developing nations. (Disclosure: this reporter is chair of the Fund). Bamber was awarded the Fund's "Inspiration Award." on Wednesday . http://unjournalismfellowship.org
At Bergen-Belsen Concentration Camp
In her address, Bamber, a psychotherapist, talked about her first encounter with trauma victims when she was sent with a rehabilitation group to the Bergen-Belsen concentration camp after the war - the helplessness of being in an area of total carnage and feeling useless.
"One day I came across a survivor who looked really like a piece of material on the ground," Bamber said. "We sat on the ground, we touched each other, held each others hands and we rocked rather like grieving children, like deprived children rock."
Knowing the woman was about to die, Bamber told her," I will tell your story for as long as I live. The woman, she believes, realized the importance that strangers recognized what had happened to her.
Bamber spoke about her campaign for the Argentine survivor, Perico Rodriguez, who survived three years of torture following the military coup in 1976. Three decades later he returned to Argentina at a trial of his torturers, who received 15 year sentences. "The process of justice, however late, is very important," she said.
It's the story of hundreds and thousands of survivors who really have no voice and will be forgotten. And I am sure there are many here who are telling the story," Bamber said at the UN. "I am a person who simply does a job. There is anger. There is grief and then there is the reward.
Bamber and Thompson have publicized the story of "Elena" from Moldova, who came to London on promises of a job in a doctor's office rather than standing in a market selling vegetables. Elena's own voice tells the story in a recording in the last box car of the Journey exhibition and in the program given to visitors.
When Elena arrived in London via the Czech Republic, she was beaten, starved and raped and was told that her family back home would be killed if she protested. "That's a winner every time," said Thompson.
The night she decided to escape she was picked up by the British police, held in a detention center for three weeks and deported. At home she was so scorned she returned to Britain as a prostitute in her own right.
"But after months she realized that no amount of watches or handbags or Louis Vuittan would fill the hole," Thompson said. She went for help.
The Journey exhibition, developed by Emma Thompson and Elena over a year, was first set up in Trafalgar Square two years ago. At one point Elena came to the installation and watched people leaving, without identifying herself, Thompson related.
A large Russian man said to her," I am afraid, it could my sister, my daughter. It could be someone I know." He then asked Elena, "How is she?" And Elena replied, "You know she is doing fine and she thanks you for your concern."
------------------------------------- Between 14,500 and 17,500 victims are trafficked into the United States each year among the 800,000 estimated to be trafficked across borders annually, the majority of them women and girls for sexual exploitation, the US State Department reports. The estimates are low since many crimes of exploitation or forced labor are not reported.
(Below: Emma Thompson speaks at UN on trafficking; Helen Bamber gets UN journalist award from Evelyn Leopold)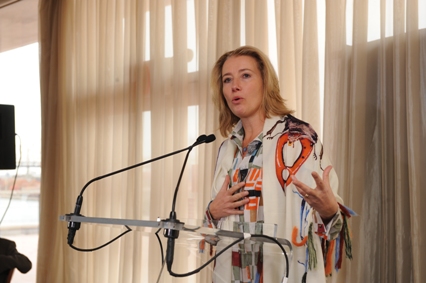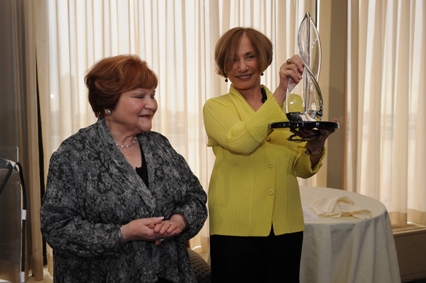 Calling all HuffPost superfans!
Sign up for membership to become a founding member and help shape HuffPost's next chapter