Emma Thompson didn't shy away from nude scenes in her new film, "Good Luck to You, Leo Grande."
The movie, which required full-frontal nudity, is centered around a widow who searches for intimacy with a male escort after enduring a passionless marriage for decades.
Over the weekend, Thompson shared how her co-star, Daryl McCormack, and their director, Sophie Hyde, rehearsed for the film to ensure everyone was comfortable with their roles.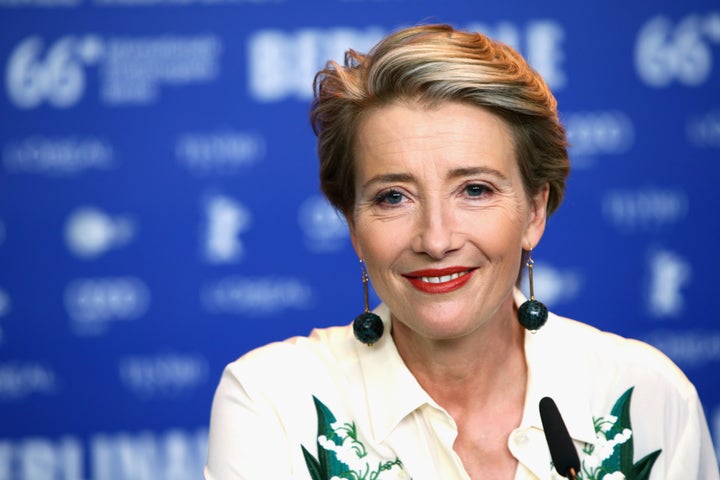 "Sophie, Daryl and I rehearsed entirely nude and talked about our bodies, talked about our relationship with our bodies, drew them, you know, discussed the things that we find difficult about [them], things we like about them, described one another's bodies," Thompson said during a talk with Cinema Cafe at the Sundance Film Festival, where the film premiered.
"It's very challenging to be nude at 62," the actor said, explaining that in one scene, her character "stands in front of a mirror alone," "drops her robe" and looks at herself with "no particular judgment."
"That, for me, was hugely, hugely difficult," Thompson said. "I don't think I could've done it before the age that I am."
"And yet, of course, the age that I am makes it extremely challenging because we aren't used to seeing untreated bodies on the screen," she continued. "We're used to seeing bodies that have been worked on, you know, for a long time to make them acceptable to our eyes. It's time we did more to change that ... We've got to be able to see real bodies on the screen."
During another interview Monday on behalf of the film, the Oscar winner told The Wrap's Sundance Studio that "one of the great triumphs of this story" is that it "presents the untreated body for, you know, one of those very rare moments."
In response to a question about whether she would ever consider plastic surgery, Thompson said she wanted her body to remain "untreated."
"Why would you do that to yourself? I simply don't understand," Thompson said, adding, "I really do think it's a very strange thing to do."
"But I've always been a kind of card-carrying, militant feminist when it comes to women's bodies and what's been done to them, what we're told to expect of ourselves, what we're told to do to ourselves," she said.
Support HuffPost
The Stakes Have Never Been Higher
Popular in the Community