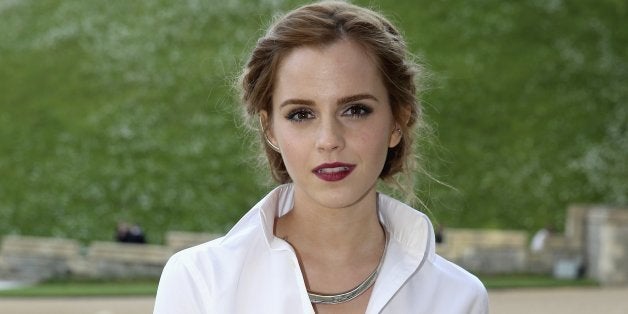 Emma Watson gave a very public UN speech about gender equality and feminism. "I have realized that fighting for women's rights has too often become synonymous with man-hating," the actress said. "If there is one thing I know for certain, it is that this has to stop." Male and female celebrities rallied around her in impressive numbers, while the blogosphere productively debated the merits and message of the He For She movement. All in all, it seemed like a net positive. The next day, Watson was threatened.
A website, allegedly set up by 4chan, "counted down" to the moment someone would release stolen intimate photographs of Watson. The group behind all of this turned out to be "Rantic Marketing," who are actually serial spammer Internet trolls known as SocialVEVO. They were using the vile threats to drive traffic to their website and make a buck. But the intricacies of the hoax -- and who perpetrated it -- aren't the most important part of this story.
The threat of nude photos were the tool used to assert control over Emma Watson's body and message; a distraction which created fear and anxiety that was as real as if the threat had actually been realized. As Mic's Elizabeth Plank pointed out, nude photos may have become "the new weapon of online misogynists" -- and ultimately, stealing and releasing them (or just saying you're going to do so) isn't about exposing a sexy woman's body; it's about power.
That a woman's body can still be used as a weapon against her is exactly how we know that the gender equality that Watson is using the UN platform to advocate for has yet to be achieved. The threats against Watson were covered widely in the media -- because she's a public figure, because they came on the heels of her viral speech, and mostly, because they are indicative of a larger issue.
There are women who are threatened and intimidated online every day simply for expressing their opinions, whose stories we often don't hear quite as loudly, or at all.
Here is a very small sampling:
In August, journalist Jessica Valenti received a barrage of abusive comments for asking her Twitter followers if they knew of any countries where tampons were subsidized.
The same month, gaming blogger Anita Sarkeesian had to call the police and leave her home after getting a death threat from someone who had found her address, and that of her parents.
After debating the role rape jokes play in comedy in June 2013, Lindy West received dozens of rape threats.
This past January, journalist Amanda Hess recounted when a man created a Twitter account just to harass her, sending vile messages into the ether like, "Happy to say we live in the same state. Im looking you up, and when I find you, im going to rape you and remove your head."(sic)
A person with an opinion and a way to project it is a powerful thing, whether that platform is Twitter or the floor of the UN. But women know that when they choose to voice such an opinion, they open themselves up to the possibility of not just vehement disagreement or critique, but violence, sexualization and threats which may or may not be empty.
SocialVEVO's motivation may have been profit as opposed to women's silence, but they capitalized on a threat that they knew could be credible. (After all, we watched as powerful female celebrities like Jennifer Lawrence and Kim Kardashian had their photos stolen and released, and the subsequent predictable misogynistic backlashes that followed.) And the end result, regardless of motivation, was similar. As Roxane Gay wrote about the first round of nude photo leaks: "What these people are doing is reminding women that, no matter who they are, they are still women. They are forever vulnerable."
We now know that SocialVEVO was never going to release naked photographs of Emma Watson, but it would hardly have been surprising if they had. I look forward to a time when that's not the case -- and when nude photos aren't something that hold such power. As Watson asked: "If not now, when?"
Calling all HuffPost superfans!
Sign up for membership to become a founding member and help shape HuffPost's next chapter
BEFORE YOU GO
PHOTO GALLERY
#YesAllWomen Stories