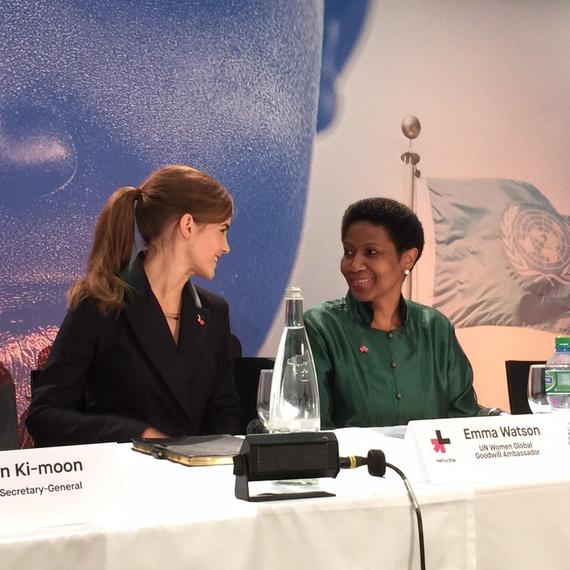 Emma Watson, UN Women Goodwill Ambassador, and Phumzile Mlambo-Ngcuka, Executive Director of UN Women, at the World Economic Forum in Davos, Switzerland. Photo courtesy of UN Women.
Emma Watson, UN Women Goodwill Ambassador, is in Davos, Switzerland, today at the World Economic Forum to officially launch the next phase of UN Women's #HeforShe campaign.
The HeforShe campaign, first launched in September at the United Nations General Assembly in New York, is an initiative to mobilize men and boys in the movement for gender equality. "This is everyone's concern," said United Nations Secretary-General Ban Ki-moon at a Davos press conference. "Our world will not change until men think differently about their roles about what it means to be a man."
The new campaign, IMPACT 10X10X10, is a one-year pilot effort that aims to engage governments, corporations and universities to make concrete commitments to women's empowerment and gender equality. "The fight for gender equality has to be time-bound. It cannot be open-ended," said Phumzile Mlambo-Ngcuka, Executive Director of UN Women, at the Davos press conference.
According to the World Economic Forum, on the current trajectory, the gender gap in the workplace will not be closed until 2095, and gender parity in political representation will take another 50 years, unless we take giant steps here and now.
These giant steps are exactly what the new HeforShe initiative intends to put in motion.
Since the #HeforShe campaign launched in September, the hashtag has been used by 1.2 billion people and has become so popular Twitter has painted it on their wall. The campaign has signed up fathers who want to raise empowered daughters, leaders who know their societies will be stronger when there are as many women in government and in business as men, and ordinary people who are fed up with violence and discrimination against women and want to be part of a global force for change.
The IMPACT 10x10x10 initiative is intended to be the logical, action-oriented step that follows the advocacy launch phase of HeforShe.
But that doesn't mean the advocacy stage is over. UN Women Goodwill Ambassador Emma Watson and the HeforShe campaign are calling on you to share your story on how you are strengthening women's rights and advocating for gender equality. "A fan told me that after watching my speech [at the UN in September], she stopped letting her father beat her," reported Emma.
Women have been the torch bearers in the fight for women's rights for a very long time. It's time now to bring men and boys into the fold. "Women alone cannot fight the deeply entrenched stereotypes in society," says UN Women's Phumzile Mlambo-Ngcuka. "But together men and women can turn the tide of inequality."
What change can you create? In your life? In someone else's life?
UN Women, the only entity of the United Nations dedicated to gender equality and the empowerment of women, is calling on every man in the world to be a HeforShe advocate.
"Decide what your commitment is, make it public, and report back so we can share your story," says Emma. "We want to support and reinforce your efforts."
Tabby Biddle is a women's rights advocate, women's leadership mentor and coach. She is the author the bestselling book, Find Your Voice: A Woman's Call to Action. Learn more at tabbybiddle.com.
Related