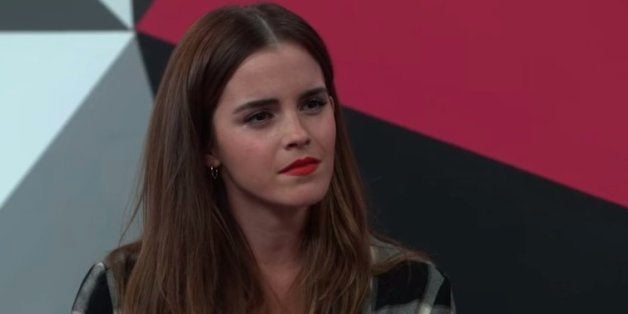 Emma Watson wasn't about to be stopped by some Internet trolls. In fact, she said they only made more people aware of her cause -- and pushed her harder.
"After I gave my speech in September -- I wasn't gonna talk about this, but it's coming up -- there was a website that was set up threatening to release naked photographs of me with like a countdown and whatever else," Watson said during a Q&A with Facebook on behalf of the HeForShe campaign for International Women's Day on Sunday. "I knew it was a hoax, I knew the pictures didn't exist, but I think a lot of people that were close to me knew gender equality was an issue, but they didn't really think it was that urgent."
"And then when they saw that the minute I stepped up and talked about women's rights I was immediately threatened -- I mean, within less than 12 hours I was receiving threats -- I think they were really shocked," she continued. "One of my brothers was very upset. So, I think it was just a wake up call of like, 'Oh, this is a real thing that's really happening now. Women are receiving threats in all sorts of different forms.' That was just one specific one." "
Although the threat directed at Watson held no credibility, women are threatened online each and every day. While she took issue with how news outlets reported the hoax, the 24-year-old said it did manage to highlight the overarching problem and a put a public face to it.
"It's funny because people are like, 'She's gonna be disheartened by this.' If anything, it made me so much more determined," she added. "I was just raging. It made me so angry that I was just like, 'This is why I have to be doing this.' So, if anything, if they were trying to put me off it, it did the opposite."
Watch Watson's full interview below.