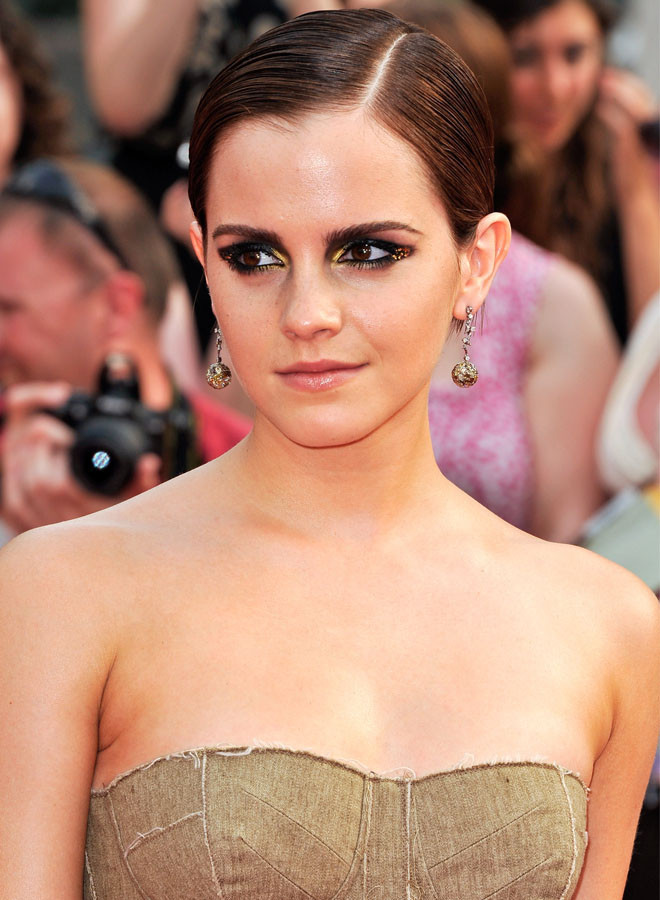 Photo: Getty
From starring in the Harry Potter films to modeling for Burberry to gracing the cover of Vogue to becoming the new face of Lancôme, Emma Watson has seamlessly (and stunningly) made the transition from child actor to style icon. The actress, with her ever-evolving pixie cut and perfectly-tamed brows, also has the the gamine beauty look down pat. We sat down with Watson to discuss her very exciting (and soon to launch) new Lancôme campaign (we'll tell you more about it soon), as well her part in the new film "My Week With Marilyn," the ultimate makeup for short hair and her secret to those amazing brows.
How has your makeup routine evolved since you cut your hair?
I think it's made me more bold, there's no way to hide when you have short hair. You really have to go for it and also, because I think it's quite boyish, you can kind of take it a bit further the other way. Be a bit sexier because it's kind of not too much, so that was cool. I've definitely been more experimental with color and just a bit bolder.
This is kind of like perfect timing [working with Lancome] because I've just kind of come into a place now where I'm interested in wearing lipstick whereas when I was younger, maybe I would go for a more natural lip. But now it's fun to play around with different colors. Because I have short hair – I'm big into doing like, a Twiggy mascara. So I'll do bottom lashes and top lashes. Lancôme just came out with a mascara called Dollface, which is made specifically to get that look. And because I'm so pale -- I'm English -- I have to wear blush or some kind of bronzer. I'm big into a cream blush.
I get my eyebrows threaded, I find that that gets the best shape. Because it's so painful, I pluck as many as I can and then I let them shape them, which works well. And I get my eyelashes tinted so if I'm not working or I have time off, then I can just be natural which is really nice.
Do you usually do a strong eye or strong lip?
I think for the Midnight Rose campaign, we did a strong eye and strong lip, but I think it's different in a photo shoot than in everyday life. It's like, "Whoa, too much to do both, you have to pick one or the other."
What's it like having such short hair?
It's definitely low maintenance, which is great for me because I hate spending too long on that kind of stuff.
Who are your personal beauty icons?
Mia Farrow was a big inspiration for the haircut. In terms of beauty, I think Kate Bosworth always has really great beauty. Diane Kruger, she always does her own makeup, and always looks great. And then if I'm going to look back, I love the freshness and the naturalness of Jane Birkin and Francoise Hardy. I love Charlotte Rampling -- all of those French actresses who don't really look like they're wearing anything or like they tried very hard is definitely the coolest.
What was it like working on "My Week With Marilyn"?
Well I mean, I wasn't playing her, I was playing a different part, but I think I was inspired by who she was as a person, which is someone who's like incredibly alive. I mean, she – all of her photographs, all of her images, she's just so alive and in the moment and spontaneous. I mean, she had an awful amount of pain, but when she smiled, when she laughed, her whole face lit up. It came from a real place.
Do you have any favorite, go-to places here in New York?
I love La Esquina. I'm obsessed with Mexican. We don't have Mexican food in England, we just kill it. That's one of the first things I do when I come here.