A week and a half ago I wrote about Kat (Katie) Sullivan's claim that in 1998 she was violently raped by her coach while at Emma Willard School (EWS) and then subsequently left homeless without a high school diploma by the school administration. As a former classmate of Kat's at this, a private girls boarding school in Troy, NY, I eagerly wrote in support of her, asking: What would Emma Willard Do? Calling to mind our founder's role as a champion of women's rights, and reclaiming her name as worthy of only the highest standard of support for women's safety. A standard we see set by alumnae, like the three EWS alumnae who spoke on air with WGY Thursday morning, but not yet by the EWS administration.
I cannot help but hope that the current EWS administration will join us. However, as I look at the things that have happened in the last week—and consider the things that have not yet happened—my hope wavers.
My hope wavers more when I read the words written by the current Interim Head of School, Dr. Sue Groesbeck, in response to the community's concerns. Saying to Kat's former teacher: "I am surprised at how quick you are to point a finger at a sister-school with data from the NY Daily News." And replying to alumna Martha Deeds's letter regarding her first-hand knowledge of some of Kat's claims by stating that as Interim Head it is her job to clear up "innuendo and rumor from the past."
Those words: "innuendo and rumor from the past." Think about what is said by and between those words.
I have spoken with two students who in 1998 told then Head of School, Dr. Robin Robertson, about the sexually explicit emails between Katie and her coach. Asking to remain anonymous, they both vividly recalled the content of the emails. One student said:
"It was the craziest thing I had ever seen so I've always remembered a section of it clearly. The act didn't seem physically possible, but...I didn't know much about sex at the time."
The other student added to that the contents of the emails were:
"beyond shocking and the fact that any school administration would go on to punish Katie after being aware that she was being subjected to such torture is almost as disturbing as the conversations themselves. Had something been done then, perhaps…her rape might never have transpired."
There you have it, folks. This is your "innuendo and rumor."
And yet—and yet—we are being asked by the school to be patient, to encourage other victims to come forward to them, and to trust that they will act in the best interest of survivors.
What Has Happened
This week EWS Alumnae Against Sexual Assault, whose Facebook group is now almost 1200 strong, has delivered a letter to the school, signed by almost 600 former students, alumnae, and parents of students. The letter outlines 12 steps to guide the administration to better prevent sexual assault and protect those students who are survivors of assault. Read the full letter here.
On the evening of July 5 EWS Alumnae Against Sexual Assault received the first direct communication from EWS via a Facebook post by an alumnae member of the Board of Trustees. The trustee, Meredith Manning, posted that Emma Willard is taking Kat's allegations seriously and that "The School has long standing policies to address coercion and abuse of students, which have always—ALWAYS—been unacceptable at the School." The post went on to recommend that alumnae who would like to discuss a specific incident should contact the Interim Head of School, Head of Talent Management, or the "experts the School has engaged to guide the community in issues around sexual assault," two attorneys from the law firm Pepper Hamilton retained by the school to investigate this matter. The entire post is included below.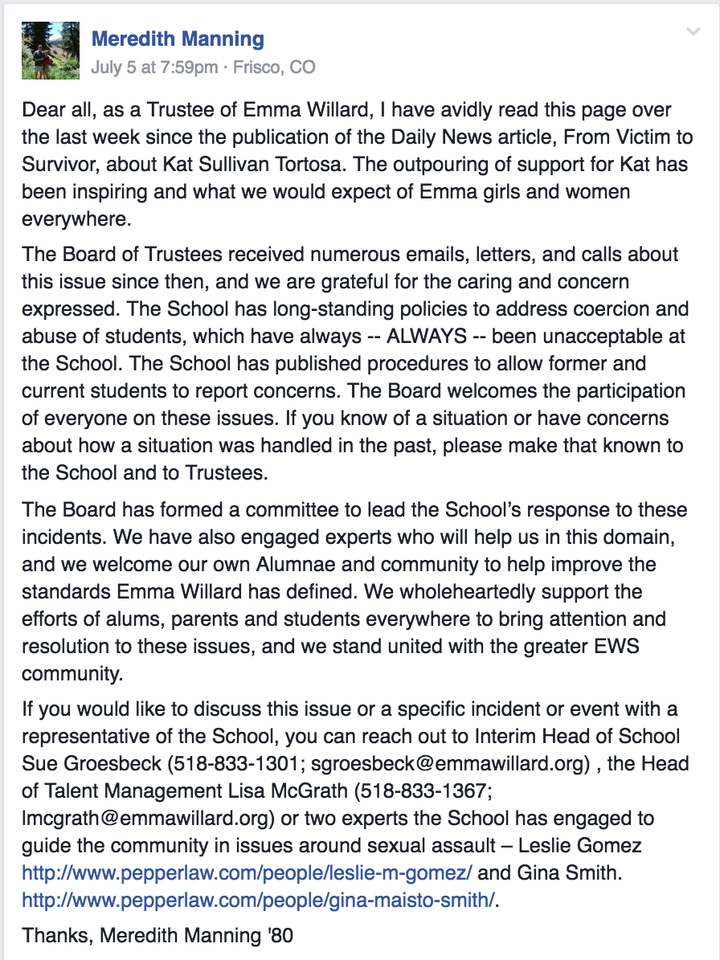 Alumnae Questions About EWS Handling of the Accusations
EWS has a history of producing alumna who are proudly outspoken. So, somewhat predictably, the alumnae in the group EWS Alumnae Against Sexual Assault had a number of questions about the communication from the Board of Trustees. None of these questions received responses by Manning.
Individuals in the group were concerned with potential conflicts of interest and general unease around asking victims to come forward to legal counsel for the school, rather than to an independent (and confidential) counselor. Rachel Wade Westmoreland Granfield, class of 1995, said, regarding Pepper Hamilton,
"They have been retained by the school, their client is the school, and their ethical duty of loyalty must lie with the school." She later added, "If we are to believe that Pepper Hamilton is working neutrally in this matter, the school should…release the retainer agreement that its representatives have signed."
Former students also commented with concern about the lack of acknowledgement that the policies in place have not "always" worked for EWS students, because they did not work for Kat—or the other students who have come forward. One alumna said:
"Whenever we hear that the school has ALWAYS protected students from this kind of predatory behavior, the speaker's credibility is damaged for many of us. This group is asking for major change, not simply what the school has ALWAYS done. We love our school and we want it to be honest, open, and fiercely protective of its students."
Considering that Sullivan contacted the school in April to discuss the rape allegations alumnae in the group seemed skeptical that EWS is acting to prioritize protecting students above the school image. Leslie Mac, alumna and community organizer, asked:
"When was the board notified about Kat's disclosure of rape & abuse? You & the school keep framing your reactions in conjunction with the Daily News article. Kat went to EWS administration in April - what did the Board do between April & the publication of the Daily News piece?"
The Things That Are Not Happening Yet
Interestingly, the person who seems to have been least informed by the EWS administration of their actions in response to Sullivan's accusations is Sullivan herself.
Sullivan was left off of school-wide communications that stemmed from her contact with the school regarding her rape allegations. She explained to me, that she and her attorney Roderick MacLeish (who was portrayed in the recent movie "Spotlight") "were waiting for some kind of significant correspondence from the school" in June when an alumna contacted her regarding a community letter distributed referencing Sullivan's claims. She says the alumna "then forwarded me what appeared to be an all-EWS broadcast. I thought maybe we would be getting an email soon, but never did. Both letters to the community had to be forwarded to us in this fashion."
From what many of us can see, including the survivor(s) of sexual abuse at EWS in the dialogue about the path forward is included in the list of things that are not happening yet.
Other things that have not happened yet?
A substantive response from the current EWS administration to include this active alumnae community in their plans to change the administrative culture surrounding sexual abuse

A thoughtful admission of what happened to Sullivan, and the other students making allegations

A response from EWS administration demonstrating that EWS is going to believe women when they come forward about their assaults, rather than attempt to discredit their claims as "rumor and innuendo."
Several individuals who have reached out to the school regarding Sullivan's accusation felt that the responses they've received have attempted to call Sullivan's character into question. The letter from Dr. Sue Groesbeck, Interim Head of School, to one of Sullivan's former teachers was shared within the Alumnae group. In the letter Groesbeck says, "Like you, I am horrified to learn 6 weeks ago that Kat was raped in the 90's." She also states that the police report from the time "was not helpful" to her. Despite repeated requests this report has not been shared publicly (nor has contact with the Troy, NY police department by myself and at least two other reporters yielded this report). In her letter Groesbeck expresses surprise that a fellow educator would be quick "to point a finger at a sister-school with data from the NY Daily News." She continues, "The rape, as she describes it, was in 1998 when Kat was 18."
Regarding Sullivan's claim that she was offered two choices by the then Head of School, Dr. Robin Robertson: expulsion or withdrawal, Groesbeck comments, "I can also assure you that mistakes were made by the school but there is contradictory evidence that those were not the two choices offered to Kat." In an email response to to alumna and community organizer Martha Deeds' letter to Groesbeck, Groesbeck said of her role with respect to the accusations:
"I have been hired for a short time to make the path smoother for the future New Head and that means, in this case, clearing up innuendo and rumor from the past. What could be clearer?"
I reached out to the Interim Head of School with questions relating to the alleged police reports, the references for the teacher in question, the nature of the contract between the attorneys conducting the investigation and EWS, and the evidence of other options given to Sullivan in 1998. Groesbeck declined to speak with me and my questions were directed Erin Pihlaja, Head of EWS Communications. Pihlaja responded, saying "the school is not in a position to publicly discuss everything you would like to discuss." Pihlaja included some information already publically available and directions to contact the Troy Police Department. She also repeated that the attorneys retained by the school "have been engaged as external and objective child protection experts to investigate" and encouraged "all students with information to share to come forward, so that the narrative that emerges is complete and accurate." She did not, however, provide any contractual information that would confirm that these attorneys are, in fact, neutral parties.
The Way Forward
Kat's claims are not simply "innuendo and rumor from the past"—there are many students who understood at the time that Katie's "relationship" with her coach was not healthy, safe, or right. And at least two students brought evidence of this relationship to the administration because what they knew was disturbing enough to make them fear for Katie's well-being.
In 1998 Katie's fellow students took action in an attempt to protect her. But let's not forget that in 1998 we were girls.
Katie's safety was the responsibility of the EWS administration. They failed her in 1998.
And they are in the process of failing her—and others—again.
I can remember after Katie left school, we whispered about what little bits we knew about her—that she was in New Orleans, that she might be stripping. And I clearly remember thinking: This is what happens to girls who step out of line…
That was one of the lessons EWS taught me in 1998.
In 2016, they are teaching this lesson all over again.
But this time we have something to teach them as well. This lesson is about what happens when outspoken women step out of line together—and demand change.
In the end it is we, the alumnae of EWS, who are honoring the Emma Willard name. Administrations change, as do Trustees, but, in the end, the school, the name, is ours.
And the only way forward is with us.
Hillary Savoie is a mother, writer, and advocate. You can find her at www.hillarysavoie.com
Related
Popular in the Community