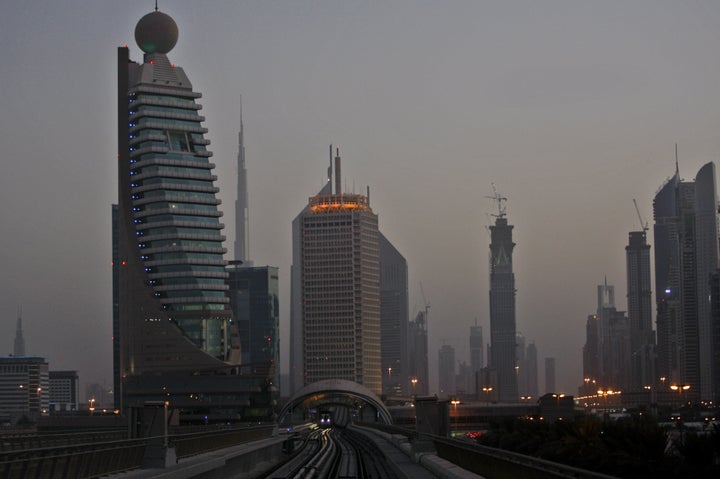 Bollywood may be a cacophony of music, sound, laughter, tragedy and bathetic sentiment, but for some it's not enough. If Bollywood isn't sufficiently Bollywood for you, you should attend Mahim Junction, a play by writer and director Sohaila Kapur, who happens to be the sister of international film director and producer Shekhar Kapur. Mahim Junction opened in Dubai on Thursday, February 18th 2010 at Dubai Community Theatre and Art Centre.
Mahim Junction, called Yeh Hai Bombay Merey Jan (This is Bombay, My Dear) in a past life, is a tongue in cheek approach to the gaudiness of Bollywood. But Kapur doesn't taunt Bollywood as much celebrate it; she revels in the glamour, song, dance and joie de verve of Indian cinema.
Mahim Junction's plot is straightforward for Bollywoodphiles because Kapur levitates stereotypes to the point of levity. There is the inevitable gold-encrusted, bejewelled villain. Who of course wants 'groin action' with the play's heroine, a virtuous Hindu girl from the slums of Mumbai. Who obviously has a deep virtuous love affair ongoing with a happy go lucky Muslim. That young man doesn't let life in the slums interfere with his sartorial predilections, which tend towards Colgate white trousers and orange shirts.
The cast is rich and varied, and manages to pay homage to all of Bollywood's rollicking repertoire. There's the intelligent inebriated Christian man, literate, staggering, swigging, swaggering and in love with a cross-dressing eunuch prostitute twice his size. There's the snappy little tea boy from the mould of Gavroche of Les Miserables. And a Harvard graduate who returns home to make a difference but remains comically inept at understanding the machinations of the world around him. An empathetic corrupt cop and his Mini Me sidekick round out the smorgasbord of characters who spend their days dancing to medleys of Bollywood classics in front of you.
Stereotype is not stereotype when it's satire. And I would love to tell you that the production was snappy, tight and well wrought. But I can't. All the enthusiasm and the casts' espirit de corps couldn't hide issues in the final burnishing.
The cast was brilliantly patchy but also patchily brilliant. The gags, gut-bustingly laugh-aloud for the first thirty minutes took on hues of monotony as they kept coming. And coming, ad infinitum, even ad nauseaum. Eventually, the audience was recognizing the setups and predicting the punch lines before delivery. Kapoor's satire required an obviousness that is alas all too obvious.
The ending, coming after two solid hours of performance sans interval, was anodyne because of its likelihood. No surprises were allowed to sneak into Kapoor's symposium.
Mahim Junction has met with acclaim and sold out performances in Edinburgh and other venues. Perhaps it was the jitters and travails of an opening night, or just the fact that Bollywood is in itself a satire of itself and does not require embellishment. But gloriously populated though it might be, Mahim Junction was only a nice place to visit in the first hour. I wouldn't want to live there.

Calling all HuffPost superfans!
Sign up for membership to become a founding member and help shape HuffPost's next chapter