When you're offered the opportunity to talk with Jeffrey Tambor -- a.k.a Hank Kingsley, a.k.a. George Bluth Sr, a.k.a. Sid Garner for those who really keep track of these things -- do you say no? You do not -- of course, you do not. Jeffrey was in town to participate in the closing night of the 5th Annual Fordham Law School Film Festival, during which his big-screen debut, ...And Justice for All -- in which he plays a lawyer driven to the borders of sanity by the moral contradictions of his profession -- would be presented, after which would sit down with critic Neil Gabler and festival organizer Thane Rosenbaum to discuss the film. I spent time with Jeffrey and Thane before the event, and got some surprising insights on the creation of this alternately shocking and hilarious film, as well as further hints on the gestation process of the Arrested Development movie.
Click on the player to hear the discussion.
See Additional Video Footage of Jeffrey Tambor
Live at the Fordham Film Festival at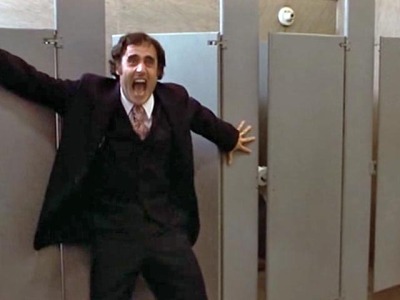 REAL LIFE. REAL NEWS. REAL VOICES.
Help us tell more of the stories that matter from voices that too often remain unheard.