Could it just be coincidence? Could it just be that, by some random alignment of the planets, we have two films about the conflict in Northern Ireland opening on the same weekend? I'm seeing conspiracy, frankly. Your grandmas may be safe from the death panels, but that doesn't mean the government hasn't got its sights set on your Friday night movie plans.
So, yeah, there's Fifty Dead Men Walking, a dark and violent action drama -- based in fact,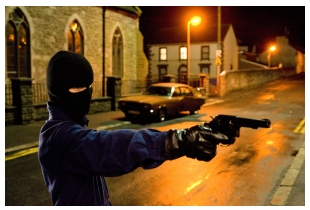 directed by Kari Skogland and starring Ben Kingsley and Jim Sturgess -- about a man who in the 80's infiltrates the IRA for British intelligence. But then there's also Five Minutes of Heaven (multiples of five... conspiracy!), a somewhat more intimate drama -- directed by Oliver Hirschbiegel and also based on a true story -- that starts out in the 70's as a young, Catholic boy witnesses his brother being murdered by a member of the Protestant Ulster Volunteer Force, then flashes forward to a wholly fictional present in which a TV news crew seeks to arrange a conciliatory meeting between murderer (Liam Neeson) and witness (James Nesbitt). This, you might suspect, isn't necessarily a good idea.
Two films, and I am but one man. Plus, I already have one other, really cool episode set for this week (Spike Lee! Coming Thursday!). I decided to focus on Five Minutes because of, amongst other things, the naturalistic, suspensful depiction of the murder that takes up the film's first act; for Guy Hibbert's literate script that manages to focus down on two men and distill great insights from their plights; and especially for James Nesbitt's taut, vitriolic performance as the guilt- and rage-wracked survivor. Not to knock Fifty Dead Men -- some will favor that film, others, hopefully the majority, will find value in both -- but Five Minutes just stuck with me as the more compelling experience.
Click on the player below to hear my interview with Hirschbiegel.
The Politics of Violence & the Violence of Politics on MMP:
Check out the Mighty Movie Podcast homepage.
Calling all HuffPost superfans!
Sign up for membership to become a founding member and help shape HuffPost's next chapter