Look, it's really no big surprise how far we've let slip our right to privacy. What comes as something of a shock is how happily we've volunteered its erosion, cookie by cookie, behavioral analysis by behavioral analysis. Well, maybe one guy wasn't so startled: Josh Harris, founder in the '90s of Pseudo, the first Internet TV network, and explorer from the turn of the century onward into people's zeal for letting the world intercede on their lives, so long as the camera remained trained on them.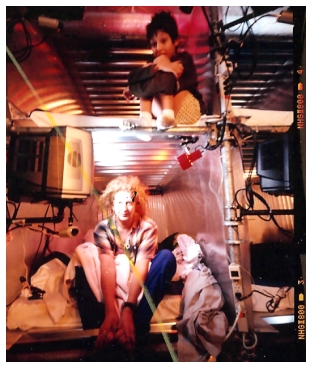 In the documentary We Live in Public, director Ondi Timoner focuses on two of Harris' most prominent and controversial ventures: Quiet: We Live in Public, an experiment in which 100 people were shut into a Soho, NY basement with all the comforts of home, plus 24/7 surveillance, mandatory uniforms, communal sleeping quarters, fascistic interrogators, and a fully-stocked armory (danger, Will Robinson!); and weliveinpublic.com, essentially the same concept, but located in his loft and turned on himself and his then-girlfriend (who, not all that surprisingly, pretty quickly became his then-not-girlfriend). That FEMA raids and Harris' shredding sanity eventually play into the drama probably won't come as a surprise to anyone.
Timoner is best known for the incredible rock doc, DiG!, which also focused on a artist too sold on the purity of his genius: Anton Newcombe of the Brian Jonestown Massacre. Like that film, We Live in Public shows what happens when one follows a dangerous idea to its logical conclusion. Added here though, is an acknowledgment that Harris, however mad his dreams, well foresaw how that nightmare would become our everyday reality -- in that way, the film serves both as a disturbing and mesmerizing drama, and a sobering warning.
Click the player below to hear my interview with Timoner.
UPDATE: The New York run of the film has been extended through September 10th.
Putting It All on the Line on MMP:
Check out the Mighty Movie Podcast homepage.
Click on the player above to hear my interview with Timoner.
Calling all HuffPost superfans!
Sign up for membership to become a founding member and help shape HuffPost's next chapter