And so here we are at the last MMP episode of 2009, unless, of course, a there's an emergency, late-breaking filmmaker interview (Mr. Scorsese, my calendar's open). Barring that, we're going out with a good 'un: Scott Cooper's finely crafted, astutely observed Crazy Heart.
This is Cooper's directorial debut -- not even a short film to his name -- and he's managed to wrangle some big guns in his support, including Robert Duvall as one of his producers (he also has a small role in the film), Jeff Bridges as Bad Blake, the former country-western star who's been beaten down by a life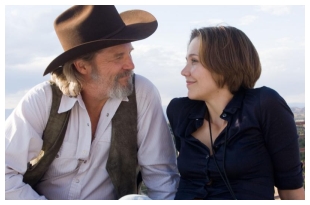 on the road; Maggie Gyllenhaal as Jean, the woman who opens Blake's eyes to the magnitude of his fall (and yet another richly-nuanced performance from the actress); and, in an uncredited role, Colin Farrell as Tommy Sweet, former protégé and present bête noir of Blake's. With great chemistry between Bridges and Gyllenhaal and a quiet, smart script that Cooper adapted from Thomas Cobb's novel, this is a fine alternative to 3D pyrotechnics and holiday treacle.
Cooper and I talked a bit about bringing the spirit of 70's filmmaking to the twenty-first century, and the challenges he faced in following in the footsteps of Duvall's Tender Mercies. Click on the player below to hear the interview.
REAL LIFE. REAL NEWS. REAL VOICES.
Help us tell more of the stories that matter from voices that too often remain unheard.