Finally, the family film we've been waiting for this summer. Okay, that's an obvious joke, sorry. Animal Kingdom is about a family, but one that, if you're lucky, you'll never have as next door neighbors. Set in crime-ridden Melbourne, Australia, the film focuses on the Cody clan, a criminal unit that's fallen on hard times.
Animal Kingdom is presented mostly through the eyes of Joshua -- aka "J" (James Frecheville)- a teenager who's just lost his mother to drugs and who's now fallen into the loving, poisonous arms of his grandmother "Smurf" (Jacki Weaver), and her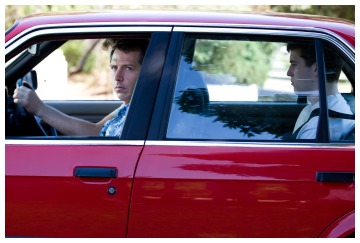 extended family, including kin, Darren (Luke Ford), Craig (Sullivan Stapleton) and "Pope" (Ben Mendelsohn), and partner-in-crime -- and the most level-headed soul in the lot -- "Baz" (Joel Edgerton -- whom we met earlier this year as a similarly level-headed arsonist in The Square). And while the film follows J as he deals with the moral quandaries of living in the midst of thieves and murderers, the show really belongs to Weaver and Mendelsohn, she bringing a candied malignancy to Grandma Smurf, he limning a chilling portrayal of the kind of sociopath who, just by instinct, most sane people know to cut a wide swath around.
And by the way, Guy Pearce is in there as well, as a detective who serves as moral counterbalance for young J, and who we suspect maintains his noble station by using his mustache as a filter against corruption.
Director David Michod was willing to discuss the effort that went into this, his debut feature. Click on the player to hear the interview.
This Episode is Brought to You by
Popular in the Community