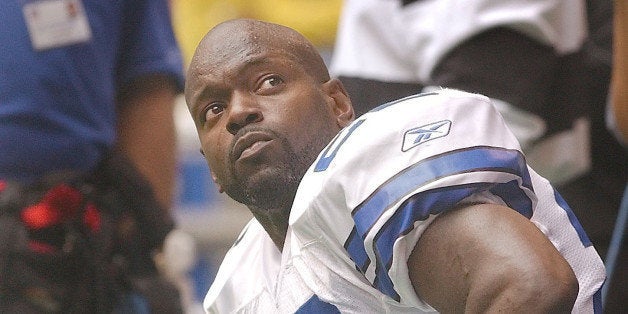 Emmitt Smith, one of the best running backs in NFL history, spoke last week at the Laura W. Bush Institute for Women's Health's annual "Family, Football & Fame" luncheon in San Angelo, Texas.
During the talk, Smith applauded recent efforts by the NFL to improve the protocol surrounding brain-related injuries suffered on the field. But he also perfectly (and perhaps accidentally) encapsulated what it is about the football that worries so many people, regardless of those recent recent efforts.
You do it for the sake of the game. You do it for the sake of your teammates. You do it because it's your team. Should you be out there? The answer's probably not. Would I do it again? Yes, I would. But that's football. That's the way I was raised. If you can't play with pain, you can't play the game.
This is the culture of football that so many people fear leads to problems inherent to the game. It's what many so many people fear accounts for the underreporting of concussions that leads players to endure six extra concussive hits for every one that gets officially diagnosed, according to one study. It's what leads almost half of top-tier college football trainers to say they feel pressure from coaches to get concussed players back on the field before medically advisable, according to another. And it's at least part of what's causing as many as half of the parents in the nation to reconsider whether they want their child suiting up for the country's most popular sport.
Football associations at all levels -- from Pop Warner to the NFL -- have made strides in improving safety measures. Pop Warner has reduced contact during practice, high schools are sending more concussed athletes to the hospital and NCAA football and the NFL have both experienced drops in the number of concussions in recent years.
But when it comes to the culture of football that Smith described, there is still much work to be done. Football leagues of every level need to get to a point where players need not worry they will be deemed unfit for football if they don't want to play through pain.
That requires education. But according to studies published as recently as last October, we've still got a long way to go. That makes sense. After all, we're pushing back against the way we were raised.
REAL LIFE. REAL NEWS. REAL VOICES.
Help us tell more of the stories that matter from voices that too often remain unheard.