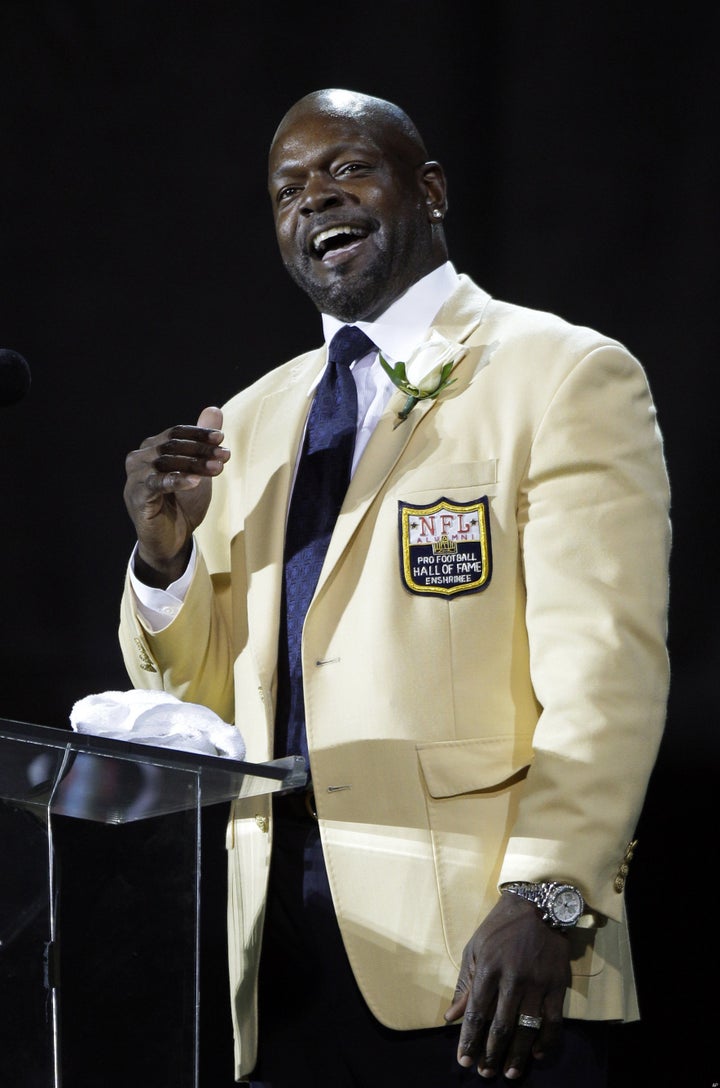 The following is the second in a series of celebrity roots profiles from the first season of NBC's Who Do You Think You Are? The previous profile can be found here:
Emmitt James Smith III grew up wanting to be a Dallas Cowboy, but he far exceeded that aspiration. As the NFL's all-time rushing leader, he can look back on accomplishments ranging from three Super Bowl victories to a Dancing with the Stars championship. A devoted family man and devout Christian, Emmitt lives in Texas with his wife, Pat, and their four children.
Years of focusing on his career meant that Emmitt missed out on many family reunions. After retiring in 2005, Emmitt wanted to make up for lost time and he welcomed the opportunity to explore his roots. "You need to understand where you were," he said, "to appreciate where you are."
A trip to his parents' home in Pensacola, Florida, was the logical starting point. His father, Emmitt Jr., talked about Emmitt's grandmother Erma Lee Watson and directed him toward a family web site about Erma's hometown of Burnt Corn, Alabama. It even included photos of his great-great-grandparents, William and Victoria Watson.
His search was off to a fast start and Emmitt knew just where to go next -- Burnt Corn. Arriving at what appeared to be a deserted town, he soon met a Watson cousin who steered him to the Monroe County Courthouse to dig further. It was here that he first encountered the segregation his ancestors had endured. County records were divided into "colored" and white until the 1960s. "When I saw that book that said 'colored' on it," Emmitt reflected, "I really felt the power of segregation and how our people felt isolated and separate from America."
Compounding this, census records showed that William and Victoria were born around 1862 and 1864, respectively, so they were born slaves. Tracking African American families through slavery is notoriously difficult, so Emmitt sought expert advice.
Assisted by genealogist Marjorie Sholes, Emmitt located the marriage record for his great-great-grandparents, which revealed Victoria's maiden name: Puryear. Better yet, her death certificate gave her parents' names as Prince Puryear and Annie McMillian. Emmitt had added another generation with the bonus of a distinctive surname to pursue.
A search of the 1870 census -- the first post-Emancipation census quickly uncovered twenty-three-year-old Prince Puryear with a tantalizing clue. Among his neighbors was fifty-five-year-old Mariah Puryear, and both Prince and Mariah were listed as "mulatto," indicating some white ancestry. Perhaps Mariah was his mother.
African Americans who were alive during slavery are often best traced through their slave owners, with whom they sometimes shared the same surname. Emmitt identified a local slave-owning family by the name of Puryear. Letters and wills for husband and wife Alexander and Mary Puryear indicated that the couple had come from Mecklenburg County, Virginia, and that Alexander was actively involved in the domestic slave trade. But Mary's will was the key piece of evidence that Emmitt needed to identify Mary and Alexander Puryear as the owners of his family. The 1851 document included an inventory that valued Mariah and her children -- Henry, Mary, McTom, Victoria, and Prince Albert -- at $2,250.
Emmitt processed this direct evidence of a price tag on his family, remarking, "They treated people like land and cattle. I can understand why black Americans fought so hard for freedom and justice." While it was difficult to absorb the information that his ancestors were deemed no more important than possessions such as silverware, he recognized that the will proved that Mariah was Prince's mother and that she had somehow kept her family together.
Emmitt had now confirmed his family tree back to Mariah, his fourth great-grandmother, born around 1815 in Virginia. Since Emmitt also knew that the Puryear slave owners were from Mecklenburg, Virginia, he decided to continue his search for Mariah there.
Meeting with a local historian, he learned that the Puryears were among the founders of Mecklenburg County. The key to tracing Mariah further was Alexander and possibly his father, Samuel. The local court records revealed that Samuel Puryear had given his daughter a "negro girl named Mariah" along with a horse and saddle. Emmitt was surprised to find that this information was in deed book #22 - Emmitt's jersey number since college!
Mariah had been passed down through the Puryear family. Originally owned by Samuel, she was given to his daughter Jane, when Mariah was roughly eleven years old, and later to Alexander. Emmitt considered his own thirteen- and ten-year-old daughters and tried to imagine how children could be "passed down through slavery ... just because of the color of their skin."
Given that Mariah was registered as "mulatto" in some records, Emmitt suspected that Samuel might have been her father, so he met with Professor Steve Deyle, an expert on the domestic slave trade, to discuss this possibility. The fact that Mariah had been handed down could sup port this theory. Samuel's wife probably wouldn't have appreciated this reminder of her husband's behavior, and the fact that Alexander - a slave trader - didn't sell Mariah or her children away suggested that he may have regarded her as a half sister. Professor Deyle agreed that Emmitt's theory was highly likely.
Emmitt reflected on the slave trader who may well have been his fifth great-grandfather, and reminded himself of Mariah's strength in protecting her family at a time when so many enslaved families were torn apart. This was the end of the paper trail, but he couldn't help wishing he could go further.
There was one more possibility. When he began his quest, Emmitt had taken a DNA test, and now his results were in. He learned that those who shared the genetic profiles of both his direct maternal and paternal lines were most heavily concentrated in a portion of the Slave Coast of Africa in and around Benin. Within hours, Emmitt was on his way.
Once there, he felt a connection: "I can hear my ancestors crying out, 'My soul is not lost. My great-great-great-great-great-great-grand son has found me.'" Contemplating the whole of his journey, Emmitt proclaimed that he had found what he was looking for and concluded, "History is not his-story anymore. History is really my story now."
Popular in the Community