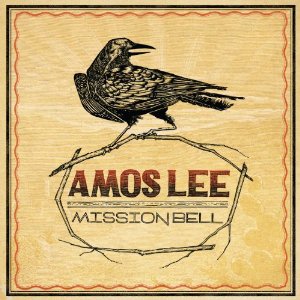 A Conversation With Amos Lee
Mike Ragogna: Let's talk about your new album, Mission Bell.
Amos Lee: Can I ask you a quick question? So, I'm not quite sure how solar power works. It stores up the sun's energy so even if it's cloudy for a few days, you're still cool?
MR: That's right because sunshine doesn't go away forever, and there are battery reserves that kick in. KRUU currently has the bragging rights of being the first solar-powered radio station in the Midwest, but we don't really want that distinction. We want every radio station to be solar-powered, you know?
AL: Definitely, if you can do it. If you can power yourself up with natural energy that's renewable and non-damaging, then heck, you should.
MR: Thanks for the question, Amos. So now let's really talk about your album. (laughs) It was produced by Joey Burns of Calexico, and it features Lucinda Williams and Willie Nelson.
AL: Yeah, they're both on it. Sam Beam's on it, Pieta Brown--who I think lives in Iowa--is on it, and my friend Priscilla Ahn is on it.
MR: Would you go into the story of the song "El Camino"?
AL: I went out to Los Angeles to record Last Days At The Log which was about two years ago. It was the first time I didn't include any of the fellows on the recordings that I did. It was a feeling of departure for me, and I started thinking about people who have made ventures of faith and sorrow. That's kind of what it was.
MR: And what went into "Violin" with Sam Beam?
AL: I consider that a January song in Philadelphia for me because that's kind of what it was. I was with this woman for a long time--for me, it was a long time, for everyone else it probably wasn't very long. We were together hanging and she had split pretty suddenly. She split in the springtime, so during the summer, I was just trying to keep myself afloat. By the wintertime, reality struck. I'm sure where ya'll are, wintertime is worse, but our winter last year was real bad. So, I spent a lot of time thinking about this situation, considering where I was at artistically and considering where I was at with my career. It was basically about me walking out on the street and feeling a little disconnected from everything, then regaining that connection as soon as music comes into my life. I mean gravity is gravity, but music is emotional gravity. It brings me right back to where I'm at, it makes me present and makes me at ease with a situation. I find that the darkest points of my life is when music is not involved.
MR: How did your Lucinda Williams collaboration come about?
AL: I think Lucinda's Car Wheels On A Gravel Road was one of the records I was really drawn to when I was first writing songs. Her work as a writer and a singer has always touched me deeply. When we were thinking about that song, to me, there was always a female voice in there singing the second verse. When Joey and I were talking about who we could get to sing the part, I really heard her voice on it. We reached out to her, and she happened to be in the studio at the time, so we sent it over. I feel like, as a listener, she takes the song into a whole other place. It really changed the track for me from something that I liked, to something that absolutely had to be on the album.
MR: One of my favorite tracks, "Behind Me Now," smoothly leads into "El Camino Reprise" which, lo and behold, features Willie Nelson. Got any Willie stories?
AL: I've listened to Willie Nelson a lot in my life. He is somebody who has always been a huge inspiration to me and anybody who's ever picked up a guitar. So, I was interested in working with him, especially since I had the connection with Mickey Raphael and Calexico had worked with Willie on something previously. We sent him "El Camino..." and we asked if he wanted to sing it with me, and he took some time out and did it. I think it came out beautifully.
MR: Speaking of Willie Nelson, what was it like playing at Farm Aid 25 this year in Milwaukee?
AL: Farm Aid was amazing. I've been interested in the movement--the movement of being local, organic, and being more conscious of where your food comes from--I've been sort of interested in it for the last couple of years. It was great timing for me to get in front of people that live that life all day long, like Will Allen who I'm sure you're familiar with. People who are just working everyday to help people eat better, grow better, and live a life that's going to be most healthy for the environment.
MR: Let's go over some of your musical history including how your debut album came together.
AL: Well, I was teaching school as some people know. I started hanging around open mics and considering making a full time thing out of pursuing music as something I wanted to do with my life. So, when I started to do that, I started getting into the scene and started hanging out with musicians, and we had a little kinship together and developed a family vibe. Along the way, I recorded a demo CD in a friend of mine's bedroom studio. We sent it to some people because there was a fellow that I met at one of those open mics who's a guy that had been around Philadelphia and who was a really swell cat. He sent it around to a bunch of a people, and there was some interest from some labels within three or four months.
This was about two years after I finished teaching. It took me two years to get all that together. So, there was some interest from some labels, and I ultimately went with Blue Note. I went with them because not only did they have the legacy of the label itself, but they had great success with Norah Jones. I knew their commitment to music and developing a career artist was what their goals were first and foremost. I had a talk with them and I wound up signing with them. Through that process, my demo stuff somehow got to Norah and her people. I think she was just interested in it and came to a couple shows of ours. We started becoming musically drawn to each other. She asked me to do a tour with her in Europe and that went well, and then she asked me to do one with her in the States. So, in between all of that touring, I made a record in July of 2004 that came out in March of 2005, and that's sort of the beginnings of it.
MR: You have an affinity for icons like Thelonious Monk and Miles Davis.
AL: Yeah, man. I worked at a jazz record store in South Carolina called Papa Jazz. That was the first time I had ever heard of a Blue Note record because nobody in my house was really a jazz fan. Some people grow up and their moms and dads are real hip cats. The people I was around were good down to earth people that liked music but weren't really into jazz which was cool. So, I got to work there and got to understand what an original pressing Blue Note record meant, what kind of heaviness that stood for. I was going into the Blue Note experience with being star struck by them.
MR: Blue Note is an amazing brand. So, ad campaigns and a lot of TV shows have used your music, Brothers & Sisters for instance.
AL: Yeah, I've had stuff on a lot of TV shows and movies. It's been really cool. I think the most exposure I've had is when AT&T used the song "Sweet Pea" for a commercial. They ran that commercial a lot, so it was cool.
MR: Now, this is your fourth studio album, and obviously, you're going on tour. Where will you be playing?
MR: Including Fairfield, Iowa, of course? (laughs)
AL: I would love to play in Fairfield, Iowa.
MR: Do you see yourself as a growing songwriter?
AL: It depends on the day, when I'm playing the music I feel good about. When I'm thinking about playing the music, I don't always feel good about it. When it becomes an intellectual pursuit where I'm thinking about where I'm at or where everybody else is at, it just doesn't feel positive to me. When I'm in the process of making the music, all of that goes away and you start to feel the worth and value of what you do because, ultimately, that's what it comes down to.
MR: What gets you inspired? Are there specific things that trigger your creativity?
AL: I've never really been able to quantify it. It just comes.
MR: Are you an artist that writes from your head and than goes to your instrument or writes on your instrument then records it.
AL: It's both. Like I said, there are no rules for it, it's just however it comes. I like to stay wide open to the thoughts and the ideas and be as close to the inspirational place as possible.
MR: What advice do you have for new artists?
AL: The only advice I can give anybody is take your time but don't give yourself any excuses not to try. There's no reason to rush things, no reason to throw down an album if you're not finished with all of the songs. If you feel like what you're doing means something to you and if you put it down in front of people and it means something to them, then I think it's worthy for you to spend some time and energy on.
Tracks:
1. El Camino
2. Windows Are Rolled Down
3. Violin
4. Flower
5. Stay With Me
6. Out Of The Cold
7. Jesus
8. Hello Again
9. Learned A Lot
10. Cup Of Sorrow
11. Clear Blue Eyes - with Lucinda Williams
12. Behind Me Now
13. El Camino Reprise - with Willie Nelson
(transcribed by Erika Richards)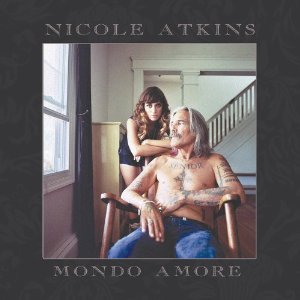 A Conversation with Nicole Atkins
Mike Ragogna: Hi, Nicole. How are you?
MR: So? You excited about your new album, Mondo Amore?
MR: (laughs) Of course not.
NA: No, I'm super excited.
MR: Are you going on tour for this record?
NA: Yeah, we're going to be out in February and March. I think the tour starts February 11th.
MR: Where are you heading?
NA: I think we start in Seattle, then do the West Coast, come home for a couple of days, and then do the East Coast before we head out to South By Southwest down in Texas.
MR: Nice. South By Southwest is always awesome. Do you know where you're going to be playing?
NA: I don't know yet. I think they're putting that together now.
MR: You're a Brooklyn resident right now, right?
MR: But you weren't always.
NA: No, I was living in Asbury Park, New Jersey, for a while. I just moved back to Brooklyn last December.
MR: What was the music scene like in Asbury Park when you were there?
NA: There's a great music scene down there. There are a lot of young, new bands doing some great original stuff. There are also a lot of Springsteen cover bands down there, but fortunately, you get to see some young kids that are doing some really great stuff. I don't know if you've heard of a band called River City Extension--there are like twelve of them in the band--but the singer sings like this manic kind of creature. They have a cellist, a horn section, and it's really cool.
NA: Yeah, the music scene down there is pretty good. Everybody pretty much are friends, and people are trading gigs and hanging out.
MR: How have you found the contrast with New York?
NA: New York is just bigger, you know? There are a lot of communities here and a lot of bands. I don't think I have any friends that aren't in bands here. I need to probably find some. MR: (laughs) Let's talk about the new record. When you were writing songs for this, was there a particular theme in mind or did you basically just title it cleverly?
NA: How did I get the album name in contrast to how I wrote the songs?
NA: The record is obviously a love record--or an anti-love record. I was at a bar in Key West about a year and a half ago, doodling on a napkin, and I just wrote the words "Mondo Amore" down next to each other. I said, "Wow, that's the title of the next record that I haven't even written yet." It kind of sounded dramatic and it looks really cool in type.
MR: Your first album, Neptune City, was on Columbia, right?
MR: And now you're on that feisty indie Razor & Tie.
NA: Yeah, everybody who works there is just great.
MR: What is the biggest difference between Neptune City and this new one?
NA: With Neptune City, one of the main focuses in the arrangements was keyboards and strings in this kind of orchestral thing. Mondo Amore has two main things going on in it which are psychedelic music and blues music. So, it's just a bit more stripped down and raw, and it's focused on the guitar more than the piano.
MR: Can you go into the story behind "Vultures"?
NA: Yeah, there is a lot going on in that song. I wrote it on the beach last year in Asbury. It started as me just humming a pretty standard blues melody. It's about two different things--it's about jobs and working yourself to death for some greater reward. The second part is about how different people's families are and what they fear the most--the types of things that they put in you to be afraid of your whole life. Then, at the end, it's saying that there might be some hope. It's a pretty bleak song.
MR: You've been described by the press as an edgy artist--do you see yourself as that?
NA: Edgy? Yeah, I guess so. I would consider myself kind of edgy.
MR: When I listen to your album, I hear influences from folks like Blondie, Ronnie Spector...basically, the girl group and punky eras.
NA: Uh huh. It's ballsy, I guess that would be a good word.
MR: Let's talk about another song, "Hotel Plaster," which is probably my favorite song on the album.
NA: I'm so glad you like that song. You want to know what that's about?
NA: I was in a relationship at the time, and I was touring all the time. He was also in a band, so he was touring all the time too. We never really got to see each other, and it's basically letting this person know what not to do with their next girlfriend. The chorus of the song says, "Think of me in a prison of hotel plaster, far from the shelter of your sight." It's an "I miss you" song.
MR: Nice. Who would you say are your musical influences?
NA: Traffic, Pink Floyd--I like Arthur Lee's Love. I like a lot of Swedish folk and psychedelic music, I like Screamin' Jay Hawkins, The Doors, and...yeah. I could go on.
MR: I hear you were also influenced by David Lynch.
NA: Yeah, I'm a huge fan of David Lynch movies, and the music in them. Angelo Badalamenti soundtracks are high up on my list.
MR: You were part of the downtown club scene in NYC, right?
NA: Yeah, in 02' and 03', I started playing in the Sidewalk Café scene. Sidewalk Café is an open mic, and it was a really cool summer. It was the summer that The Moldy Peaches record just came out, and I was playing with these people like Regina Spektor, Langhorne Slim, and I brought up The Avett Brothers from North Carolina to do it. It was just a summer where everybody just started doing it, met each other, and became friends, so that was pretty cool.
MR: Have you ever played Hotel Café out in Hollywood?
NA: I never played there, no. I used to play Largo out in California, which is similar. Largo is really cool. You know the producer Jon Brion?
NA: He lives right above it. I went upstairs to where he lives, above Largo, and he gave me a bunch of suits. He was like, "I'm getting rid of all these clothes. Do you want any of them?" So, I came down with a big armful of suits and was like, "Hey band, I got you some clothes."
MR: I hear you've performed with Sara Watkins as well.
NA: Yeah, she's who I first played with at Largo.
MR: That was a great period in LA for...I don't want to call them singer-songwriters, that's not quite right.
NA: They're musicians, real musicians.
MR: Yeah, everybody started to learn their craft better. Is there a song on the new album with a particularly interesting story to tell?
NA: The last song on the record, "The Tower," is interesting in terms of how I made it. That song was more of a concept--I wanted to build the song like a building and then tear it all down. So, it would sound like you're climbing and climbing, and then you're blown off the building and fall all the way down. I was actually trying to write this song when I was recording Neptune City. I had two different melodies that I always loved but could never finish. And then two years later, I was on a treadmill in a Jersey gym, and the two melodies just clicked together. I jumped off the treadmill, ran into the bathroom, and recorded it on my phone. It took like two seconds to make, after trying to get it for two years.
MR: Do you ever go back and listen to your first album? And how do you think you have grown from your first album to now?
NA: I actually don't really like to listen to my own music because it makes me feel weird. The main difference between the last record and this record is that I made this record myself, with my own money, and without the help of a label. It wasn't until after the record was done that Razor & Tie picked it up, so I guess I had complete creative control this time. It's like everything is on there because I made it be on there--there was no A&R person telling me how to do things, which was awesome.
MR: You also hooked up with an interesting producer for this project.
NA: Yeah, Phil Palazzolo, he's wonderful.
MR: What was the dynamic like in the studio?
NA: We just did everything together, you know? It was like, "Hey Phil, let's try this," and he's like, "Alright." He super non-judgmental, very laid back, and every day in the studio was just fun--it was like hanging out with your best friend at a bar but we were at a studio.
MR: So, what does the future bring for Nicole Atkins? Got a five-year plan?
NA: My five-year plan would be to get the band in a spot where our shows could be a little longer and make a few more records. Nothing very lofty--it's pretty meat and potatoes simple.
MR: Got any advice for new artists?
NA: I would say play as many shows as you can. Find some of the older musicians in your town that you respect and get as much information as you can from them.
MR: Cool. Nicole, thank you very much for this interview.
NA: Hopefully, we'll get out to Iowa soon.
MR: Hey, when you're passing through, consider Fairfield as one of your stops.
NA: We could stay at your house. (laughs)
Tracks:
1. Vultures
2. Cry Cry Cry
3. Hotel Plaster
4. You Come To Me
5. My Baby Don't Lie
6. This Is For Love
7. You Were The Devil
8. War Is Hell
9. Heavy Boots
10. The Tower
For more information: www.nicoleatkins.com
(transcribed by Theo Shier)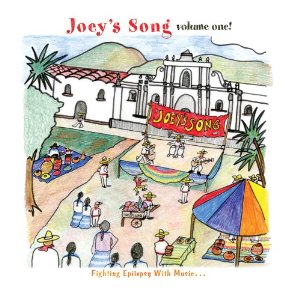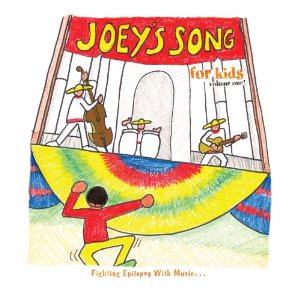 Mike Ragogna: Michael, these benefit compilations are honor of your late son Joey has rallied some artists to your cause. Please would you first give us the back story on your son's illness and how you came up with the idea for the Joey's Song CDs?
Michael Gomoll: Joey suffered from a rare form of epilepsy called Dravet's Syndrome. Dravet's is a genetic disorder and, as of today, there is no effective way to control the seizures. With Dravet's comes a spectrum of possible development delays--it is a spectrum disorder so not everyone affected has the same issues. But the most affected show some from the spectrum. The two issues that Joey dealt with that most strongly influenced the idea for the CD were one on the positive side and another on the negative. On a positive note, some Dravet's kids show autistic qualities and withdraw and are not interested in interacting. Fortunately, that was not the case with Joey. He loved people and loved to interact, and so getting the entire room up dancing when a song he liked came on was a natural for him. So, that obviously made music as a tribute a logical idea. On the negative end, Dravet's basically robbed Joey of his ability to speak. He had a vocabulary of about 100 words as he neared age 5. But Joey had a great memory and an ear for music. So, while he could not make the connections with words, he remembered melodies and songs with fantastic precision. He could sing melodies like a prodigy.

When Joey had his first seizures around Christmas 2005 and it became clear that epilepsy would be a part of our life--it was almost 2 years before the Dravet's was diagnosed--I thought about trying to do a CD to help raise some money. I am a huge music fan and can't say no to an interesting compilation for a good cause. But as often happens, life got in the way and that was always something I would start doing tomorrow. So, it was not really a big epiphany that I had after Joey died, I had been thinking about this for a while. His passing obviously changed everything and it became pretty clear to me I needed to do this for Joey and for me as a form of grief therapy.
MR: You and your son were deeply bonded by music. Would you tell us about that relationship and some more about Joey adding a personal story or two?
MG: Joey's illness prevented him from communicating through words, but like most people, he wanted to connect with others, so music was his medium. He loved to watch shows and videos that featured kids music--Elmo, Teletubbies, the Baby Einstein series. Through these, he could sing, dance and interact with people. He also loved to sing along with others with children's songs. He had a passion for music and it was his path to others. So, a half-hour watching an Elmo video and singing the songs was the perfect way for Joey and I to spend time.

The developmental delays that effected Joey caused him to be an "in the moment" kind of person, and to his Dad (or any other adult for that matter) that has to worry about college tuitions and braces and ballet lessons, being able to just "be" is a form of therapy. Joey forced everyone around him to just live in the moment--to play, to sing, to dance. I have said many times there was never a happier, more joyful soul than Joey. He was with us for almost 5 years, and I can count on one hand the number of times he was sad or somber.
MR: Please would you give readers an update as to what's currently being done to battle epilepsy and where you feel there is a need for drastic improvement in treatments and medications?
This one is better handled by the Epilepsy Foundation. Our world, the last few years, was very focused on Joey's specific, rare form. So, I cannot call myself an expert on the epilepsy world overall. But I will tell you that my impression of the status of treatment and diagnosis is still that it is more art than science. As a patient, you can spend months and even years with constant trial and error on types and dosage of medicines. It can take several months to ramp up to what is an effective dose of one medicine, only to find it does not work and then spend several months coming off of that medicine--because these are brain medications you don't just stop and start, you have to slowly (like weeks at a time) incrementally increase and decrease dosage to try another. And during these weeks, months and years, you can be having regular, sometimes several a day, seizures that are debilitating and dangerous.

Also, I think one area that I hope our foundation will help with going forward--and I hope you feature this point in your article because I think it is really important--is around something called "respite care." If you are a caregiver for anyone with a seizure disorder that is not effectively controlled by medicine--and I have seen reports that between 35-50% of the hundreds of thousands of epilepsy sufferers fall into that category--you are on 24/7 alert for a seizure that can cause injury or even death. And as you can guess, that means there are very few people that can help, so you can have a nice dinner or go out or see a movie. Because as a parent, you can't just have the local teenager come over and watch your child, you wouldn't be comfortable and neither would they. There just aren't any services like that. In the time from Joey's first seizure until his passing, you can count on one hand the number of times my wife and I went out to dinner--and that is only because we had a couple doctors and paramedics as neighbors that would help for those couple of nights. So, the need for the development of high quality respite care services that can provide a safe environment for epilepsy sufferers so that caregivers can get a break every now and then is really important.

I know there is a lot of work being done on medicine and treatment. I hope some focus can also be given for the caregivers. If you are the caregiver of an epilepsy patient, you NEVER relax. For 5 years, I never was without my cell phone. My wife and I started every phone conversation with a status check on Joey. You never relax and more so when you are not with the person that has the seizure disorder. So, I would ask everyone to think about that. Seizures happen any time day or night and at any moment your child can be in danger, and while science is working on cures and treatments to remove that danger, at this moment, hundreds of thousands of families live with it 24/7 and have little chance for the occasional dinner and a movie. So, I know after the first few CDs, we will begin to turn our donations and resources into helping develop some respite care support.

MR: How did you assemble this roster of artists? Are there any unique stories regarding their musical contributions?
MG: I am lucky to have developed a few personal friendships with a few folks that make their living writing and performing music. Justin Currie, the lead singer and songwriter for the Scottish band Del Amitri has been a dear friend for 15+ years. Del Amitri has had a couple hits here in the US and has had dozens of Top 40 hits in the UK. Lowen and Navarro are a talented songwriting duo that wrote "We Belong" which was a big hit for Pat Benatar in the mid-'80's as well as songs for others. They also recorded many albums on their own and toured constantly. So, my initial plan was to reach out to these national acts, plus a few friends I have in the Madison and Milwaukee music scene and would get them to contribute a song and then sell the CD at the local grocery store, Methodist Church, and VFW hall.
Within a few days of Joey's passing in March of 2010, I sent the note to my friends and, of course, the response was positive and wonderful. But I remember thinking about a week into the process about all of the other musicians I had met over the years in various ways--either through friends or via other means. So, I sent out a few emails to those people with a little detective work--Matthew Ryan, Eileen Rose, Michael McDermott, and a few others. I explained how I "knew" them and told them Joey's story. Well, the three I just mentioned all responded within hours, and not only responded, but asked what else they could do, so, at this point, I realized we had something here, that Joey's story was resonating with people.
One of the other decisions I made early in the process was to make sure our request was easy for them to say yes to. I was not asking them to go in and record a new song--although many of our artists did--all I asked was for something rare or unreleased. Since I know my music friends well and understand the process, I know they record more songs than they end up using on CDs, so they have a stash of unused songs laying around. Also, I know acts often record their live performances as well but release very few of them. I hoped by asking for rare or unreleased tracks I was making it very easy for them to go over to their computer, find a track they never released, and donate it. Now, as I said, for many of the Joey's Song artists, that wasn't good enough--many, many went in and recorded songs just for us. I also liked this approach because, as I mentioned to the artists, it gently forced their fans to buy our CD if they wanted to be completists. I am a music collector, and while I love hundreds of bands and artists, I have my Top 25 that I will buy anything they put out, and with our rare and unreleased mantra, I was hoping to tap into that with these artists.
Now after getting my friends and my "connections" and being overwhelmed with the response, I started working on the many of the artists I loved but had no real connection to. In hindsight, it is not surprising, but at the time, I was stunned that my musical giants--Neko Case, Robbie Fulks, Jason Ringenberg, Steve Forbert, Thea Gilmore and on and on--were all responding as well. In what can only be described as a true miracle, when we went to put together the tracks for the first two volumes, we had to pair it down from over 80 artists and 120+ songs submitted. We have Grammy winners like Duncan Sheik and Raul Malo that didn't make the first CD. We have some exquisite tracks of cover songs that people have submitted because the legal entanglements in the record industry are overwhelming--artists, writers, publishers and labels all have say in where and how a song or recording gets used. So, while these first two volumes will always be the most special for obvious reasons, the things we are working on for the future is amazing and as I point out, this is just all being done from a basement office in a small town in Wisconsin.
MR: Are there any recordings on the Joey's Song releases that speak to you perhaps more deeply than the others?
MG: There are great stories behind each track and the CD was not really done with any theme per se. But music is often about love, loss and hope, and that is the Joey's Song story itself. So, while none of these tracks were written about Joey's story, you can hear his story in each track, and I could easily tell you about each track in great detail and they are all extremely dear to us, but there are a couple I will call out. The first is "If Your Tears Don't Make A Sound" by Del Amitri. I think Justin Currie is one of the greatest songwriters of our generation. I am a bit biased as he is also a dear friend, but his ability to mix melancholy subjects with irresistible melody is unmatched. And while the "tears" is about adult love with very little imagination, it can sound as if it was written for us. If there is an undiscovered Top 10 hit on our compilation, it is that song. Thea Gilmore's "The Difference" is just a stunner in my book. The beauty and the fragility of the lyrics and message is beyond description. The sparse arrangement only adds to the effect, and her voice in general and this performance is the ultimate vehicle for her beautiful song. On the kids CD, certainly Steve Forbert's cover of "Puff The Magic Dragon" is amazing. Steve is an absolute legend and makes this classic his own.
But there is another reason why this contribution means so much. Peter Yarrow, who wrote the song, is known to be very protective of the song and rightly so and he doesn't grant permission easily. But when we got the OK from a true legend like Peter to use his song via Steve's delightful performance, it was such vindication for us. Lastly, Matthew Ryan's version of "You Are My Sunshine" is everything I could hope for when people go in and do record something new for us. Matthew took a song all of us know from childhood and made it his own. That is why the kids CD is so special, all of these artists that made their mark in the adult music world take and aim their talents at these kids songs...it's really something else. And I would be remiss if I didn't mention Eileen Rose's version of the old folk song "Oh Johnny LeBeck." I didn't know this song until she sent it to use, but one of it's charms is that it reminds me of the old fairy tales we all grew up with. A little bit dark, a little bit scary, but a ton of fun and an irresistible performance. It is a song in the classic Brothers Grimm school.
MR: When will more CD volumes become available?
MG: Well, we are hoping to release at least two volumes every year for the next 5 years. We have no shortage of songs or artists to donate them. Up until now, this effort has been a two-person show between myself and Kevin Baird, my dear lifelong friend and Executive Director of the foundation, and we have been learning as we go. We are not even 10 months since Joey died and we have the first two volumes done and ready to ship. As I tell people, we basically started a record label and recruited a roster in 10 months--not the normal 5 years. But I think we have learned a ton and hope to be able to now apply all of the bumps and bruises from this first year and keep releasing high quality CDs for a while. Our goal is two or three a year for the next 5 years, and then our business plan is donate the "Joey's Song" brand--the CDs and their revenue stream--directly to our named charities.
I want to be clear for a minute here. Even though Kevin and I have done the legwork around the foundation and the CD, there are several professionals from the music business that have donated all of their time and skills to help us not go too far astray. Cheryl Pawleski, Bryan George, Joe Vent, and Greg Allen all donated 100% of their time and effort to help us get the CDs together and helped talk to all of the companies along the production chain to get the CD produced at the lowest costs possible. So, other than a few support services like PR and production, every penny paid for the CDs goes directly to the named charities. We have no paid employees at the foundation.
MR. What is your advice to parents who also have children suffering from Dravet's Syndrome or any other form of epilepsy?
MG: Wow, well for Dravet's parents my messages is simple. Focus on what "is" and today. It is easy to spend time focusing on what can be perceived as bad breaks for your child, but just revel in what they can do and everything will be as wonderful as you can hope. Also, try not to worry about tomorrow. Dravet's is a path of unknowns and worrying about it does no good. The road for a Dravet's family is not an easy one, but it can be a joyful one.
For epilepsy parents in general, it is the same as any parent of a child fighting an illness. You must be your child's strongest advocate--both in the community, at school and most importantly, with your medical support. While all of these people have the best of intentions, they by nature must generalize and categorize, and there is nothing general or categorical about your child.
Joey's Song, Volume 1:
1. Hang On Mike (live) - Mike Viola
2. If Your Tears Don't Make A Sound (demo) - Del Amitri
3. In Love With You - Tim Easton
4. The Difference - Thea Gilmore
5. The Sweetest Sound of All - Ed Harcourt
6. People Got A Lotta Nerve - Neko Case
7. Mmm, Mmm, Mmm (live) - Crash Test Dummies
8. Streets Of Laredo - Slaid Cleaves
9. This Street,That Man, This Life (acoustic) - Cowboy Junkies
10. Wash & Fold (live) - Daddy
11. All Thumbs (demo) - Tracy Bonham
12. I Believe In You (live) - Robbie Fulks
13. 14th Street and Mars (alt Version) - Michelle Malone
14. Seven Angels - HEM
15 Carry Your Cross (demo) - Michael McDermott
16. Still I Dream - AA Bondy
Joey's Songs For Kids, Vol. 1:
1. Monkeys - Steve Wynn
2. Oh Johnny Lebeck - Eileen Rose and The Legendary Rich Gilbert
3. Baby Clap - Greg Percy
4. Wheels On The Bus - Lowen & Navarro
5. Puff the Magic Dragon - Steve Forbert
6. Little Blue Horses - Sleepytones
7. Say Say Oh Playmate - April Smith and the Great Picture Show
8. Hippopotamus - Jon Dee Graham
9. Pickle Me Juice - Ralph Covert
10. Mr Teetot - Ellis Paul
11. Working On The Railroad - Howe Gelb
12. Upside Down Town - Greg Trooper
13. Dan Blocker - Gurf Morlix
14. And It's Beautiful - Crash Test Dummies
15. You Are My Sunshine - Matthew Ryan
16. Sam's Lullaby - Phil Lee
For more information: www.joeyssong.org