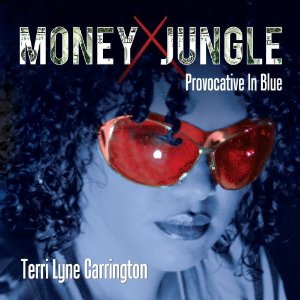 Terri Lyne Carrington interview
Mike Ragogna: Terri, Money Jungle: Provocative In Blue is a bit of a concept album for you. What gave you this concept to do?
Terri Lyne Carrington: About ten years ago, I heard the original Money Jungle for the first time, and I don't know how it had slipped passed me over the years. It just caught my attention. There was something in there that was compelling me to want to revisit some of the material, and I sort of felt that right away when I was listening. I thought about it for several years before I really decided to do it. I decided to do it about four or five years ago, but didn't get around to it until now--I had other things that I really wanted to do as well, like The Mosaic Project. Still to this day, I'm not one hundred percent sure what it was that spoke to me on the original recording other than the energy that kind of popped off that CD. I listened to it on the re-mastered version. Duke himself sort of took a step back and let Max and Mingus really shine.
MR: Let's look at those three, starting with Duke Ellington. What are your thoughts on such a cultural icon?
TLC: Well, when I was eighteen, I was on the road with Clark Terry, and he was my portal to Duke Ellington because he spent so many years playing with him. He used to speak of Duke a lot, but I didn't really know a lot about Duke besides these stories that Clark told or other stories I had heard. So when I decided to do the project, I did a lot more studying and read a lot more about the man. I just feel like he was remarkable in the sense that he was able to do really quality jazz, but it was also commercial at the time. Even though "jazz" back then was one of the popular art forms, he found ways to present the music so that the average person could really embrace it. I think those are some of the same things I think about today. Then I started reading about the way he thought, and he said, "Jazz just means freedom of expression." When I read that, I really felt like I would have had his blessing to do this project. I really felt like he was forward thinking. He was in love with what he did, and that's why he compares it to a beautiful woman.
MR: That concept's included on the album as well.
TLC: The last track, "Rem Blues/ Music," is a song from Money Jungle that I've interwoven with a poem that Duke Ellington wrote. He compares music to a beautiful woman, and there is definitely that quality in that it's the kind of thing that you can be obsessed with. I related to all those things, and I was just happy to finally dig deeper into Duke Ellington. I kind of joke with myself that I was able to do it on a record, for him, that may have been terribly simple, you know, mostly blues grooves, trio format. That alone, for me as a drummer, was educational. I could really see some of the shapes he used in his writing just from the trio recording that he did. It was a beautiful learning experience for me. I was actually pretty close with Max Roach. I've known him since I was ten or eleven years old, so it's natural for me to want to pay tribute to him as well. I didn't have a personal relationship with Charles Mingus, but to me, he was a great bass player and composer, and he was just one of those great jazz artists where what you see is what you get. He's giving you his blood, sweat and tears; he's giving you everything inside of him every time he plays. I just thought that trio was very odd and beautiful, and there was synergy between them as well as friction.
MR: You had Gerald Clayton and Christian McBride with you. What was the dynamic like with your own trio?
TLC: I'm trying to think of the commonalities. I am the elder statesperson between the three of us, so that's one commonality between us, I guess. Other than that, we didn't have the kind friction that they had. Mingus and Max did not really get along too well.
MR: Do you think the friction that existed between the three of them helped create the genius that was that recording?
TLC: I can't say that, just that it did. There have been plenty of jazz recordings without any friction. I think it might have added to some of the tension you might hear that makes it feel anxious and urgent. So, I don't know.
MR: When you sat down to listen to this album from top to bottom, what did you come away with?
TLC: I guess maybe I was so close to it, and I'm a little bit of a perfectionist, so I just keep tweaking away. You get so close to something and you don't even know what's good and what's not anymore. I had to really let it go to be able to appreciate it. I haven't really listened it from top to bottom since then, just in spurts. I think there was a synergy that came together, for sure, and that part I'm very happy about. I'm proud of my arrangements. So when I listen back, I hear flaws and things that I might have kept improving if I had more time and money, but that's never the case. They say you never finish a CD, you just abandon it eventually. It's all a learning experience. I can only give the listener what I have to offer at that moment. A friend of mine once said, "I am what I am at this particular moment, and that will have to be sufficient." I try to stay in that headspace, or I can go crazy, you know?
MR: What condition do you feel jazz is in today, if you were taking its pulse, so to speak?
TLC: Wow, what condition? I look at life as constantly evolving. I think music and art represent life, basically, and I, more and more, understand what my mentors Herbie Hancock and Wayne Shorter were saying when they would say, "We're not playing music, we're playing life." So, life evolves and the human experience evolves, music evolves as well, and I'm okay with that. I am nostalgic, and when I listen to great music and great artists of the past, I kind of think, "Wow there's nothing like that, and that will never happen again," so we have to move forward on some level. I'm not trying to be a groundbreaker in that regard, I'm just trying to inch away at my own growth and development and participate. Again, the people I admire so much, like Herbie and Wayne, they all think that way too. So I feel I'm on the right path.
MR: When you play, how spiritual is the experience for you?
TLC: Funny you asked this question because I've been trying to write a book about that very subject. I realize that the only time that I am completely in the present, without any distractions at all, is when I'm playing. That, to me, is a spiritual process--being in that present moment. I think that's what we're all trying to do. We're all trying to be in the present with no past and no future. I realized that I'm most successful at that when I'm playing. I'm actually trying to do interviews with many great jazz artists called "Jazz Is A Spirit," which is off of one of my CDs back ten years ago. I talk to people about that process, and how they feel about where spirituality meets creativity. It's a beautiful feeling when you're creating something, and, of course, that's spiritual because you're creating on the spot and you're committing to something that's unknown. There's something mystical about that, you know? When you write music, it's a similar thing, but different. You're improvising when you write, but you can craft it and shape it into what you want it to be. When you're creating something, tapping into the creative energy of the whole universe--some people call that God--it's just this huge creative energy that we're all a part of. So when we're creating something, we're tapping more deeply into that energy. That's spiritual as well.
MR: Do you have any advice for new artists?
TLC: I talk to my students all the time, and everybody is different, but the one thing I've realized is that experience is king. Experience is what will get you where you need to be. You've got to be prepared of course, and that can come a lot of different ways, but experience is the one that really gets you to where you need to be, and you can't expect to have it at a young age. You end up finding people who have so much talent, but lack of experience, so how do you skip a few steps in that process that life experience gets you? I'm not sure--I don't know the answer to that--but I try to talk to them about my experiences, and I try to be intuitive about what kind of experience they need to take themselves forward, then try to just talk them into that direction.
MR: Are there any other albums out there that you feel strongly about and maybe will take a swing at someday?
TLC: [laughs] No. That's a good question. No. That's funny--I've never thought about that. I guess this is the only one I ever felt that way about.
MR: Not Stevie Wonder's Innervisions?
TLC: Oh, my God, no! That one is really deep, that would be too much. [laughs]
MR: [laughs] Will you be touring to support this new album?
TLC: Yes, I'm playing March 26th and 27th at Lincoln Center, in New York, and I have spot days coming up. Things are still being worked out. The problem is I have so many projects that people still want to see the last project. I have to figure out a way to carve time out to do each thing that I want to do and do it smart.
MR: Very nice. Best of luck with everything, and thank you again for your time today.
TLC: Thank you, Mike. Take care.
Tracks:
1. Money Jungle
2. Fleurette Africain
3. Backward Country Boy Blues
4. Very Special
5. Wig Wise
6. Grass Roots
7. No Boxes (Nor Words)
8. A Little Max (Parfait)
9. Switch Blade
10. Cut Off
11. Rem Blues/Music
Transcribed by Ryan Gaffney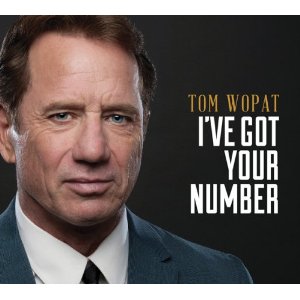 A Conversation with Tom Wopat
Mike Ragogna: Tom, you have a new album, I've Got Your Number, your take on jazz and swing material. What went into choosing the songs?
Tom Wopat: Well, we kind of wanted to do a bit of an homage to the madmen period where they were doing the big band/orchestra hybrid thing, the kind of Bobby Darin and Frank Sinatra saloon feel to things. So we did things like "Call Me," the old Chris Montez tune, and "I've Got Your Number" by Cy Coleman, "It's A Good Life"... So it's mostly that stuff and then there are some pop tunes that we've given somewhat of that same treatment and also a couple of original tunes.
MR: Yeah, "Summer Dress," I wanted to get into that.
TW: [laughs] Help yourself!
MR: [laughs] Nicely played! "Summer Dress" seems to be one of the most personal reads on this album. And with some of the more modern material--for instance, James Taylor's "Secret Of Life" or "Since You Asked," the Judy Collins song, Bruce Springsteen's "Meeting Across The River"--you gave yourself some pretty challenging material.
TW: Well, I think they lend themselves to that. Groove is not quite as important to them. With the bigger stuff or the stuff like "I've Got Your Number," the lyric is more playful. It's more of a groove song to me. Same thing with "Good Life." That's a pretty intense lyric. That's ironic. So I try to invest in whatever I feel the song is talking to me about. Obviously, with "Secret Of Life" and "Since You Asked," those are pretty intense ballads. I'd like to think that I copped a pretty good attitude on them. I'm really proud of this record. I think it's one of the best-produced records I've ever made.
MR: Over your career, you've recorded in a few different styles. There's your Broadway experience, you have musicals in you, you have pop in you, you have country in you, and on the last couple of projects, you've been going more towards jazz and swing. What motivates your desire to record these kind of albums?
TW: Well, for me, the live performance has really reinforced that. The reason we did it in the first place was because I was doing all the Irving Berlin songs in Annie, Get Your Gun. We did the cast album of that and the people at Angel who made the record asked me if I wanted to do a Sinatra-ish record. That first one, In The Still Of The Night, was a little more like In The Wee Small Hours, that Sinatra record, and as we've gone along what I do in the live shows is not so much a cabaret act as a saloon act. We try to swing, I enjoy that stuff and for whatever reason, I've absorbed enough of that over the years that it seems to suit my voice. So that's pretty much why, it's something that I've kind of grown into. The musical vocabulary, the American songbook, you can just go down the list and it's just one amazing song after another. I think that's primarily it, it gives you a really good, solid backbone of amazing material, and then you can kind of stretch the edges of it, like with the last record, we did a Joni Mitchell tune called "Two Grey Rooms." So you're looking at stuff where you've got a really solid core and then you can kind of dally a little bit on the edges.
MR: Yeah. And with "Two Grey Rooms"--one of the best songs, I think, Joni's ever written--of course, you had to change the orientation of who you were looking at through those windows, but yeah.
MR: Why did you cover such an iconic Springsteen track like "Meeting Across The River"? You know what the original topic is, and any interpretation would be very challenging. It's just challenging.
TW: Well, to me, that's a bit of a story song, too, which I've always felt has been one of my strong points. Having dabbled in acting from time to time, you'd think you'd be able to sell a song like that. I'm a big fan of Springsteen's too.
MR: Did you hope that he would hear your version?
TW: [laughs] You know, it's crossed my mind, but I would be really surprised. The one whose response I'm very interested to get is Paul Simon.
MR: Oh man, "The Afterlife," another off-the-beaten path choice. Yeah, it's clear that on this album, you took a lot of risks. What other risks are you taking?
TW: What we're doing right now is a compilation for a double vinyl that we're going to put out in a couple of months. It's going to be primarily this record with some selections from the last one. When I was A/B-ing stuff, it was remarkable to me in my mind how much more sophisticated the production and vocals are on this one. It's a process, it's a learning process. I've not recorded all my life--I've recorded quite a bit--but when you're talking about country music and then when you talk about this stuff, especially that I've gotten more interested and more involved in the production per se, I feel like we're still progressing and that's a good thing. I'd hate to think that we'd plateaued.
MR: You said you're hoping for Paul Simon's reaction on "The Afterlife." What reaction are you hoping for, that he'd like it or maybe want to do a duet someday?
TW: That he doesn't get pissed off! [laughs] We gave it such a different feel. The whole point was that I wanted to do something fairly contemporary, there was an Adele song I was thinking about doing too. When you do a Judy Collins or a James Taylor song, you think, "Yeah, that's contemporary." Not really. Those songs are like thirty or forty years old. They're great songs but they're not contemporary. This is one that I thought would fit in a horn arrangement. Henry Hey, I think, did a terrific job of making that happen.
MR: By the way, you appear in Quentin Tarantino's Django Unchained.
MR: What are your thoughts afterward?
TW: He was really nice! He was really nice to me. Whatever you feel about his style--and a lot of people feel really strongly about it--he is passionate about film. He is passionate about movies. If you ever get a chance to work with him or be around him, you'll see that it's not about him, it's about the product. It's about what he's doing. It was one of the most fun days I ever had on a set. It really took me back to when we used to make The Dukes Of Hazzard--we had so much fun on that set. This was a day that compared with those days.
MR: The Dukes Of Hazzard! What are your thoughts about the The Dukes Of Hazzard days?
TW: Oh, you know, at this point, it's almost like talking about high school. It was really great, I learned a lot, I made some lifelong friendships. John and I are going to do a show together in Oklahoma next week, so we talk all the time. It's one of those things that really shaped my life in a lot of ways, some of them good, some of them bad. But I wouldn't trade it for anything.
MR: "A show together..." meaning you're going to sing together?
TW: Yeah, we're going to sing together at a casino in Oklahoma.
TW: Yeah, if you ever get a chance, it's a trip.
MR: By the way, I caught your reunion with John on that Smallville episode. I was a huge fan of the show.
TW: Oh, that was fun. We had a blast. They were nice.
MR: Did you guys have the same kind of mischief going on during Smallville filming?
TW: Oh, yeah. I keep looking and waiting for someone to come up with some little vehicle where we could do another piece of work together. We have a chemistry that I've never had with anybody. John's an amazing cat.
MR: Tom, what advice do you have for new artists?
TW: Oh boy. Be passionate. Don't sell yourself short, be passionate and make sure that you're passionate, otherwise, it doesn't really work, I don't think. I don't know, maybe there are some technicians out there who don't really care about it. But for me, if I didn't love what I was doing, I couldn't do it.
MR: Other than the reunion with John, what's happening as far as touring and support of the record?
TW: Oh, you know, we're doing a little here, a little there. We do four or five shows a month. There's a movie on ABC with Jane Seymour that's going to air sometime in Spring, and I'm working on the next one. I'm talking to my producer about maybe doing a Christmas record with Schneider. I think it would be a blast.
MR: Oh jeez, that would be a great concept!
TW: Yeah, I'm thinking so.
MR: Tom, thanks for the time, it was a pleasure.
TW: All right, well thanks a lot Mike.
Tracks:
1. I've Got Your Number
2. The Good Life
3. Meeting Across the River
4. Summer Dress
5. Devil May Care
6. The Folks Who Live On The Hill
7. The Afterlife
8. Since You Asked
9. Born To Be Blue
10. I Still Feel That Way
11. Secret O Life
12. I Won t Dance
13. Here We Are Again
Transcribed by Galen Hawthorne
REAL LIFE. REAL NEWS. REAL VOICES.
Help us tell more of the stories that matter from voices that too often remain unheard.