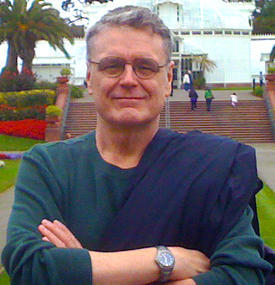 If people believe they are meant to do one thing in life, they obviously haven't met Bud Santora. The former costume designer went on to be a book illustrator and now has penned his first novel. The Green Storm is an apocalyptic tale about five generations of the Guillory family, the island they live on, and their deep connection to the sea and the creatures that exist within it. Fascinated by the career switch, I knew I had to talk to the award winner.
Gregory Allen: You have been a designer all of your working career. You even received a few Emmy nominations and one win when you worked as a costume designer in daytime television. Before I ask about the book, tell me a little about your past.
Bud Santora: Since I moved to New York City, I have worked as one type of designer or another. My first job was at a costume shop in Chelsea named Brooks Van Horn working on the Ringling Brothers Circus creating the accessories, props and costumes. I worked on Broadway shows such as The Little Foxes with Elizabeth Taylor, dance pieces, films like the movie version of Hair, and then on to a long stint as a costume designer in television. After that I got into product design and illustration.
Allen: What a great background! So why pick up the pen and write?
Santora: Friends of mine were writing books so I thought 'let me try a hand at that' and several months later I finished The Green Storm.
Allen: I like that kind of motivation. "If they can...I can!" While apocalyptic tales are very 'in' right now, the plot and storyline of your novel aren't the typical science fiction variety. Where did the idea come from and how did you develop the characters and great descriptive details?
Santora: It started with the concept of a man who gets stricken with an illness due to a worldwide event and the only one that was there to help and protect him was his dog. A zombie film I saw where the zombies didn't attack a dog inspired me. This man's best friend idea grew into the characters of Mike Guillory and his Rottweiler named Travis and what happened to them after an apocalyptic weather event.
Allen: How did the whole back-story of the Guillory family come about?
Santora: The scenario was inspired by a little abandoned island off the coast of my hometown of Bridgeport, Connecticut called Pleasure Island. The place had an amusement park that went under in the late fifties. I liked the idea of the characters being isolated from the rest of the world. It helped me keep it more intimate. Once I had the place, the story of the island and the Guillory family came together.
Allen: What I like best is how your descriptive narrative is so visual. I felt at times I was watching a movie instead of reading a novel. How did you develop and accomplish that?
Santora: Thank you for the compliment. I have always been a visual person so the research and descriptions of things, like the carnival or the undersea city, came easy. More challenging for me was writing the dialogue. Another area that was tricky was balancing the past story line with the present.
Allen: What would you say is the most difficult part of writing a first novel?
Santora: Promotion. Promotion. Promotion. Making sure people can find your book and then read it, is a real challenge. I have talked to several authors about this process and they all said the same thing; your novel is your product and you are your brand. I received great advice from a successful first time author A. G. Riddle who wrote the three-book Atlantis series. The way he has envisioned his concept and developed his brand is a real model for all authors.
Allen: I noticed your novel is listed under climate fiction in addition to sci-fi and fantasy. This is a new genre term for me. Where does it come from?
Santora: I hadn't heard of Cli-Fi or climate fiction until my book was published. A fellow author, Dan Bloom, coined the phrase and it has become popular with more authors writing about it, even with famous authors like Margaret Atwood. He contacted me on Twitter and let me know that my book fell into this category and was kind enough to feature The Green Storm on Clifibooks.com. It's an important new genre especially today with global warming.
Allen: Your ending left me wanting more. Will there be a sequel to The Green Storm?
Santora: I've started an outline for a sequel that picks up where The Green Storm ends and a mid-quel dealing with what happens to the characters, Emily and January.
Allen: Thanks for taking the time to talk to me. Let readers know where they can find your book.
Santora: Every online bookstore carries it. Readers can go to my website and can find purchase links for both The Green Storm and Wise Bear William: a New Beginning a children's picture book that I illustrated.
REAL LIFE. REAL NEWS. REAL VOICES.
Help us tell more of the stories that matter from voices that too often remain unheard.