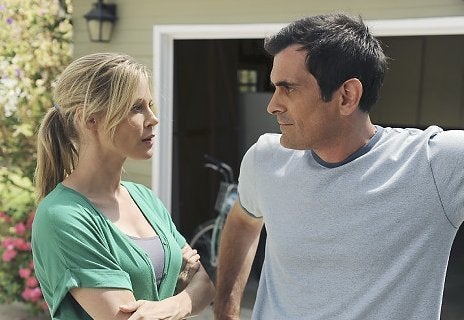 And you thought voting members of the Academy of Television Arts & Sciences only had eyes for cable.
All that changed last week with the announcement of the nominees for the 62nd Primetime Emmy Awards. Not since the heyday of Frasier, The West Wing and Will & Grace have the broadcast networks made such a grand showing, especially in the Drama and Comedy Series categories. For the first time in a long time, CBS, NBC, ABC and Fox all have much to celebrate.
Consider all this broadcast love: Nineteen nominations for Fox's Glee (including series' leads Matthew Morrison and Lea Michele, supporting players Jane Lynch and Chris Colfer and guest stars Neil Patrick Harris, Mike O'Malley and Kristin Chenoweth), fourteen for ABC's Modern Family (including five of its adult stars, all in supporting categories, and guest actor Fred Willard) and nine for CBS' The Good Wife (including front-runner Julianna Margulies, supporting actresses Christine Baranski and Archie Panjabi and guest actors Alan Cumming and Dylan Baker). That's a lot of Emmy attention for three broadcast freshmen.
Meanwhile, NBC's 30 Rock remained an Academy favorite with fifteen nominations (including previous winners Tina Fey and Alec Baldwin, supporting actress Jane Krakowski and guest actors Jon Hamm, Will Arnett and Elaine Stritch). ABC's Lost received twelve nominations for its fearless final season (including Outstanding Drama Series, which it won in its freshman year; a first-ever nomination for series star Matthew Fox; nominations for previous winners Terry O'Quinn and Michael Emerson and one for guest actress Elizabeth Mitchell). Several stars from less-recognized broadcast series were also nominated, including the criminally overdue Hugh Laurie of Fox' House, previous winner Mariska Hargitay and guest actress Ann-Margret of NBC's Law & Order: Special Victims Unit, previous winner Julia Louis-Dreyfus of CBS' The New Adventures of Old Christine, Jim Parsons of CBS' The Big Bang Theory, Amy Poehler of NBC's Parks and Recreation, previous winner Steve Carell of NBC's The Office and previous winner Jon Cryer of CBS' Two and a Half Men, along with his co-star Holland Taylor. (The broadcasters didn't do so bad in the reality arena, either, with nine nominations for ABC's Dancing with the Stars, seven for CBS' annual Emmy champ The Amazing Race and six for Fox's American Idol.)
And then there's the Academy's biggest broadcast love of all: First-ever nominations for Friday Night Lights stars Kyle Chandler and Connie Britton in the Lead Actor and Actress categories! This is also satellite love, since Lights is co-produced and telecast by DirecTV and NBC. I can't imagine what Academy members saw in Chandler and Britton's consistently extraordinary work during the fourth season of this show that they missed during the first three, but I'm not complaining.
Of course, all of these broadcast shows and performers are up against formidable competition in their categories from such cable powerhouses as AMC's Mad Men and Breaking Bad, FX's Damages, Showtime's Nurse Jackie and Dexter and HBO's Curb Your Enthusiasm. It's a credit to television overall that there are no certain victories for any of them. But if it is (as "they" say) an honor simply to be nominated, then the broadcast business must be feeling pretty swell right now.
As always, there are significant oversights and curious omissions in most categories -- the kind that would incite critical outrage had the Academy not gotten so much right this time around. The WTF Moment of the Year is the omission of CBS' riotously funny and enormously popular The Big Bang Theory from the nominees for Outstanding Comedy Series. (It belongs there in place of either The Office or 30 Rock.) The WTF runner-up is the Academy's failure to nominate the awesome Zach Gilford for his performance in The Son, the most emotionally super-charged episode of Friday Night Lights (or, arguably, any drama series) during the nomination period. The Academy did acknowledge The Son with a nomination for writer Rolin Jones, so it's clear members were paying attention, making the Gilford gaff all the more puzzling.
I would also have liked to see the superb Damages in the running for Outstanding Drama Series. Further, I think HBO's hefty and ambitious Treme was more deserving of a nod in that category than its campy supernatural fun-fest True Blood. Matthew Fox's nomination for Lost was a pleasant surprise, but it came at the expense of Timothy Olyphant's uniquely ingratiating performance in FX's Justified. Speaking of Lost, I thought Josh Holloway was more deserving of special recognition during the show's last season than Terry O'Quinn or Michael Emerson.
I'm truly sorry that the Academy didn't see fit to acknowledge the gutsy lead performance by Katey Sagal in FX's Sons of Anarchy or the surprising comedic sparkle series star Courteney Cox brought to ABC's Cougar Town. There should have been room for John Noble of Fox's Fringe among the nominees for Outstanding Supporting Actor in a Drama Series. I would have gone with Sandra Oh and Chandra Wilson of ABC's Grey's Anatomy over Christine Baranski and Archie Panjabi of The Good Wife for Outstanding Supporting Actress in a Drama Series, and yet I'm not unhappy to see Baranski and Panjabi there, and I'm thrilled to see Sharon Gless of USA Network's Burn Notice and Christina Hendricks of Mad Men on that list. (I'm rooting for Gless.)
There should have been room for Nurse Jackie's supporting super-stars Peter Facinelli and Eve Best in their categories, as well. But, again, there is too much to be happy about among the nominations overall, so there will be zero tolerance for sour grapes this summer -- at least until the awards are handed out on August 29.

Calling all HuffPost superfans!
Sign up for membership to become a founding member and help shape HuffPost's next chapter