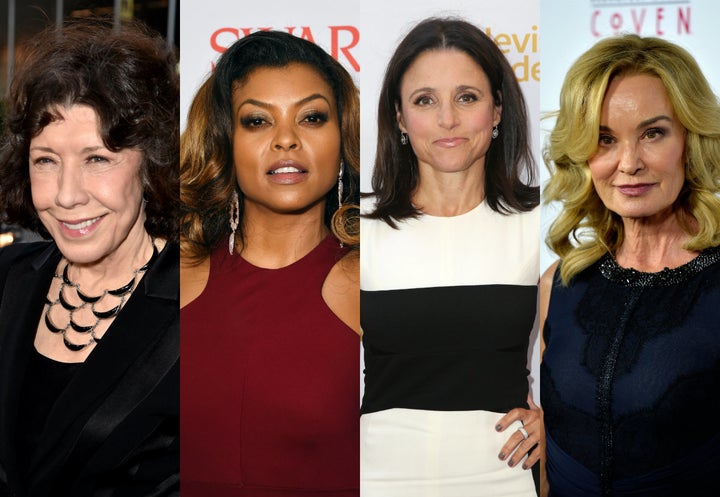 This year's Emmy nominations included surprises, wearyingly predictable nods, and a few glaring snubs, but one of the most striking things about the nominations had to do with age. Of the 18 leading actress nominees across comedy, drama, and mini-series, 15 of them are over the age of 35.
It would be nice if this wasn't notable, but it is. And it's awesome.
In the category for Outstanding Lead Actress in a Comedy Series, Amy Schumer, at 34, is the youngest actress nominated. The other nominees include Amy Poehler, Edie Falco and Julia Louis-Dreyfus. The oldest is Lily Tomlin, who earned a nod for her funny, honest and nuanced performance in the Netflix series "Grace and Frankie." Tomlin is 75. A woman her age has never been nominated in this category. Prior to her, the oldest nominee was Betty White at 69 for "Golden Girls" in 1991. (Cicely Tyson, at 92, is the oldest nominee this year for her guest starring role on "How to Get Away With Murder.")
The age diversity among this year's female nominees is even more significant when you count the supporting actress categories, which include women in their 20s, 30s, 40s, 50s, and 60s, from 28-year-old Emilia Clarke from "Game of Thrones," to 63-year old Christine Baranski from "The Good Wife." A vast majority of these actresses, even if they aren't over 35, are in their 30s. All of the actresses are playing characters who are age-appropriate.
This is, in a word, huge.
In a Hollywood landscape where 24-year-old Jennifer Lawrence consistently gets cast as a middle-aged single mom or 30-something divorcee, and where 26-year-old Emma Stone plays the charming young lover of men twice her age in Woody Allen movie after Woody Allen movie, it's refreshing to see women of all ages being recognized and celebrated for playing complex, meaty roles across genres.
Television has long been praised for being more daring and creative, and certainly more diverse when it comes to race and gender (though, of course, we have a long way to go -- shows like "Jane the Virgin" and "Empire" were largely shut out of the major Emmy categories this year). This year, two African-American actresses are nominated for lead actress in a drama, and both of them (Taraji P. Henson and Viola Davis) also happen to be in their 40s.
As Davis said in a roundtable for The Hollywood Reporter, "I had never seen a 49-year-old, dark-skinned woman who is not a size two be a sexualized role in TV or film... I'm a sexual woman, but nothing in my career has ever identified me as a sexualized woman. I was the prototype of the 'mommified' role."
Hollywood perpetuates the straight male fantasy that every woman who is on screen, no matter her age or station in life, should be "fuckable" (in the eyes of white heterosexual male viewers). But this year's Emmy nominees prove that pandering to that kind of audience is unnecessary and boring -- there's so much more out there. Davis doesn't have to play the mom or the "Law & Order" judge just because she's 49, and conversely Amy Schumer doesn't have to play the dumb blonde type -- instead, she can satirize it.
This is all to say that there's some room for optimism. The Emmys, like many awards shows, are a great representation of where we're at and where we have to go. There's been a growing trend not only of complex women on the small screen, and a diversity in the types of actresses who get these roles, but also in the accolades and acknowledgement that these performances are getting. That's progress. This year's number of nominees over 35 -- and the rich, interesting performances that go along with those stats -- should only grow.
Check out all the female acting nominees below, and rejoice:
Outstanding Leading Actress in a Drama Series
Claire Danes "Homeland" - 36
Viola Davis "How to Get Away with Murder" - 49
Taraji P. Henson "Empire" - 44
Tatiana Maslany "Orphan Black" - 29
Elisabeth Moss "Mad Men" - 32
Robin Wright "House of Cards" - 49
Outstanding Leading Actress in a Comedy Series
Amy Poehler, "Parks And Recreation" - 43
Lily Tomlin, "Grace and Frankie" - 75
Lisa Kudrow, "The Comeback" - 51
Edie Falco, "Nurse Jackie" - 52
Amy Schumer, "Inside Amy Schumer" - 34
Julia Louis-Dreyfus, "Veep" - 54
Outstanding Supporting Actress in a Drama Series
Joanne Froggatt, "Downton Abbey"- 34
Lena Headey, "Game Of Thrones" - 41
Emilia Clarke ,"Game Of Thrones" - 28
Christine Baranski, "The Good Wife" - 63
Christina Hendricks, "Mad Men" - 40
Uzo Aduba, "Orange Is The New Black" - 34
Outstanding Supporting Actress in a Comedy Series
Mayim Bialik ,"The Big Bang Theory" - 39
Niecy Nash, "Getting On" - 45
Julie Bowen, "Modern Family" - 45
Allison Janney, "Mom" - 55
Kate McKinnon, "Saturday Night Live" - 31
Gaby Hoffmann, "Transparent" - 33
Jane Krakowski, "Unbreakable Kimmy Schmidt" - 46
Anna Chlumsky, "Veep" - 34
Outstanding Lead Actress in a Limited Series or a Movie
Frances McDormand, "Olive Kitteridge" -58
Maggie Gyllenhaal, "The Honorable Woman" - 37
Queen Latifah, "Bessie" - 45
Emma Thompson, "Sweeney Todd: Live From Lincoln Center" - 56
Jessica Lange, "American Horror Story: Freak Show" - 66
Felicity Huffman, "American Crime" - 52
CORRECTION: An earlier version of this article listed the number of lead actress nominees over 40 as 15. There are actually 13.
Also on The Huffington Post: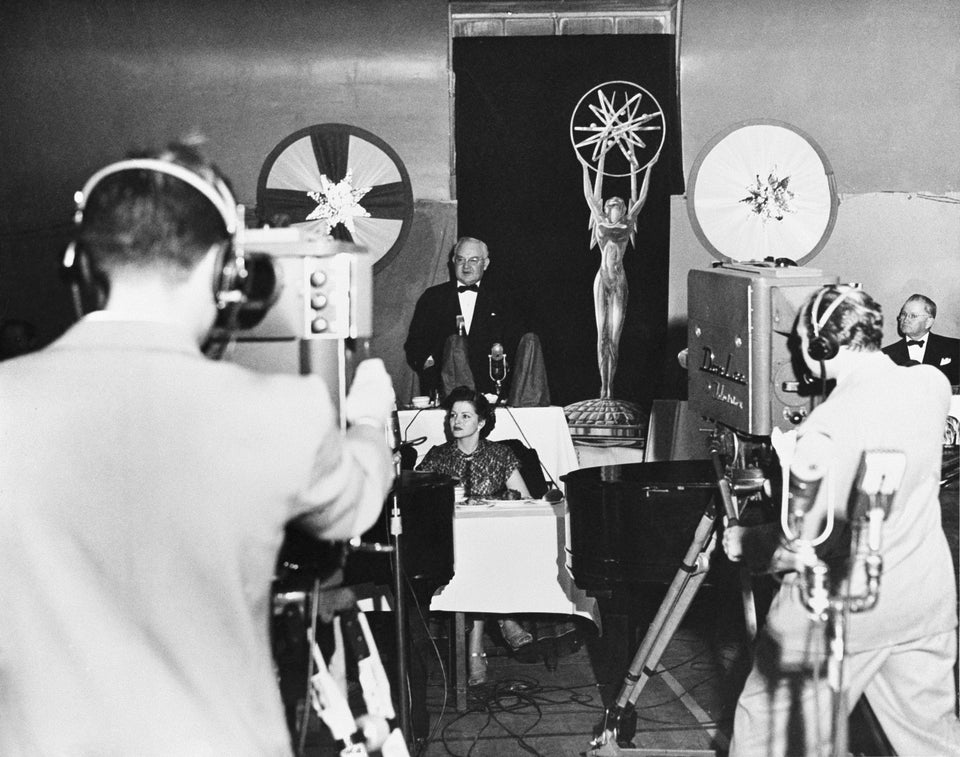 Amazing Emmys Moments
Related