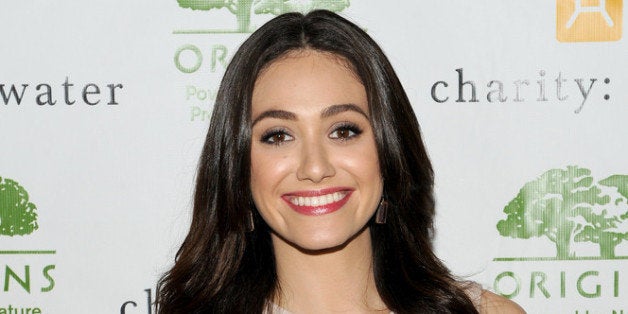 These days, our knowledge of celebrities too often originates with paparazzi images and snarky quotes by anonymous "insiders." After a while, it's easy to forget that stars are real people. That's why HuffPost Celebrity decided to launch its all-new #nofilter quick-fire question-and-answer series. Because how well do you know someone until they've shared their guiltiest pleasures?
If there's one thing you probably didn't know about Emmy Rossum, it's that she loves to eat. And we mean loves. But the "Shameless" star, 27, is a big believer in a gluten-free diet, which allows her to feast in moderation.
Rossum chatted with HuffPost Celebrity while hosting the Origins Smarty Plants™ launch event benefiting charity: water at JIMMY at the James Hotel in New York City last night (Sept. 16) and opened up about life's little pleasures.
What's your guilty pleasure?
All food. Gluten-free and high in butter. Gluten-free whoopee pies are amazing. I just had my birthday so I feel terrible. I ate everything in sight for like a week!
What's something from your childhood wardrobe that you wish you could wear today?
I actually still wear a skirt from when I was 12. It has just gotten really short on me. It's like a tweed skirt.
What's always in your refrigerator?
Muenster cheese. I'm a cheese person!
If you could give any advice to your younger self, what would it be?
Don't stress out so much about your weight.
What's always on your DVR?
"Breaking Bad" and "Master Chef." I didn't watch this week's episode of "Breaking Bad," so don't tell me anything!
Do you have a celebrity role model?
Angelina Jolie.
REAL LIFE. REAL NEWS. REAL VOICES.
Help us tell more of the stories that matter from voices that too often remain unheard.
BEFORE YOU GO
PHOTO GALLERY
They said WHAT? #nofilter