SCROLL FOR PHOTOS

Cameras were allowed inside the Nokia Theater for an Emmy Press Preview on Wednesday, and what it revealed in the seating (blown up below) is the mashup of telegenic celebrity and Emmy nominees -- and they try to keep it 'boy-girl-boy-girl.'
The verdict? 'Mad Men,' Tina Fey, 'Glee,' Betty White, 'The Good Wife' and Will Arnett come out ahead.
Overall, the best seats are the front row and aisle seats. The front row gets less desirable as it moves to the outward edges. For example, a second or third row aisle seat, if on a central aisle, would arguably be better than an outer edge front row seat. Looking at the photos below, blown up and cropped, a few things emerge.
One of the best seats goes to Jon Hamm, who is a front row center aisle with his date, next to costar and fellow lead actor/actress nominee January Jones and her date (Jason Sudeikis?). Fellow 'Mad Men' nominees (for supporting roles) Elisabeth Moss, John Slattery and Christina Hendricks get the aisle seats behind Hamm. They are all in front of Ian McKellen, who's in the sixth row aisle seat.
Across the aisle from Hamm is Julianna Marguiles. Third row back on the aisle is Susan Sarandon, with her 'You Don't Know Jack' costars Al Pacino and Brenda Vaccaro in the two aisle seats behind her. John Goodman is after them, sixth row aisle across from McKellen.
So Jon Hamm = Julianna Marguiles and Al Pacino = Christina Hendricks.
Moving outward on the telegenic front row from Hamm and Jones are Julia-Louis Dreyfus and Julie Bowen (on the next front aisle seat over). Bowen's 'Modern Family' costar Ty Burrell is in the aisle seat behind her. Kristen Wiig is behind Burrell, with Matthew Fox behind Wiig. Next to Burrell in the second row, not on the aisle, is Ed O'Neill. Also in that second row are Lauren Graham and LL Cool J. Jeff Probst is in the third row.
Another front row aisle, a section over, is Tina Fey. She's across an aisle from Jane Lynch, who is in front of Lea Michele. Lynch is behind other 'Glee' costar Matthew Morrison, who's seated on the front row aisle himself. He's next to Betty White and Will Arnett. Arnett presumably would come with wife Amy Poehler, although she does not have a face placard. She just gave birth to the couple's second child so perhaps she's playing it by ear.
Down the row from Lynch: Eva Longoria and then Matthew Perry, who is next to 'The Good Wife' nominees Christine Baranski and then Julianna Margulies, in the coveted front row aisle seat.
Other, further out front row-ers include Hugh Laurie (next to Tina Fey), Neil Patrick Harris, and Edie Falco. Jane Krakowski is a second row aisle behind '30 Rock' costar Fey. In her second row are Blair Underwood and Emily Deschanel. Jon Cryer has the third row aisle behind Krakowski, with John Lithgow in his row. Ed Helms has an interior fourth row seat next to 'Office' costar Jenna Fisher, one row behind interior third row seats for 'Office'-mates Rainn Wilson and John Krasinski. They are in the same section as Steve Carell, who is in the front row by Neil Patrick Harris, just out from Hugh Laurie. No word if Krasinski is coming with movie star wife Emily Blunt, who would theoretically help him snag better seats. Joel McHale, in the second row, has a better seat than the 'Office' crew seated behind him.
PHOTOS: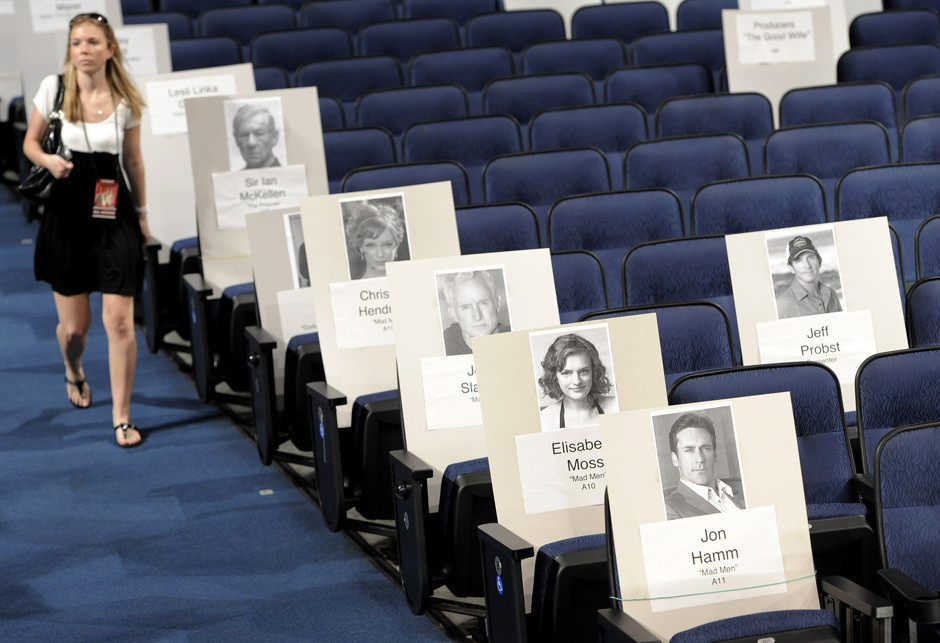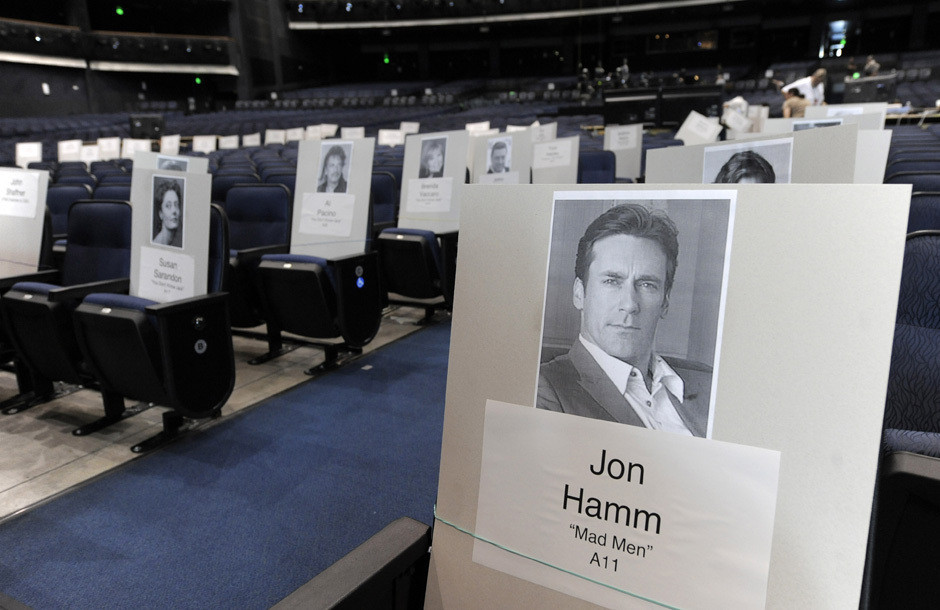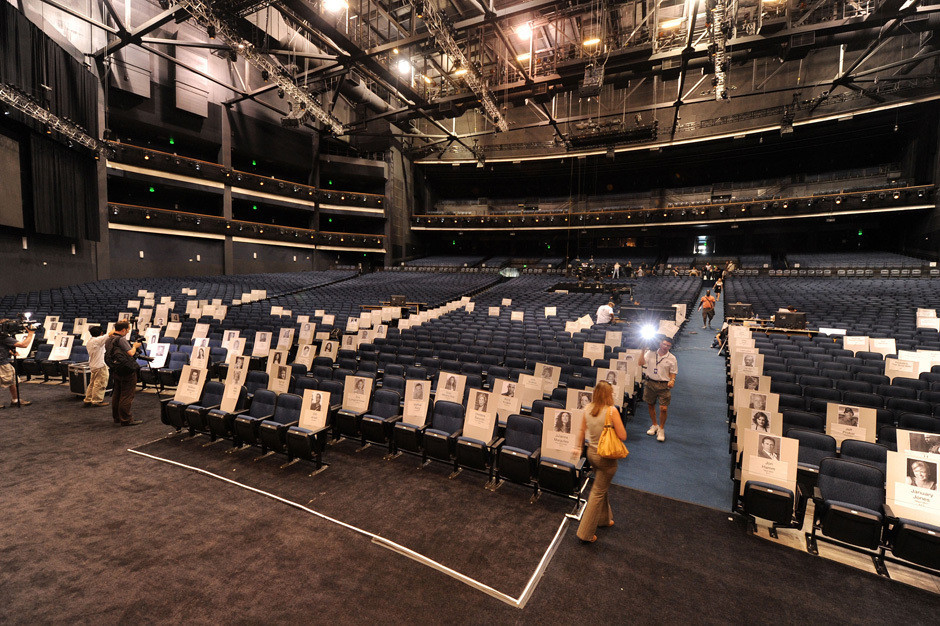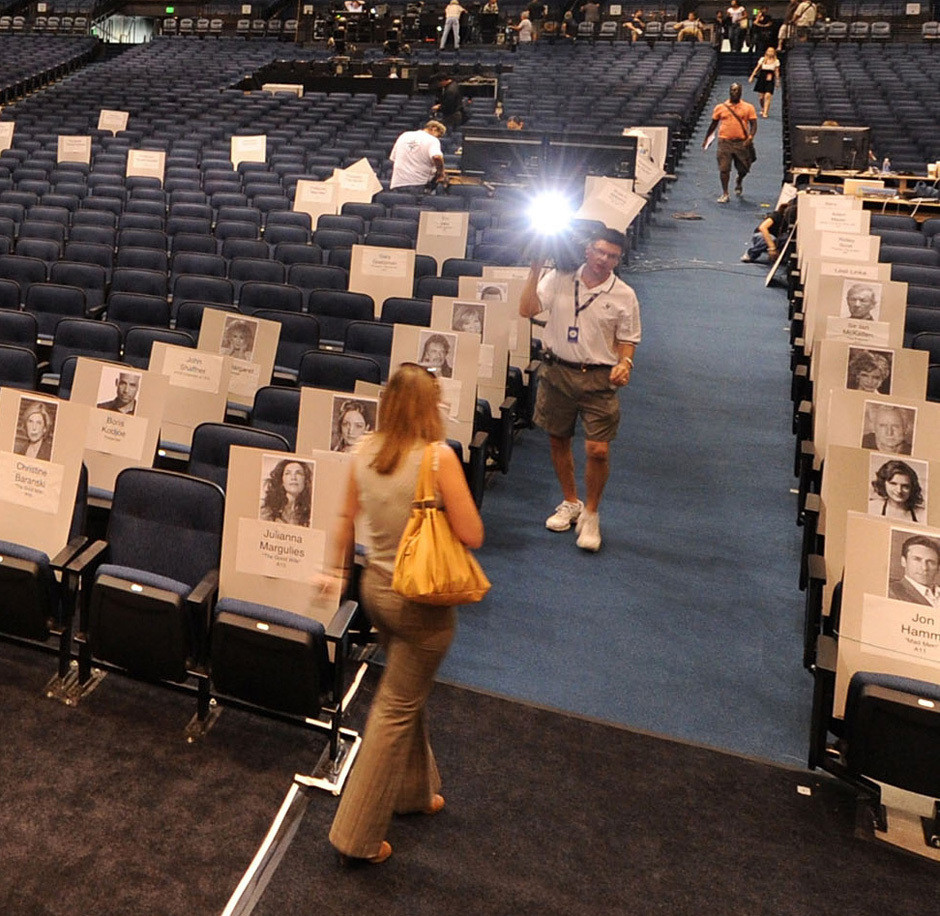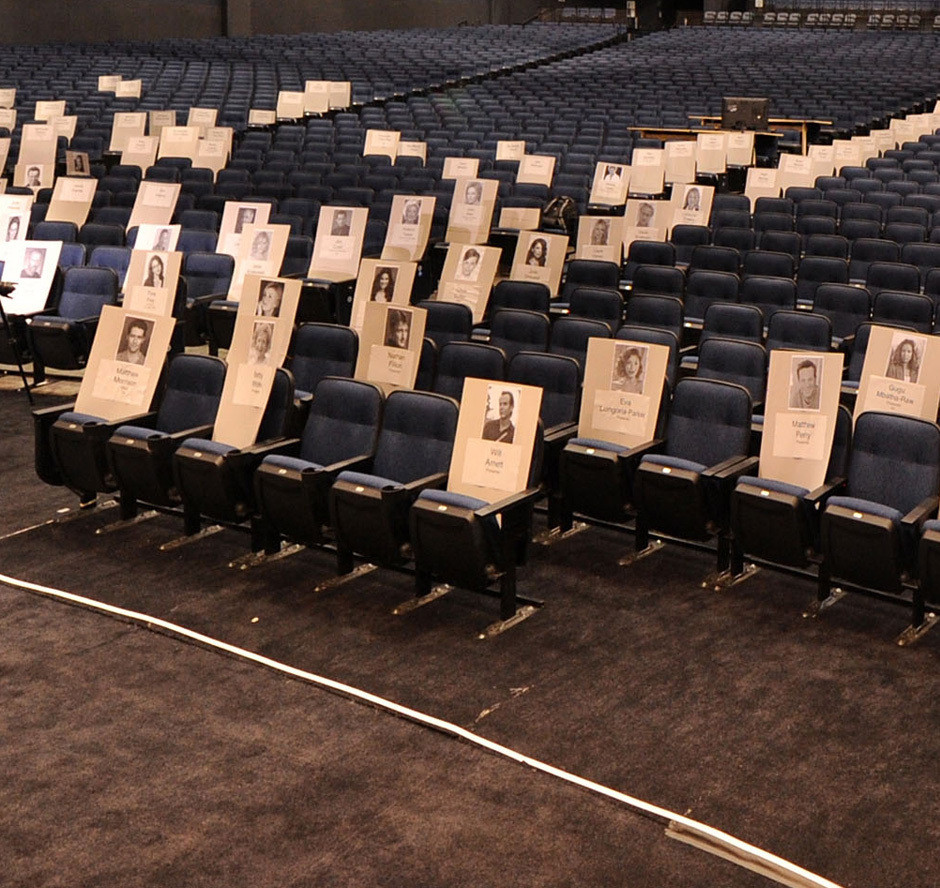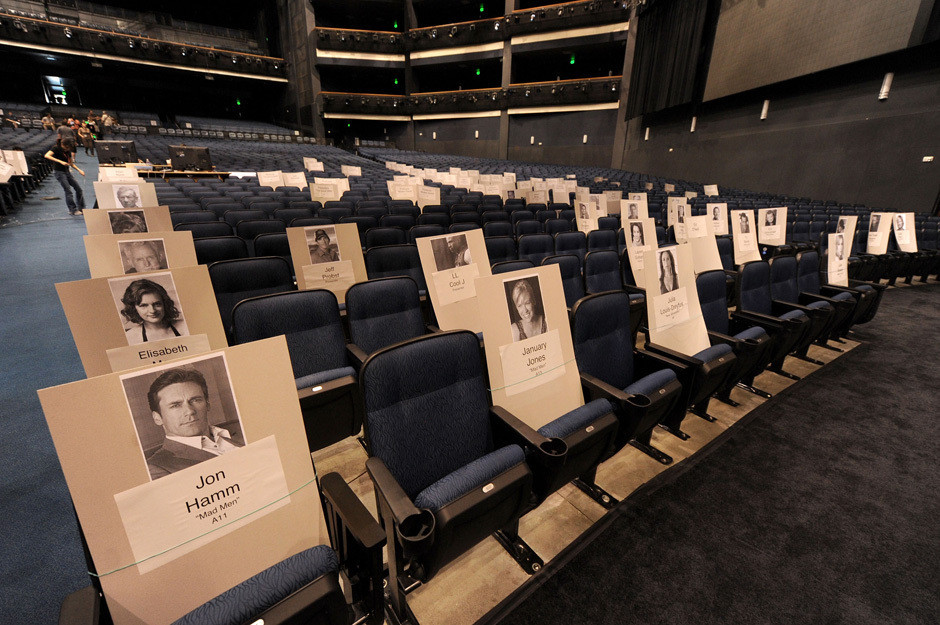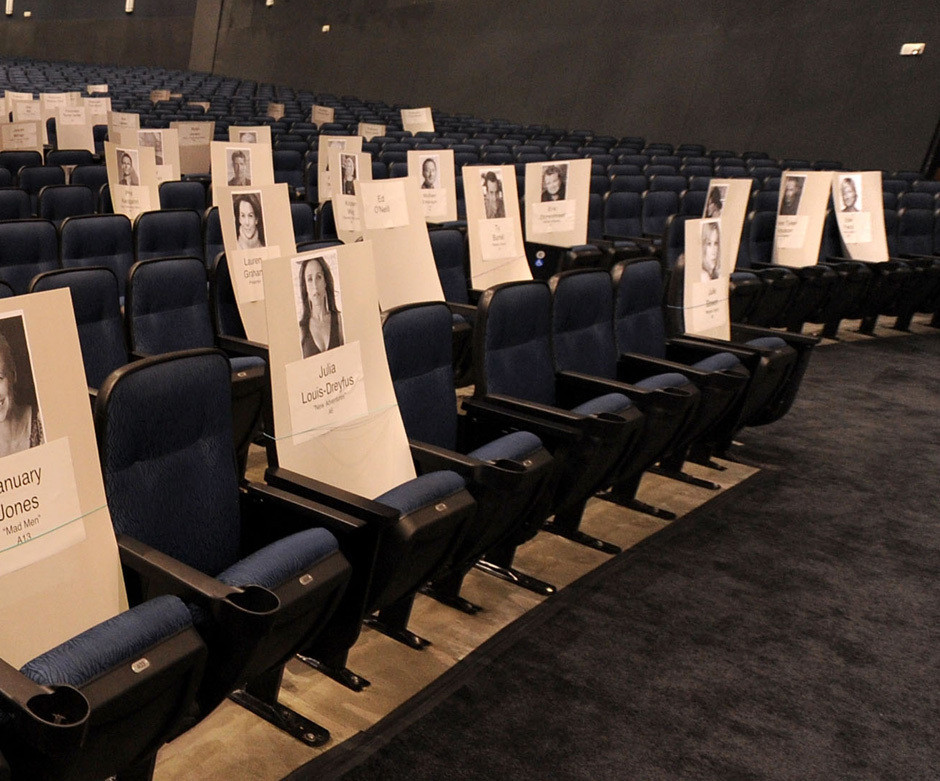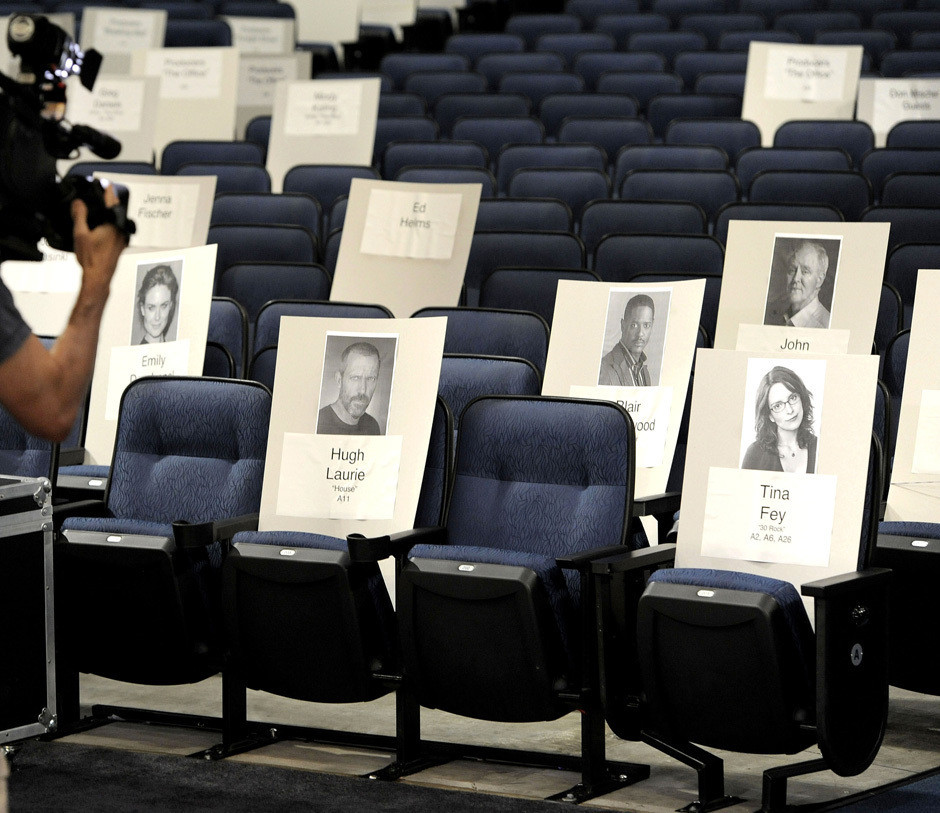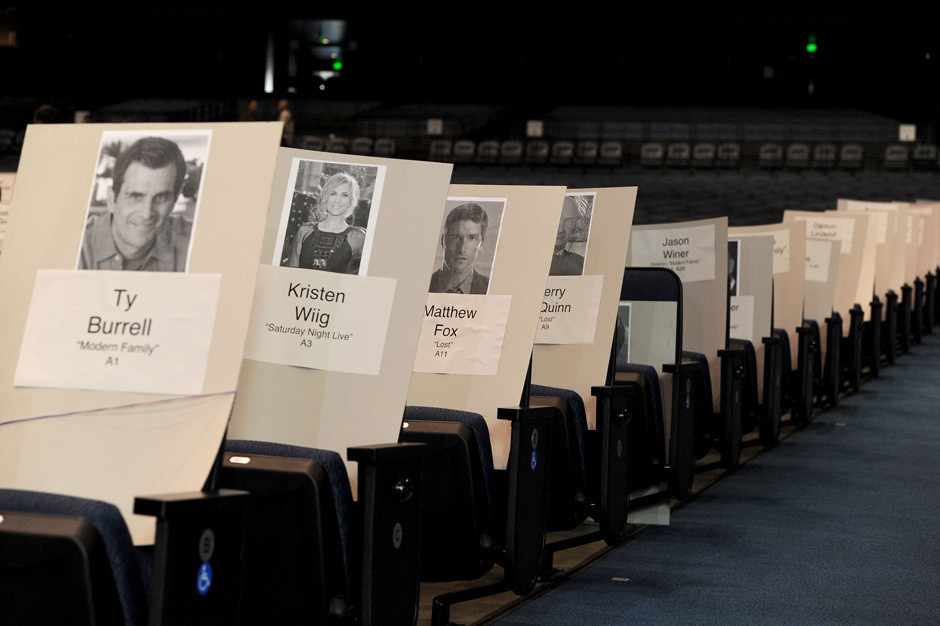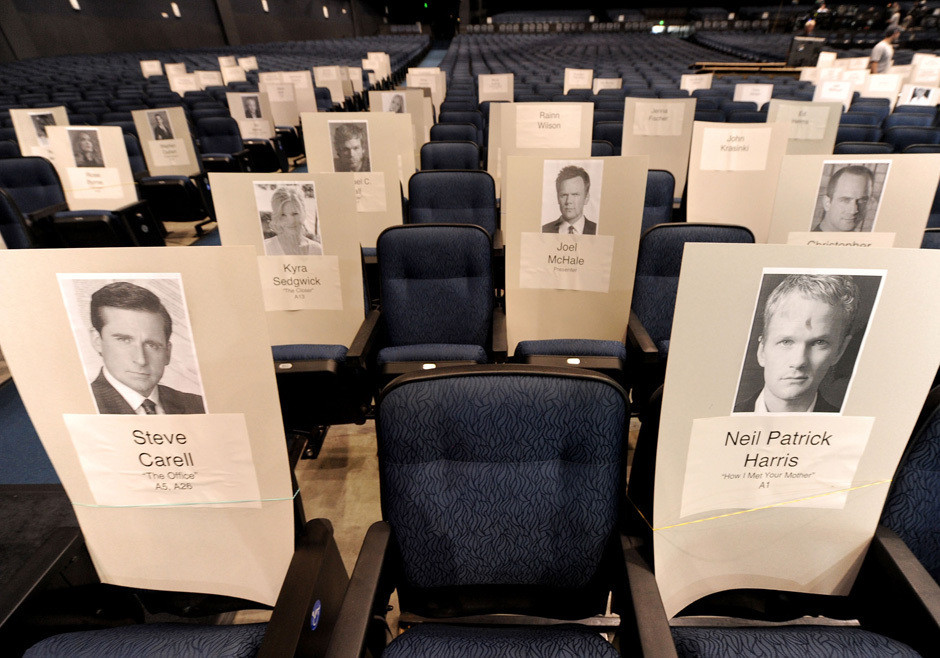 Popular in the Community