The re-release of the 1986 and 1994 Trio sessions, a collaboration of Dolly Parton, Emmylou Harris and Linda Ronstadt, is almost certainly the best Americana record coming out this fall.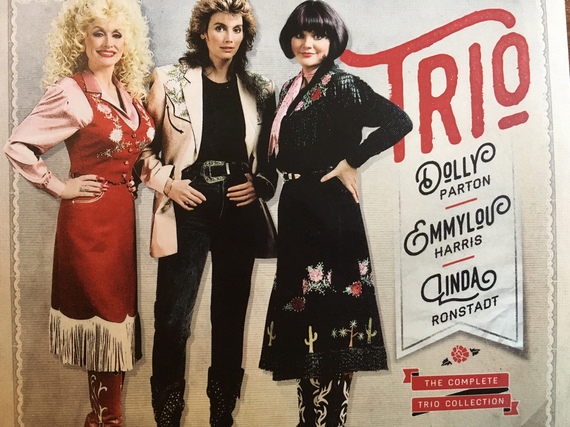 It also reminds us that this collaboration, besides being delightful, was in some ways as serendipitous and fleeting as the wildflowers about which Parton sang in one of the first Trio album's most enduring tunes.
Parton, Harris and Ronstadt first recorded together in the 1970s, but scheduling conflicts and the fact they were on different labels meant no album ever came together for release.
The 1986 sessions produced Trio, a multiplatinum Grammy award winner that threw off four hit singles.
Even those sessions, though, and the last batch in 1994, were almost stolen moments. Parton, who was not a "studio rat" like Ronstadt and Harris, had another career to get back to. There was never a tour, never even time to do a cover photo session for Trio II.
Harris half-joked years later how "Mr. Sandman," one of their 1970s recording, ended up on her 1981 Evangeline album. "That meant I was the one who had to play it in concert," she said. "Do you know how hard that is to sing live?"
This wasn't some big scandalous feud. It just underscored how this Trio was not the Carter Family, a working ensemble. This was music plucked from a passing wind.
That makes it all the more gratifying that The Complete Trio Collection, being released Friday by Rhino, includes a third disc of alternate takes and unreleased songs that could stand all by itself as one of any year's best albums.
The first two discs in the package are remastered versions of Trio (1987) and Trio II (1999), which have lost none of their sparkle. The first one is a little better, but that's a relative matter.
The third disc is the surprise. Bonus tracks are a standard feature of reissue packages, and most of the time they remind us why these tracks, or takes, weren't released in the first place.
These songs grab and hold you from the first track, a beautiful alternate take of "Wildflowers" where each of the singers takes one verse. On the released 1986 version, Parton sang all three.
Conversely, where "Making Plans" on the first Trio album was harmony-driven, we now get a version where Parton takes the lead.
Ronstadt leads a more spare, aching version of the McGarrigle Sisters's "I've Had Enough." Harris shines out front on "My Dear Companion."
There's a riveting out-take of "Farther Along," which you can't hear enough times, and then there are several unreleased songs that give you new empathy for whoever had to say 20 or 30 years ago, "Sorry, there wasn't room for this" on the earlier albums.
The gem is "Waltz Across Texas Tonight," written by Harris and Rodney Crowell. Harris takes the lead and the harmonies are indelible.
Ronstadt arranged most of those harmonies. She also "stayed around for the mixing," she said in May during a conference call with Parton and Harris.
Basically the songs "came from us," Ronstadt said. Producer George Massenburg "wanted to keep us from going off in different directions, but he didn't interfere with us."
Ronstadt credited Harris with finding much of the material. "Emmy stayed up late and got great songs," she said - a range from Neil Young to Jimmie Rodgers to country folk to pop and traditional gospel.
As that suggests, not all the songs were new to the singers. "Calling My Children Home" was "a staple for me," Parton said. "I grew up singing it in church."
Ronstadt joked that "the last time I went to church, the Mass was in Latin and they were singing Gregorian chant."
"I went to an Episcopal church," said Harris, "where they didn't seem to allow melody."
On a more secular note, Ronstadt pointed out how many of the Trio songs dealt some form of heartbreak.
"A lot of these songs," she said, "are shared problems, shared sorrows."
The conference call included a reminder that what we're going to get from the Trio, we've already gotten, because Ronstadt was diagnosed several years ago with Parkinson's Disease.
A questioner on the call, who sadly had not done his homework, asked if the three singers might tour with this release.
Not likely, replied Ronstadt. "I can't sing a note, to start with," she said, "and I have trouble walking."
"It would be wonderful if we could," said Parton, "but let's just put that to bed."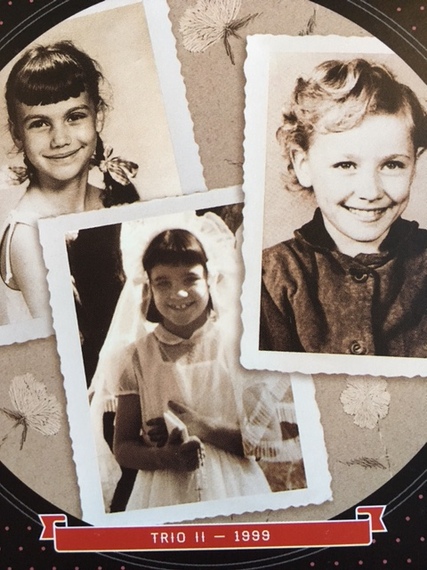 Harris noted that even without any new recording, it took a while for The Complete Trio Collection to come together. In the end, she credits the persistence of James Austin, with whom she is listed as co-producer.
"There were difficulties and problems over the last 10 years," Harris said. "But James wanted the material released. He did the heavy lifting."
A lot of what was on the session tapes "wasn't finished," said Ronstadt. "It would be just live vocals, or us singing a capella."
Still, there were these gems.
"It was like finding a Christmas present," said Harris, "that you forgot to open."
Whatever the path of the Trio sessions, Parton says they led somewhere good.
"This will stand as one of the greatest musical things I've done in my entire life," she said. "I think it will stand long after we're gone."
When the conference call ended and all the participants were disconnecting, Ronstadt said, clearly to Parton and Harris, "It's great to hear your voices again."
Support HuffPost
The Stakes Have Never Been Higher
Popular in the Community