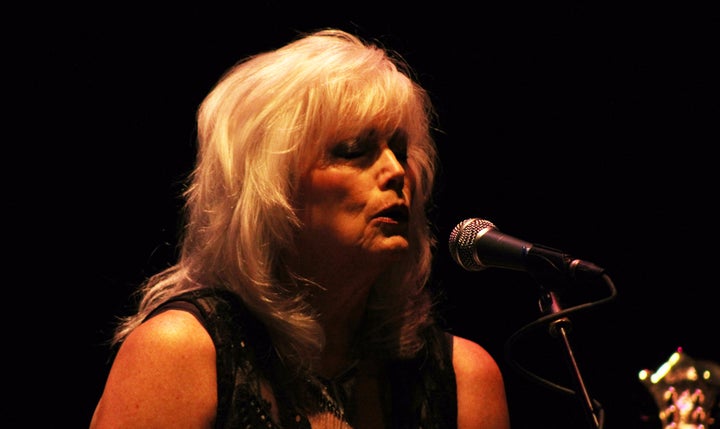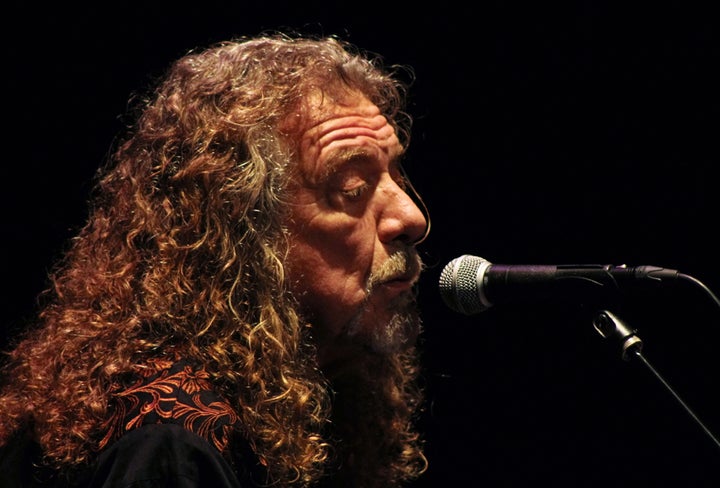 While the final presidential debate was raging last night and most of America was lamenting our disconnectedness, a couple thousand Philadelphians gathered with several internationally revered musicians to think and talk and sing about one issue that seems to be becoming a slowly vanishing blip in the election cycle radar: the global refugee crisis. At least at last night's Trump/Clinton throw-down, the candidates mentioned it, which is more than can be said about the first debate.
The penultimate Lampedusa Concert for Refugees played the elegant Merriam Theater in downtown Philadelphia, a 1918 gem on the Avenue of the Arts. The advocacy, relief, and human rights organization Jesuit Refugee Service put together the string of 11 US and Canadian shows throughout October to benefit their Global Education Initiative, a project that seeks to reach a quarter of a million refugees by 2020 in an effort to help them "heal, learn, and thrive."
To support the effort, 13-time Grammy winner Emmylou Harris brought together friends and Americana notables Steve Earle, Buddy Miller, and The Milk Carton Kids. Patty Griffin was also slated, but having been unable to perform due to health issues, her friend, collaborator, and one-time most famous front man in the world, Robert Plant, stepped in for the Philadelphia show and several others.
"The tour has succeeded beyond my wildest imaginings," said JRS Executive Director Gail Griffith, a day before the Lampedusa finale in Washington, DC. "It's been an enormous challenge to pull off, but in the end, we were able to tap a rich vein of goodwill from promoters to managers to publicists, all of whom chipped in, donated their time and brought this to fruition. And that doesn't even account for the enormous goodwill of the artists, all of whom took time away from touring, and donated their services for this cause."
Benefit concerts are notoriously difficult balancing acts, and happily, the JRS handled the shows with wisdom and elegance. The big questions: "Just how political can we get here?" "How heavy do we hit with the heart-breaking imagery?" "How directly do we ask for funding?" And, perhaps most importantly, "How do still give people a joyous and meaningful show?"
Accordingly, there was no lengthy plea for donations, no extended slow-mo video production, not even a political rant. There was, mostly, heartfelt musicianship, and an intimate look at the friendship between both old and new compatriots that genuinely seems to have grown through this short tour. In addition, the song selection, which varied a bit from stop-to-stop, was evenly divided among the artists, lending a sweet, collegial vibe to the night.
"Just listen to the music," the show seemed to suggest to its patrons; "you'll know what to do."
Most of the selections were touching paeans to heroes: a Tom Rush song here, an Elvis howler there, a couple from great Americana icon Townes Van Zandt scattered throughout. And like the best of the recently surging "serious" country coming from the second-generation Outlaw Nashvillians, the tunes were loose, a little ragged, and big-hearted.
As she's done for much of her almost-50-year career, host Emmylou Harris lent an erudite yet down-home charm to the whole proceeding. After a recent trip to refugee camps in Ethiopia with the JRS, Harris agreed to spearhead the tour. JRS couldn't have found a better ringleader. She positively radiated from the center of the stage, and though she at times struggled a bit to completely find her otherworldly voice, there were still multiple whispered "wow"s from a leaned-in Plant.
Nashville veteran artist and producer Buddy Miller shone all night on his own songs. And he also carried the grungy guitar parts to provide the bottom to the soaring vocals from the world-class voices seated all around him. With no bass onstage, Miller rode the low E to give some weight to playful Milk Carton Kids tunes and Robert Plant's dramatic arrangements.
After Plant shook the theater with a riveting cover of Elvis Presley's "Don't," (which somehow made you marvel at Plant's power as a vocalist while also getting you to recall and revere Elvis's loin-quivering range) Miller had the mic next.
He shook his head and chuckled. "I've got to follow that?"
The Milk Carton Kids have become quick folk-Americana favorites, and in this setting with a slightly older audience than they typically get, they clearly earned new fans. They're funny, which the genre needs, and they sing like Simon and Garfunkel, which doesn't hurt either. Though their banter risked dragging (Robert Plant's just sitting there . . .), when Kenneth Pattengale deftly moved around that small-bodied Martin fret board, even Steve Earle was shaking his head in admiration.
In lieu of an intermission, actress Megan Mullally's musical partnership with Stephanie Hunt, dubbed Nancy and Betty, took the Merriam back to its early century beginnings with a little vaudeville, and gave some reprieve from the heavy hitters with the aged dreadnoughts and the sad songs.
Initially, the duo was a surprising bit of contrast from the night's tone, but their two-song interlude followed the loose, touching feel to the night, and brought some levity that set the stage for the earnestness to follow.
It was Earle, though, who proved the emotional core of the night.
The centerpiece was his mid-90s song "Goodbye," sung to the swaying, waiting Emmylou Harris. It's a song they've often played together, and the best known version is probably Harris's ethereal cover of it on her classic Wrecking Ball album. The song took on new weight with Earle's world-weary reading of it, and when she came in on harmony, it was heartbreaking.
Indeed, Earle is heavy in his space. He's lived it; and it's hard to dismiss those stories of jail and addiction and heartbreak when you watch him play. He commands a stage like few others, even when there's a couple of other supernovas on stage next to him. And while Harris plays like radiant moonlight, Earle feels a dark star.
As the night began to wind down, Earle offered a long, poignant story of his adopted New York's ever-evolving immigrant thrum as a prelude to his "City of Immigrants." The story was great and uplifting, and the song was simple and even better.
"These are artists with both enormous talent and a social conscience." Griffith marveled. "They understand the dimensions of the refugee crisis both internationally and here at home, as it impacts how we treat immigrants—and how we view ourselves, as a nation of immigrants."
One theme of the night was sadness, as Harris and Earle and Miller and the Milk Carton Kids all tried to out-sad each other on their selected tunes. But most were pulled off with a stunning clarity. As the sliding of fingers across vintage instruments echoed in a theater filled with delicate frescoes and baroque elements of a time long gone, it was easy to get lost in the beauty of it.
By the time Harris sang Lucinda Williams' "Sweet Old World" (also beautifully rendered by Harris and producer Daniel Lanois on Wrecking Ball), a few women and men around me were wiping tears from their eyes.
"That's pretty sad," someone in the audience murmured at song's end. "Yeah, it is," Harris agreed, "but it makes you feel so good, doesn't it?"
NOTE: Lampedusa is an island off the coast of Sicily that serves as a way-station that many European and African refugees pass through.
Calling all HuffPost superfans!
Sign up for membership to become a founding member and help shape HuffPost's next chapter