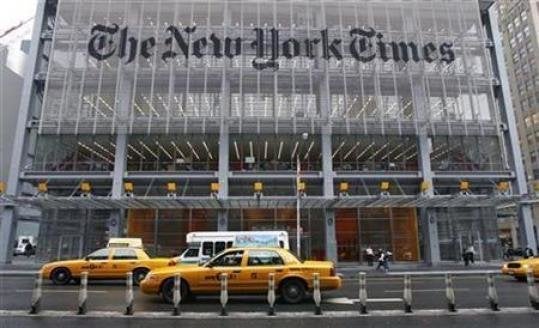 The New York Times' news room is bracing for a bloodbath in the next 10 days.

The word from inside is that approximately 50 unionized journalists have accepted the buyout proposal, and only another 20 non-union editorial employees have gotten on board.

That means the ax could fall on as many as 30 editorial people in the company's first-ever mass firing of journalists in its 156-year history....

"We're bracing for it," said one insider with some knowledge of the developments. "There's a lot of anxiety."
At the same time, Times managers are attempting to rein in staff spending, urged in a memo to take public transportation when possible, to limit meal expenses (and to take advantage of the paper's "zippy new cafeteria," and not to expense snacks and water while working in New York. The memo, obtained by the New York Observer's John Koblin, is excerpted below:
Dear Colleagues,

Here's a friendly reminder to keep spending in line. This year and for the foreseeable future we should try especially hard.

For some reason, although we have a glorious range of local restaurants to choose from, lunch and dinner expenses have gotten stuck on posh. Lunches should run about $25 a person, no more than $30; dinner should not exceed $40 a person. Our zippy new cafeteria is great for coffee, breakfast or other meals.

And hold on to those receipts as if your reimbursement depends on them because it does indeed. Any expense over $25 requires a receipt (no bottom-of-the-check tabs, please). Yes, expense your snacks and water if you are traveling. But if you are not traveling, do not submit for food, snacks or water you would ordinarily buy for yourself....

Leaning toward taking a cab somewhere? Try taking public transportation whenever possible. How about trips late at night or to unfamiliar neighborhoods? Sure, get a medallion cab or reliable livery service. On deadline? You got it. But in most cases, the subway gets you there and back in a jiffy.
Read the entire memo here.
Popular in the Community