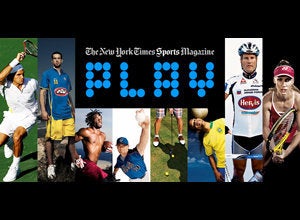 The New York Times has shut down its quarterly sports magazine, Play, officials at the paper and its parent company said on Monday, marking another in a long list of contractions in the newspaper and magazine industries.
First published in February 2006, Play won numerous accolades for intelligent, in-depth reporting and vivid photography, and this year it was a finalist for the prestigious prize in general excellence at the National Magazine Awards.
It represented part of The Times' strategy to draw luxury goods advertising with a set of new high-end magazines inserted into its Sunday editions, including T Styles and Key, a real estate-themed magazine. Such ads have fared better than those for mass-market products in recent years, but even the luxury market has dropped steeply in the last few months.
Mark Bryant, the editor of Play since its inception, said he was told last week that the issue published last month would be the final one, "and I started letting the staff know over the weekend."