If all goes well, you'll soon be able to pick your emoji's skin color.
Buried within the proposed draft is a section on diversity with some exciting news: Unicode hopes to create a skin tone palette that will allow users to choose between five different shades of skin for their emoji (in addition to the standard yellow).


The shades are based on the Fitzpatrick classification scale.
These skin tones can be applied to any existing emoji with faces. The shades are based on the Fitzpatrick scale, a recognized classification system for human skin color used in dermatology. According to the Unicode proposal, emoji will still first be displayed in their traditional yellow color. But should you desire another tone, you can simply press on a character to see the five others.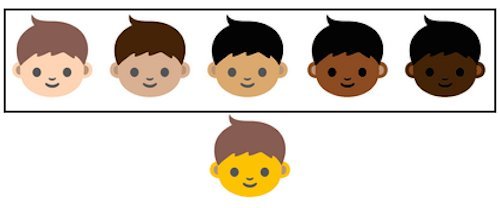 You'll theoretically be able to select between these six shades.
Unicode and Apple, which creates the emoji for the iPhone, have long been criticized for a lack of racial diversity in emoji. After a petition on DoSomething.org garnered thousands of signatures earlier this year, Apple said it would work with Unicode to boost diversity.


The new swatches can be applied to those unrealistic yellow tones.
Popular in the Community