After years of fertility struggles, loss and pain, a Canadian family found renewed hope through surrogacy.
On Jan. 22, Kate Austin-Rivas and Didier Rivas welcomed their daughter Scarlett Ryan via surrogate. Birth photographer Ashley Marston was present to capture this powerful moment of joy -- which came after many years of darkness.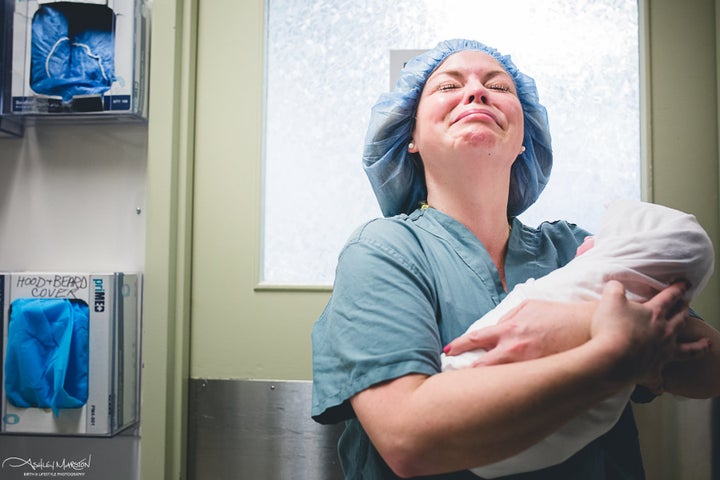 For Kate and Didier, the journey to parenthood has been filled with tragedy. After suffering multiple miscarriages, the couple welcomed their daughter Elle in 2010. Two years later, Kate delivered a stillborn baby girl, whom they named Katelyn. After another miscarriage, the Rivas family welcomed a new daughter, Ireland, but the birth involved complications that left both the mom and baby fighting for their lives.
"It was basically a situation where anything that could go wrong, went wrong," Kate told Global News. "She was born with severe oxygen deprivation, which resulted in cerebral palsy, the worst they'd ever seen. My uterus ruptured during the delivery." While the mom ultimately survived the complications, Ireland passed away at just four weeks old.
The aftermath of Ireland's death and Kate's medical trauma was a painful time. Eventually the couple filed a medical malpractice lawsuit against Royal Columbian Hospital, Fraser Health, four doctors and a nurse. The case is ongoing.
Throughout everything, the parents have never abandoned their hope to expand their family. "We were lost ... depleted, exhausted, our souls wretched," Kate wrote in her blog post about the journey, adding, "One year later we reached out in the darkness and took a chance, we posted our story on social media."
That's when Christine Hale came along.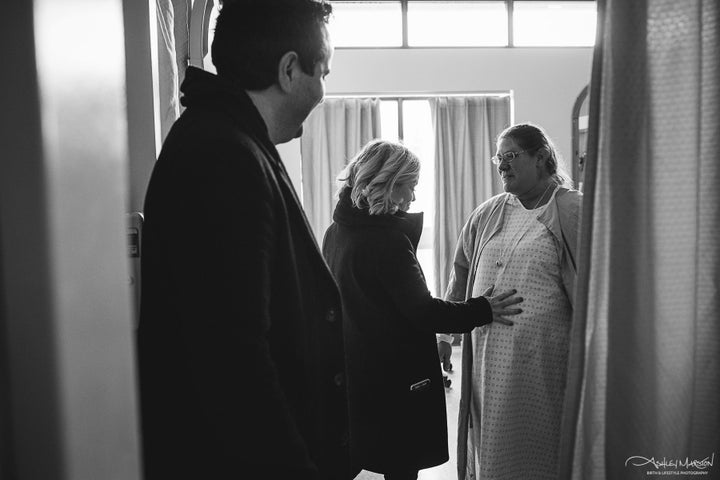 Christine read the family's story and reached out to offer her services as a surrogate. "She wanted to help our family. That was it," Kate wrote on her blog. A mom-of-three, Christine was willing to carry the couple's baby, since pregnancy was no longer a medically advisable option for Kate after her severe birth trauma.
"She wanted us to have a positive experience, a positive outcome, and she was confident she could do it," Kate continued. "I believed her. I was open. Something told me, 'You must take this leap of faith.' I jumped."
Against all odds, Christine became pregnant with the couple's baby after one cycle of IVF. Kate and Didier remained cautious throughout the entire pregnancy, hoping but refusing to be too optimistic about the possibility that they would welcome a healthy baby.
"Christine held my hand and my soul," Kate recalled in her blog. "She guided me. We took care of each other. She took care of my precious little baby. Her body did what mine could not. Together, we formed a bond, a connection."
On Jan. 22, Christine delivered baby Scarlett via emergency C-section four weeks early. The baby and surrogate mom were healthy, and everyone was overjoyed.
That emotion-filled day was powerful to say the least.
"All birth stories are moving," Ashley, the photographer, told The Huffington Post. "But when you get to be a witness to the happiness, the light that comes out of the darkness, to see dreams that you never thought were possible come true. That is something you will never forget."
Describing the energy that day, she used the words "excitement, anticipation, fear and love -- almost everything all at once."
According to the photographer, the minutes leading up to the decision to go forth with a C-section delivery were "tenuous." Ashley explained, "The last time Kate and Didier were in a hospital delivering a baby, the outcome was so terribly tragic. But the medical staff was very cautious and educated decisions were made swiftly."
While Kate was in the operating room with Christine, Didier and Ashley waited patiently outside in the hallway. Eventually, they heard the sound of a baby crying and minutes later, Kate burst through the doors holding their daughter.
"That moment was everything," Ashley said. "It was long awaited and was so deserved."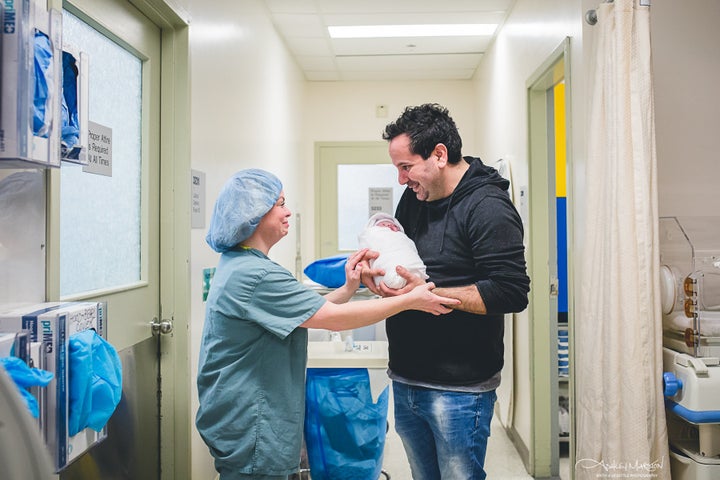 Christine's gift to Kate and Didier was truly selfless. Though surrogacy is legal in Canada, the Assisted Human Reproduction Act prohibits prospective parents from paying a surrogate beyond her out-of-pocket expenses. According to the Vancouver Sun, Christine's arrangement with the Rivas family involved the necessary psychological evaluations and a legal contract specifying she would receive no additional financial compensation.
"Christine is such an amazing person," Ashley told HuffPost. "Her big heart and kindness for this family did not just end the day she gave birth," she added, noting that the surrogate mama continues to pump breast milk for baby Scarlett.
"She has become an extended part of their family," the photographer continued. "They call her 'an Angel'."
The Rivases have been very open about their story to offer hope to families going through similar struggles, share their positive surrogacy story and raise awareness.
To read more about their family, visit Kate's blog, and keep scrolling to see Ashley's powerful photos of Scarlett's birth.
Related
Before You Go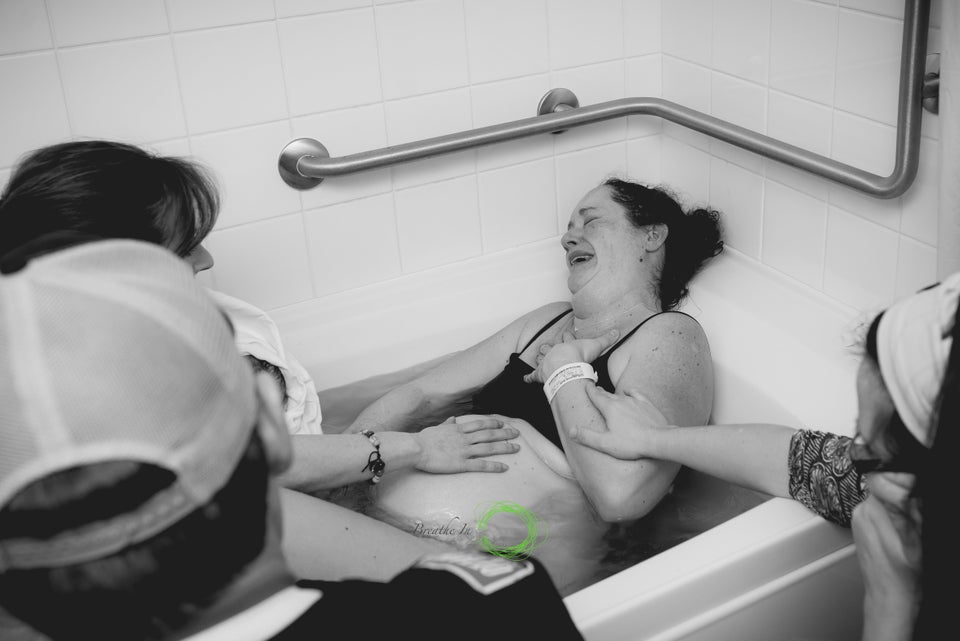 Stunning Birth Photos Capture The Beauty Of Surrogacy